The vanilla kitchen got new shoes. I (well, a friend) installed wood-look luxury vinyl tile planks right over the 1980s beige ceramic floors and umm. LOOOOK!!! I can't even wait until the end to show you the pictures. You've just got to see it to believe what a CA-RAY-ZEE difference it made in updating this little abode of mine.
So good right?
The floor was the last vestige of the vanilla milkshake left to banish. And boy, the wood tones really bring cohesiveness to the entire living area. The warmth infused makes me want to lay down and commence making wood angels on the floor.
This post contains affiliate links for your convenience. If you click on a link and make a purchase I earn a small commission to help me run this site at no cost to you. Read my full disclosure here.
Why I chose Luxury Vinyl Tile Flooring for my kitchen (sometimes called planks)
Now vinyl is not what is used to be. This stuff has a beautiful pattern, great texture and isn't pliable in the least. Don't think linoleum of the past.
Here's the mood board I started with for the kitchen: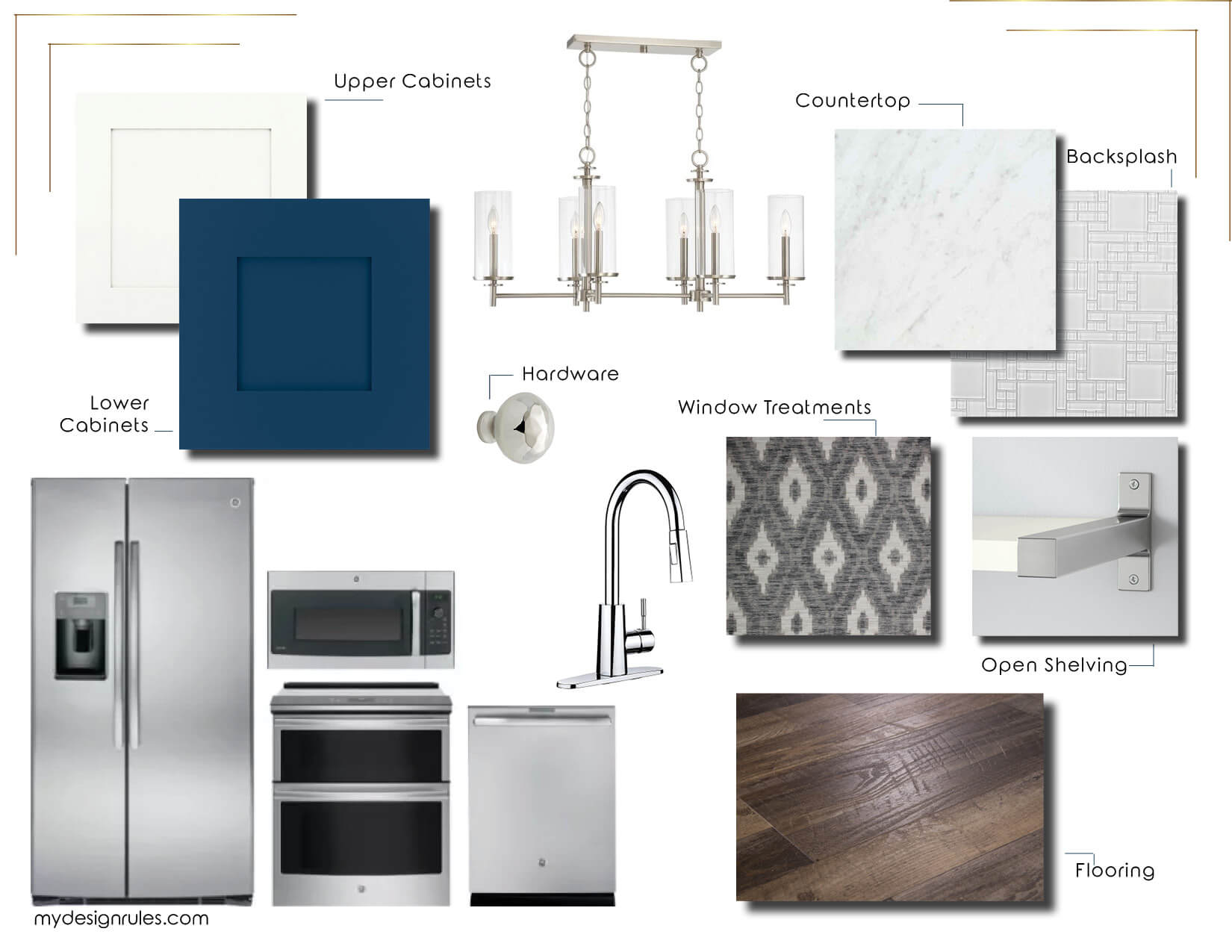 Sources: Chandelier // Hardware// Faucet// Fabric// Backsplash
RELATED: How to Make a Mood Board
I knew I wanted a wood look but wasn't quite sure of the product to use.
When searching around for kitchen flooring you have a few options if you want the wood look:
Actual wood or engineered wood. We didn't want wood because it's pricey and we live in a starter home community. Wood floors would 'over-renovate' this home.
Ceramic wood look tile. They make a million different colors of tile that look like wood and are very affordable. But I really don't care for how cold ceramic tile can be. Plus, the grout lines are always a sign it's not wood, but tile.
Laminate. You can get laminate that's graded for the kitchen, but it's pricer because you have to purchase underlayment.
We installed laminate flooring throughout the remainder of the house except for the kitchen and the bathrooms. However, laminate isn't recommended for wet areas. The change from carpet to laminate proved drastic. We transformed everything from beige builder-grade carpet to this gray-washed laminate in ONE day.
The installers quoted us $900 to do the kitchen in a similar vinyl planking, which included ripping out the tile (although he mentioned he could lay the LVT right on top of the tile). We weren't quite ready financially after doing the rest of house, so we held off.
When I started slooowwwly remaking the kitchen and revisited the idea of vinyl, I thought,' man if I don't have to take up the tile, surely I can do this myself.'
I started hunting for the right products and tools.
Everybody sells LVT. Everybody didn't sell the gray-washed tone and wood pattern I wanted at the right price point. I finally found something that matches the rest of our laminate flooring at Floor and Décor called Duralux. The planks are 6 inches by 36 inches an 5 mm deep. They are two inches shorter in width than the existing flooring, but it's not noticeable. They transition really beautifully.
What I love about the Duralux flooring is that you can use it right out of the box. No acclimation needed, no underlayment, not even a moisture barrier. And the price was phenomenal. I paid $318 for the ENTIRE kitchen. You remember that quote above? LABOR is expensive. You save so much money when you learn to do it yourself.
LABOR is expensive. You save so much money when you learn to do it yourself.
I debated removing the tile for a while and ultimately decided to just keep it in place. There's a slight elevation (maybe 2mm) from the dining room to the kitchen, but it would have been that way in the opposite direction had we removed the tile because the laminate is 8mm thick.
LVT Wood Look Flooring is Easy to install and remove
I wanted new temporary and permanent flooring. Sounds weird, but lemme explain.
Painting the cabinets was a temporary fix. We will need to invest in real cabinets soon, but I couldn't live with that floor much longer. This 'floating floor' clicks and locks in place. Which means you can essentially take the entire thing up if you want. So when we eventually install new cabinets, we can actually use the same flooring. I bought an extra box of flooring just to cover any issues.
When they say it's easy…buyer beware.
So I started out buying all the supplies to lay the floor myself.
That's all. Total cost including tools? $330.95
Mind blown! Good quality floors CHEAP!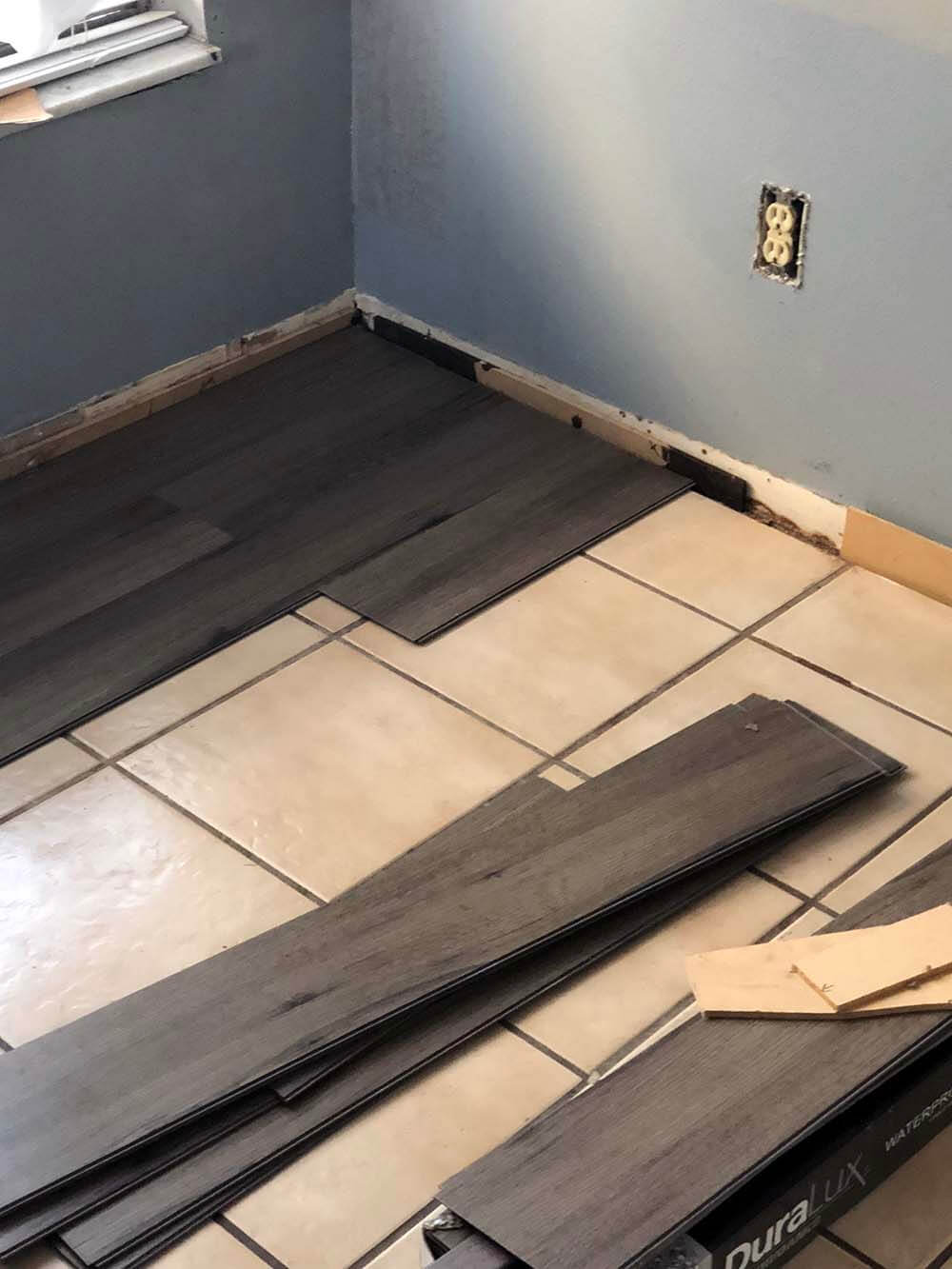 Everybody and they momma explained how easy it was to lay this stuff. So I figured, pshh…I got this.
Well, yes. I could have had this in a square room. But there were SO.MANY.ANGLES! It wasn't difficult, just a little tedious because of the shape of my room. Totally doable, but took so much longer than I expected. To cut the boards you simply score the front with a utility knife and snap. For smaller pieces, we scored and used pliers to snap off little pieces. A jigsaw comes in really hand too, but not totally necessary.
I started the project then called over an experienced friend when I got sick and couldn't finish the night before my son's birthday party. He said sure, it'll take me about 2 hours. Well, let's just say we went way beyond the two hours because of all those little bitty stinking cuts.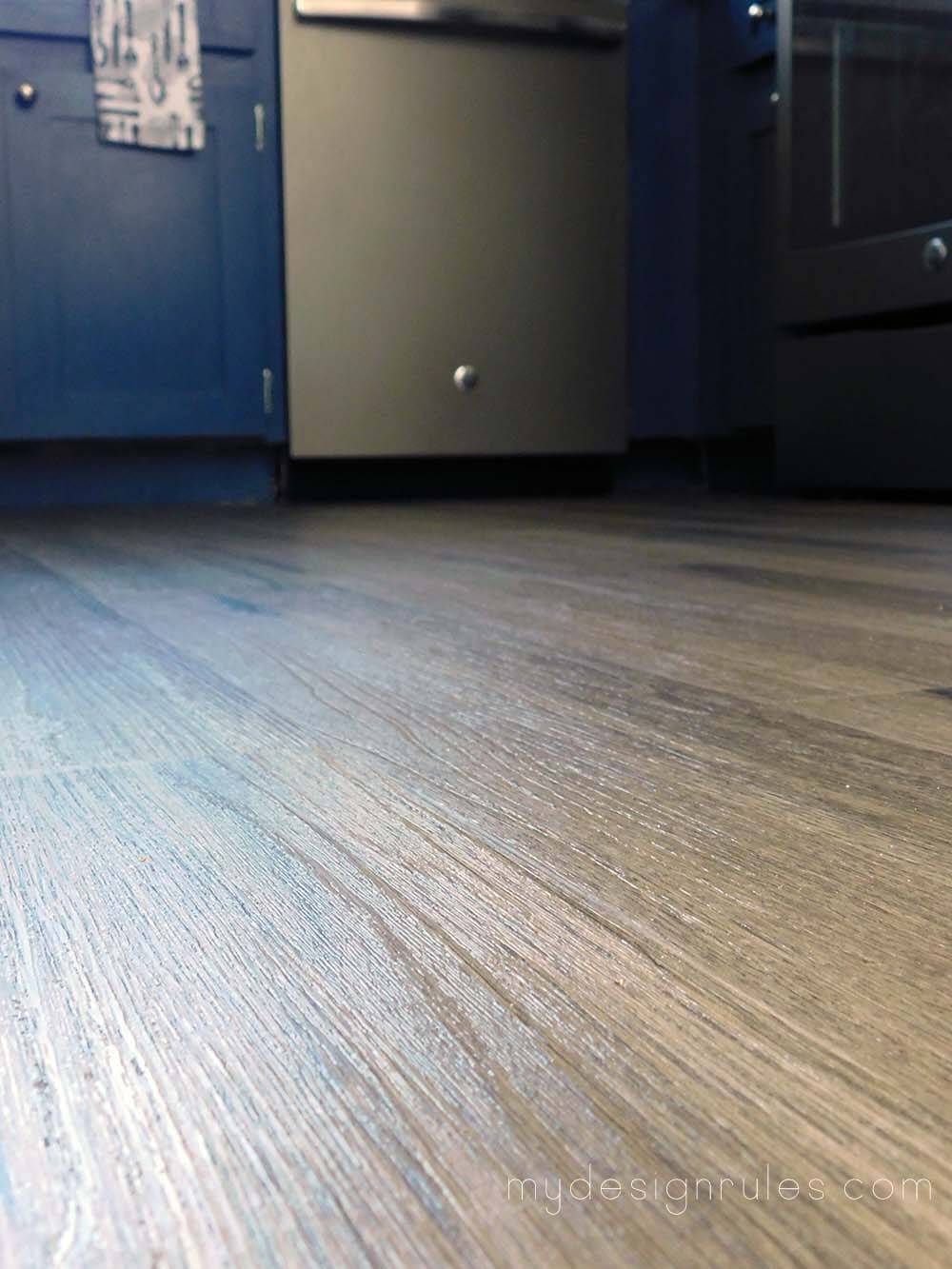 So How's the Quality of the Luxury Vinyl Planks?
When I say I'm head over heels in love with this flooring I mean IN LOVE. It feels absolutely amazing underfoot (not cold at all) and there's zero hollow sound because of the foam backing versus the usual cork backing of other luxury vinyl plank. I actually wish we could have laid the rest of the house using this flooring because it feels more authentic. The texture is more true-to-wood than our laminate AND I don't see this scratching nearly as easily. We tried to be gentle while moving the appliances back in, but inevitably the fridge got dragged a bit and didn't scratch at all.
At this point (only three weeks in) I have zero cons. Well, one: just didn't install them sooner.
And here's where we are with the vanilla kitchen makeover! See the kitchen before here.

Kitchen Makeover Series
Below are all the links to the Kitchen Series. As you can see, I did a ton of work, but it was all worth the effort.