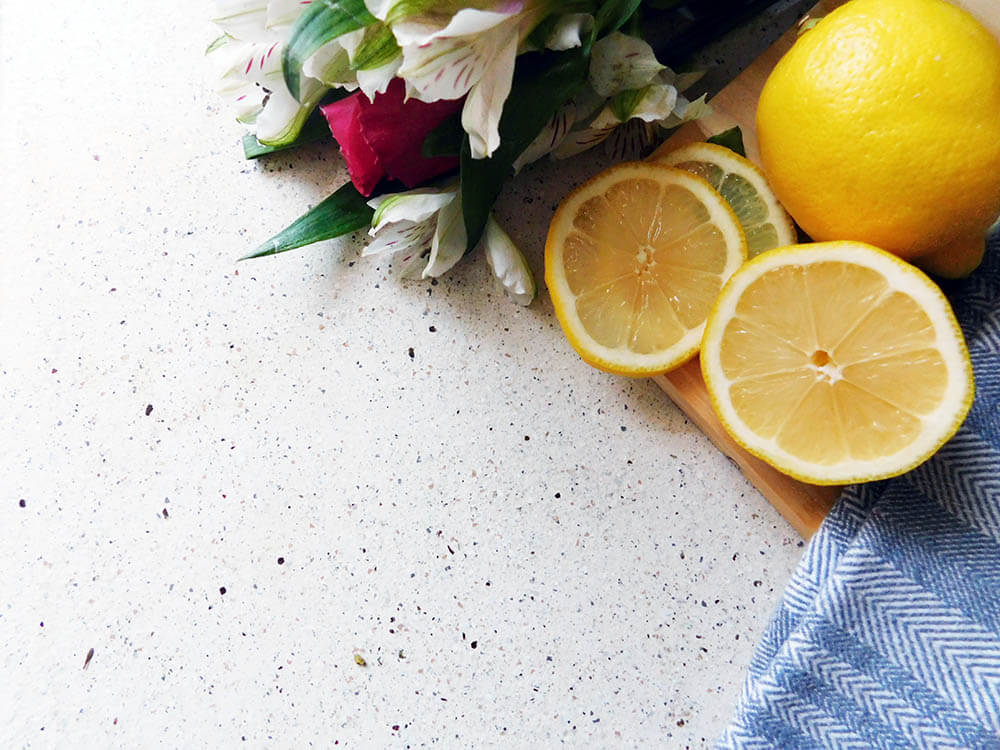 We're talking kitchen again today. Specifically, countertops. While I'd love to say I'll be telling you how I scored marble, quartz, granite or even a good look-alike laminate countertop for cheap. I won't. But I do have a good option for those of you want to repair and update damaged or dated laminate countertops.
This post contains affiliate links. If you make a purchase through the links provided I make a small commission at no cost to you. See my full disclosure here.
If you must be reminded, here's the before of my kitchen. I talked all about my plan to make it over on a budget here.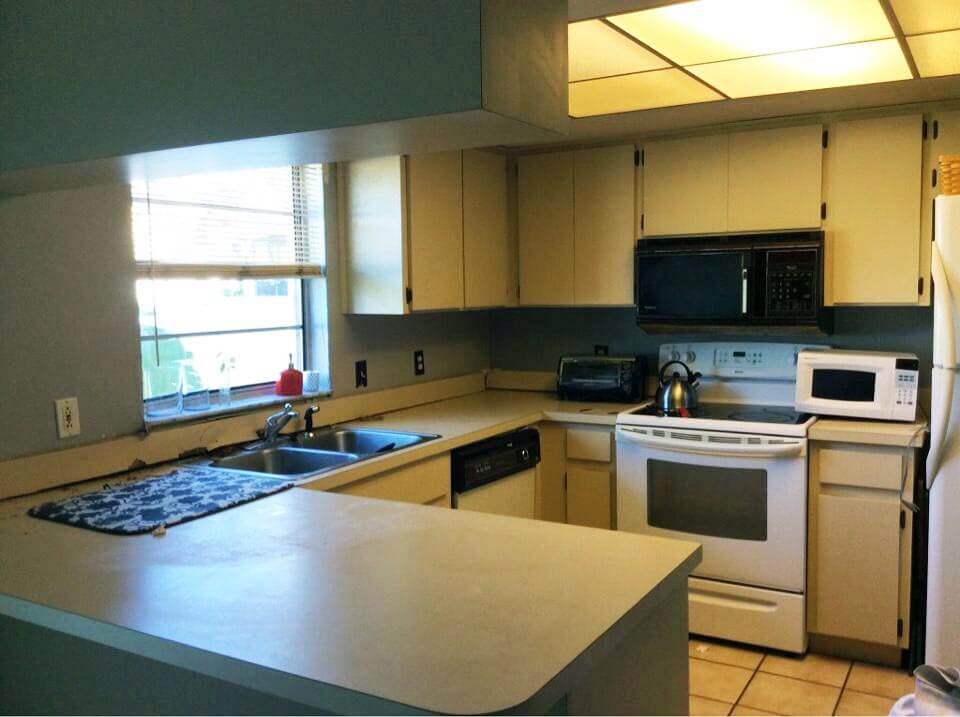 To get that ugly memory out of your head, here's what we're going for.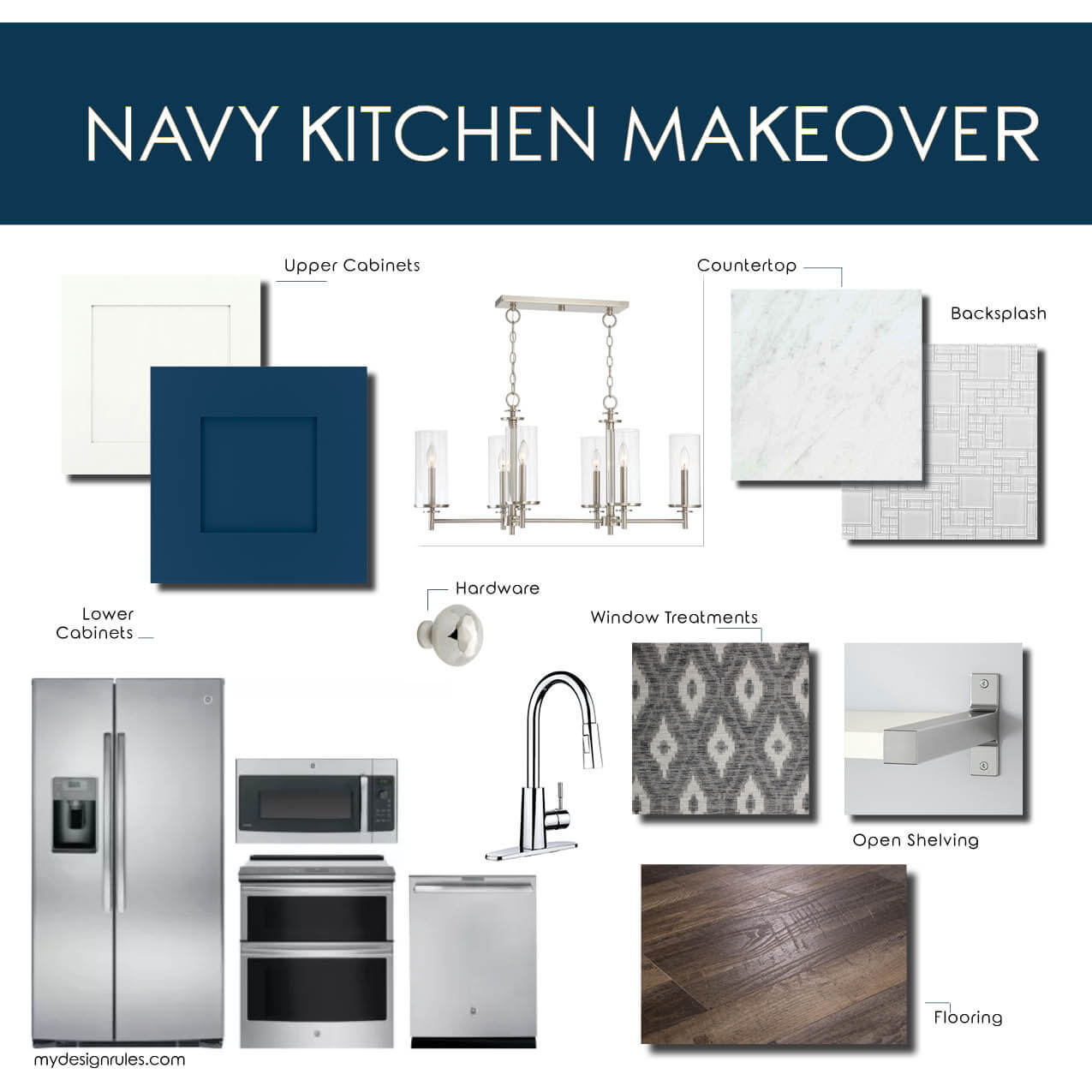 Ahh much better to dream.
Related: How to make a Mood Board
Options for Kitchen DIY countertops
To tackle what was seemingly an easy project, I kicked off my kitchen makeover by attempting to update and repair the severely damaged laminate countertops. They had experienced warzone like activity.
First, there were burns from a pot my husband sat by the stove without a trivet. The backsplash portion of it had gotten warped by water damage, plus some of the corners had chipped off revealing the particle board underneath. No Bueno. (This photo below is after I removed the backsplash.)
If your laminate countertop is in good shape, then you could just use a paint-over product like Giani Countertop Paint Kit. or Rustoleum Countertop transformation kit.

There is also a countertop film called Instant Granite I ran across that looked amazing but I have issues with simple contact paper. There's no way I would be able to install this without bubbles and problems:
My biggest problem was that I couldn't just use a cosmetic product, I needed a cosmetic and repair solution.
One solution I found involved applying laminate sheeting. You can purchase laminate to add to the top old counters, but the skill level required seemed way above my pay grade and my power tool arsenal. (I didn't want to invest in a router.)
What really irked me was that IKEA makes some gorgeous marble-look countertops that are super cheap and you can install yourself. Unfortunately, they don't offer the width I need. I wanted to cry when I saw new counters were within my reach and budget but I couldn't get them. Well, I could have bought them, but I would have had to sacrifice counter space and my open shelving.
Ultimately, I settled on using Daich Countertop Coatings Finishing kit. I like reading blog post reviews versus the ones on product sites or even Amazon because I want to see the product in action and get behind the scenes info that is more detailed than a short form review. There weren't a whole lot to choose from, but I relied heavily on a detailed Pinterest account with lots of photos, comments, and answers from the original user.
Why I selected Daich Countertop Coatings to DIY my damaged laminate countertops
Repair and Cosmetics in one kit. The Daich coatings contain bits of natural stone in the product. It's thicker than a paint. So after patching the blisters, the stone in the product will hide all the blemishes as it coats the counter. It can be applied to any surface; wood, tile, etc.
The look of natural stone. All the other coatings seemed to be either flat or required sponging on a granite-like pattern. I wanted the look of natural stone, translate: a high-end look on the cheap like always. The Daich Countertop Coating kit finish offered enough interest without being looking like "she-painted that." Daich had two options: Spreadstone and Mineral Select. They are both the same price; however, the Mineral Select kit covers 30 square feet and Spreadstone covers 50.The Mineral select has more character with flecks and a hint of glitter. I chose the mineral select option. The kit contained more than ample product to cover my counters which were a little over 30 square feet and I had enough left over to do a bathroom countertop. This is a close up of my actual counter color and texture:


Easy Breezy Application. If you can paint, you can do this. All you have to do is clean the counters, scuff them up a bit with sandpaper, paint on a stone base coat, paint on the stone decorative coating and then add the top sealant. VERY EASY and no heavy fumes. I wrote a review vs a tutorial because it's really a no-brainer. Nothing I can show you better than watching their video tutorial. To make repairs, you fill them in with regular wall spackle prior to priming. The stone coating will harden enough cover it all flawlessly.
Budget Friendly. The kit was comparable in cost to other kits. And almost everything you need to do the countertops is included in the kit. Sandpaper, paint rollers, paint brush, roller tray. No hidden DIY costs. If you have to fill burned spaces, you will need to buy a small container of spackle and to get a clean line around your sink, you'll want to tape it off. But that's it.
It didn't take forever. From start to finish, it took me 2 days to complete, but only because of drying time. Working time was about 2 hours. That included all the sanding, priming, two coats of stone and two coats of sealer. I allowed the counters to cure for 7 days before I began using them. I rolled a cart in the middle of my kitchen for a prep surface in the meantime.
It's actually more durable than I expected. I honestly thought this would be a very temporary solution. While it's certainly not permanent, It's taken a beating since I applied it in January 2016 and it's doing really well. Similar to laminate, you must use a cutting board and you can't put hot surfaces directly onto the surface.
Touching up is really simple. A few spots on the edges are showing a little ware, but all I had to to do was wipe a little extra product over the small area and it was like brand new. The area around the sink also started to peel a little. If I were applying again, I would lift out the sink instead of using tape to avoid this, but it's not a huge deal.
Caveats on using the Daich Countertop Refinishing Kit to repair your damaged laminate countertop
I love how my countertops turned out. My signature style is comfortable glam, (yeah I made that up—see why here). I want my home to warm, cozy and inviting. So I wanted the kitchen to be bright, but still have a nice warmth to it. I was a little disappointed in the color. I ordered natural white. This color was a little too warm. If I had to do it over, I'd also add a packet of fine glitter dust to the stone so it can have a little more sparkle.
Cons: The only con I will point out is the texture of the finished counter. It's definitely not smooth. Kinda like an orange peel. However, to be fair, they tell you that on their site. I originally planned to sand it smooth, which would literally take 30 hours. Ain't nobody got time for that! The texture isn't horrible and you can make it as smooth as you like granted you're willing to pay the price in elbow grease. Here's a close up of the texture.
The sealant gave it a bit of gloss finish. I was head over heels in love with the matte look before adding the sealer. My husband wasn't a fan of the matte look. You will not be fooled that it's quartz, but it's 1000x better than before. What do you think? Will you give it a try?

Pin it for Later…