If you've scoured the internet for the best paint for your laminate kitchen cabinets…I've got a lot of answers for you. I will not call this a tutorial on painting your kitchen cabinets because well, I have zero photo proof of painting the cabinet doors. I will say giving this 80s kitchen a good coat of paint totally transformed the kitchen. I mean totally.
Being the researcher that I am, I like to know exactly what I'm getting into and what a product will do before I jump into something. So I'll take you an a little journey of deciding what paint to use for laminate kitchen cabinets.
While there is still plenty to do, I still smile every time I walk into the kitchen. It's no longer vanilla. She's slowwwly climbing her way out of the pit of despair into the modern era. (Catch up on my kitchen makeover plans here.)
I'll start with color
Choosing paint colors was utterly agonizing. I mean tear your hair out hard. I debated for weeks on whether to go gray or blue on the lower cabinets. I finally settled on blue, then fretted over the perfect shade of blue. I tested a few colors:
Benjamin Moore Hale Navy
Sherwin Williams Indigo Batik and
Sherwin Williams Distance.
I have a blue accent wall in the living room and wanted to tie the two together.
They all had pros and cons, but ultimately the Indigo Batik won my heart. It was rich and sassy. The Sherwin Williams Distance was a little too muted, the Hale Navy seemed like it would take over the kitchen and make it too dark.
Then for the uppers, I really wanted the exact color as the lighter stripe on this wall.
Problem is, I mixed it at home (rookie mistake) and didn't have any of it left.
I tried to find a close match… including:
Balboa Mist
Benjamin Moore Silver Satin
Benjamin Moore Edgecomb Gray
Sherwin Williams Reflections
They were all too beige-y.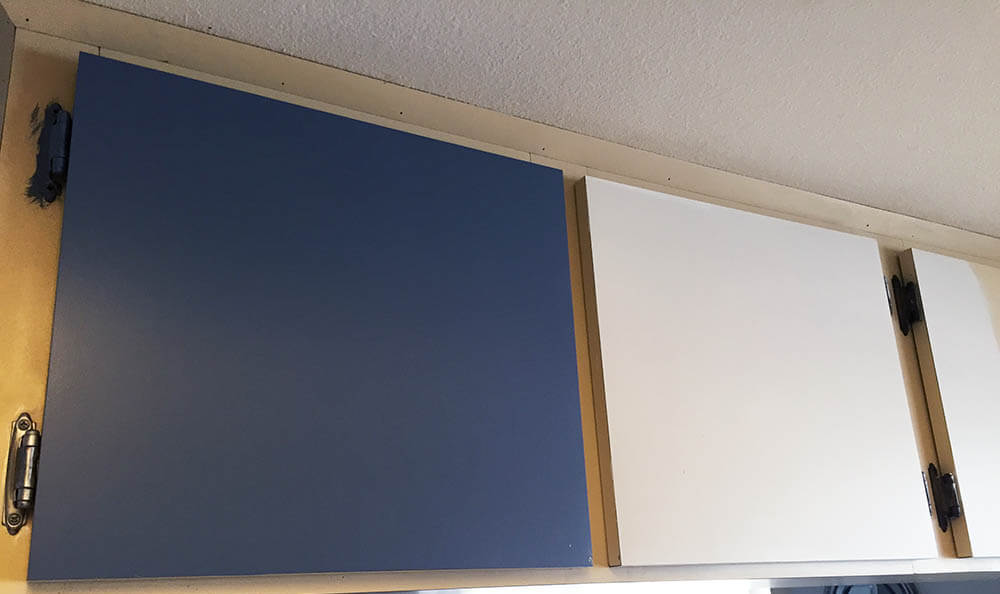 Then I settled on Sherwin Williams Reflections and even tested it on the back of the door. But when I painted this kitchen buffet and shelving using it, I realized it was wayyy too cool and blue. I need something more gray with a little more warmth. Ummm so I just mixed in some brown to warm it up. (I know, I'm a glutton for punishment, but I was NOT spending another $25 on a quart of paint.)
The result…
Soft gray uppers and deep blue lowers…(excuse the mess I took these photos in the middle of adding hardware.).
And, please bear with me on these photos. I only have them because I was taking photos for my friends to send through Groupme, never giving thought that I would need to post on the blog. So short-sighted.
The best paint to cover laminate cabinets
So about the paint. You know I researched this to death right?
Even though I knew this paint job was going to be temporary (we really need to invest in new cabinets) I still didn't want to deal with paint chips, super long dry time or a glossy finish.
I wasn't even looking for an uber budget-friendly option because sometimes the cheap comes out expensive. Quality was key.
The best paint options for laminate kitchen cabinets
PPG Breakthrough
PPG Breakthrough was my first choice. It was low VOC, low odor and dried quickly. I read rave reviews on how fast it dried and how rock solid it was. I mean, the paint is said to dry to the touch within 15-20 minutes. Say what!?!? But when I visited the PPG store, the sales guy almost laughed at me when I told him I was going to be doing it myself. Let's just say I took that as a sign to move on. The product is made for professional painters. With drying time that fast, there's no room for error and it must be sprayed. I intended to spray the doors, but I couldn't spray the bases.
Benjamin Moore Advance
After giving up on PPG Breakthrough, I looked into to the Benjamin Moore Advance. It seemed to be the winner among DIYers for cabinet painting. It supposedly glides on smooth with self-leveling properties and dries to a very hard finish. But the dry time seemed like a million years for me. 16 hours to recoat. I was already anxious about my kitchen being torn up for an eternity so using this paint simply would not work.
Benjamin Moore Aura
I was getting closer. I'd used Benjamin Moore Aura twice before with GREAT results…on furniture. Once on a friend's dresser and once on my son's bed. It went on smooth and leveled beautifully, covered well, dried hard AND didn't take forever to cure. I painted my son's bed in a satin finish and it wipes down OK. I'm not a fan of super shiny, so it was perfect.
Except for the guys at the paint store kept trying to talk me out of using it on my cabinets. Even though I felt comfortable, they kinda make me second guess using it.
Cabinet Rescue
I scored some Cabinet Rescue paint on clearance in the hardware store for $2.50. It was a nice shade of gray, just not the right color but I used it as a testing option to see how durable it would be and how hard it would dry. It went on smooth as butter and dried to a nice sheen. Not too glossy, but not matte. The paint can said it didn't need a primer, however on laminate I would NEVER skip the primer. I used this to paint the inside of my under-sink cabinet and it scratches without a primer. I totally would have used this paint–EXCEPT–It couldn't be tinted in a deep color. According to the people at the hardware store, there wasn't enough room in the can for all the colorant needed. Soooo close!
Valspar Cabinet Enamel
The Valspar Cabinet Enamel looked like a really viable option. It was supposed to cover any surface, was re-coatable in four hours and didn't require a topcoat. It could also be tinted any color I wanted. Downside? It only came in semi-gloss and I was afraid of the gloss. Just scared. So I passed. If you like shiny, then I would go for this one.
So exactly what paint did I use for my laminate kitchen cabinets?
Sherwin Williams Proclassic
I ended up using ProClassic Waterborne Interior Acrylic Enamel by Sherwin Williams And let me tell you…'it costs to be the boss' as my mom used to say. This was NOT cheap paint, BUT it covers and holds up like a dream. I got a quart of it mixed in Reflections in a satin finish for the upper cabinets. I waited until Sherwin Williams had a 40% off sale and scooped up all my supplies at once. The Proclassic dried rock hard.
Unfortunately, the Proclassic can't be mixed in dark colors. So.incredibly.bummed. However, the salesperson assured me that All Surface Enamel Latex Base would dry just as hard as the Proclassic. I was happy as a clam FINALLY finding exactly what I needed.
Welp, he was WRONG. It did ok, but I certainly need to touch it up. Total disappointment.
(Edited to add: I removed the product link because I think people were clicking and buying before they read that it failed miserably. If you want to see it now that you know it doesn't work, check out the All Surface Enamel Latex here.)
If I were to do it again, I'd go for Proclassic up top and Benjamin Moore Aura below. If you're painting your laminate cabinets all one light color, definitely go with the Proclassic.
The best primer for laminate kitchen cabinets
I also recommend the Sherwin Williams Extreme Bond Primer. I only needed one coat. It glided on evenly and covered flawlessly. A little pricey too, but worth it.
I admit I was scared I'd have to do a million coats of the blue on top of the super white primer. The first coat wasn't pretty. But it only took two coats. In most circumstances, you'd want to tint your primer to a darker color, but I needed the primer for the upper cabinets as well.
I gave all the cabinet bases and doors a coat of primer, caulked a few gaps at the ceiling and then two coats of paint. I used a combination of brush and rollers over the course of a few days.
Top Coating the laminate kitchen cabinets after painting.
I was afraid the satin finish might not hold up to wiping down so I hunted down a clear coat that wouldn't yellow or be too shiny. I went with yet another expensive product, Benjamin Moore Stays Clear in Low Lustre. It had a tiny bit of a shine, but nothing too offensive. I've used Polycrilic in the past but had a little trouble with it covering without streaks (perhaps user error). I didn't have any issue getting the Stays Clear to go on evenly. Had I simply used semi-gloss I probably wouldn't have needed the top coat.
I'm pleased as punch that the Vanilla Kitchen no longer exists. Remember this?
Well, she's still got yellow feet, but this was a giant leap forward. (Again, I don't have a great photo at this stage. But you can clearly see I'm moving on up!)
Next up? Appliances. I have got to let you in on the secret of how I got high-end appliances on the SUPER Cheap.