If you're looking to up the ante in your outdoor patio or porch décor making a solar table lamp will do the trick. This easy DIY project takes less than an hour to put together for a really sophisticated update to your ehh garden.
I recently refreshed our outdoor front porch/door décor. (I never know what to call that space!) It's not a porch because it's not covered. Is it a patio?…it doesn't have floors; only mulch. I guess it could be a garden!?
Anyway. I gave it a much-needed makeover in early April. The winter had me a little lazy with pruning the palm trees and maintaining the mulch. A few planters, new pillows and a couple DIY projects later and I had a very vibrant garden area going on.
This post contains affiliate links for your convenience. If you click on a link and make a purchase I earn a small commission to help me run this site at no cost to you. Read my full disclosure here.
My favorite addition was the plant stand I picked out to act as an outdoor sofa table of sorts. The sofa table made it feel like an outdoor living room. And what do you put on sofa tables? Why lamps of course.
I'm going to show you exactly how I made a snazzy outdoor light fixture that—get this—actually lights up. My husband was super impressed that it wasn't just a pretty thing-a-ma-bob. Stylish and functional. The best combo evah!
You can do this with just a few supplies and I promise, the paint and glue drying is the longest part of the process.
Supplies you'll need for your DIY Solar Table Lamp
Lamp. Preferably one you love and snagged on the cheap at a thrift store or a garage sale. If not, pick one up for $5 at Dollar General. This is not the time to pull out the good stuff because, well, weather.
Wire cutters or Utility Knife
Pliers
Spray paint (or not depending on your lamp)
Lamp Shade (similar to what I found at Michael's)
Solar Stake Light
Clear Nail polish (optional)
Step 1-Disassemble your lamp
For me, that meant removing the wires by cutting the cord with the wire cutters. I also had to remove the harp by squeezing the base. Use your pliers to remove the screw and all other pieces.
Step 2-Clean your light
Mine had a thrift store price tag, so I used alcohol to remove the goo and gave it a good wipe down prior to spray painting.
Tip: always clean items thoroughly before spray-painting Because no one wants their project to look spray painted!. Dust, residue, and debris will prevent the paint from adhering properly. You'll also achieve a more even coat.
Step 3 (optional) Embellish the lamp
Spray paint or embellish your lamp and shade and allow to dry. The table lamp itself was in good enough shape and really didn't require any additional embellishment. I decided to paint it to add more color to my patio porch outdoor seating area.
Allow your lamp to dry. Don't be impatient! Fingerprints and nicks will ruin the finish!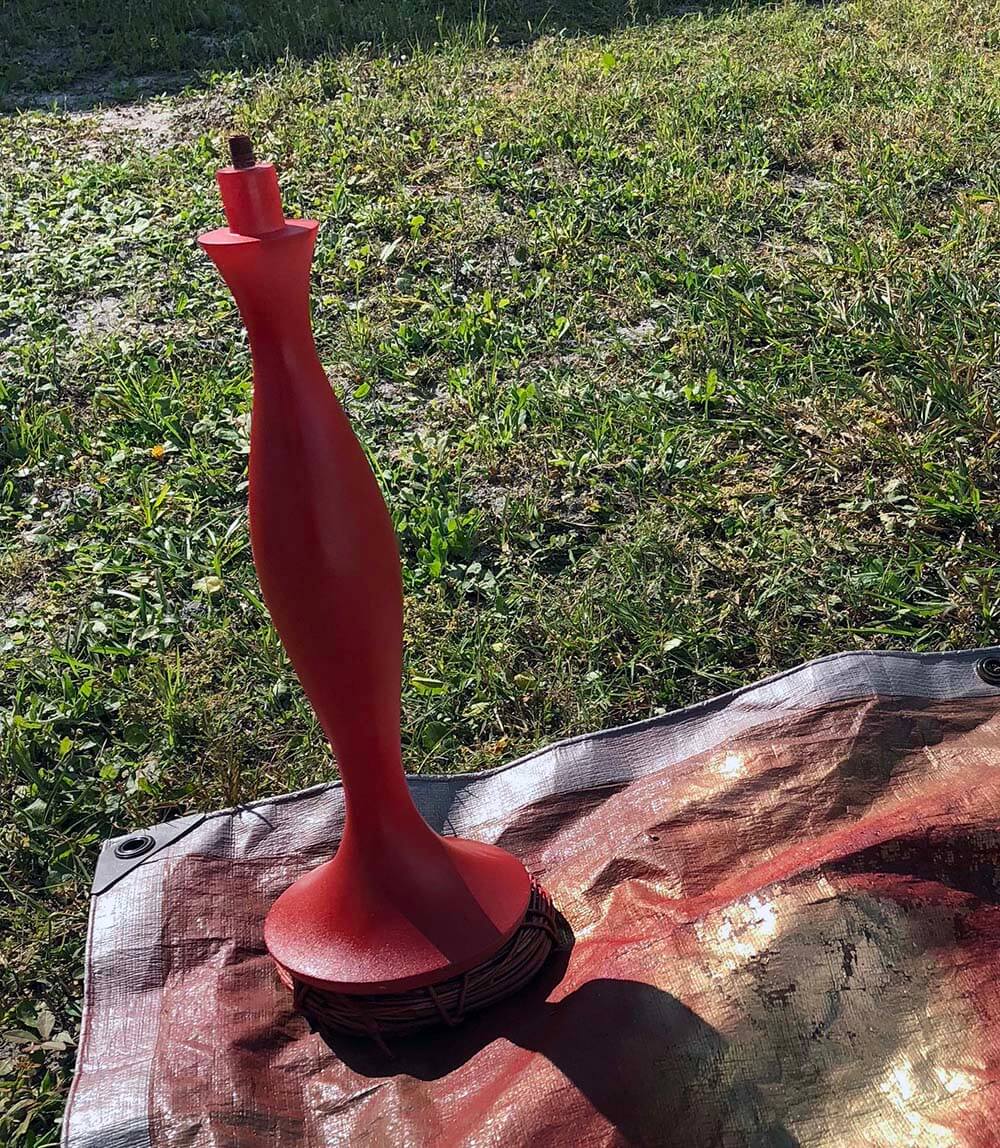 Step 4-Attach the solar light
Remove the stake from your solar light. Adhere the light to the top of the lamp with the glue. It may not be a perfect fit, but it will dry tightly if you use this glue.
Add the lamp shade. I found my lampshade at Michael's. It wasn't available online, but you can find a similar mesh shade one here. It's made to fit a hanging pendant light but it fits perfectly over my solar light for this project. The sky is the limit with the lampshade options.
The lampshade should weigh enough to keep the solar light in place while the glue dries.
Optional: To keep your solar light working longer using clear nail polish to seal the solar panel.
Tada! All done!
Making this garden solar lamp was one incredibly easy DIY project and the cost wasn't too shabby either. I had the lamp, glue and spray paint on hand. The shade was $7.99 on sale (try to use a coupon too!) and the light stake cost $3. $11 budget light outdoor light fixture? Yes please.
Now go make your lamp and come back and show me!