I can read kitchen makeovers all day. Every single one I find on Pinterest gets a click-through from me. Good or bad, I wanna see. Why? I dreamed of a pretty, functional kitchen for quite some time because I lived with a builder-grade beige laminate kitchen in much need of a makeover.
My 1980s laminate beige kitchen in all her splendor.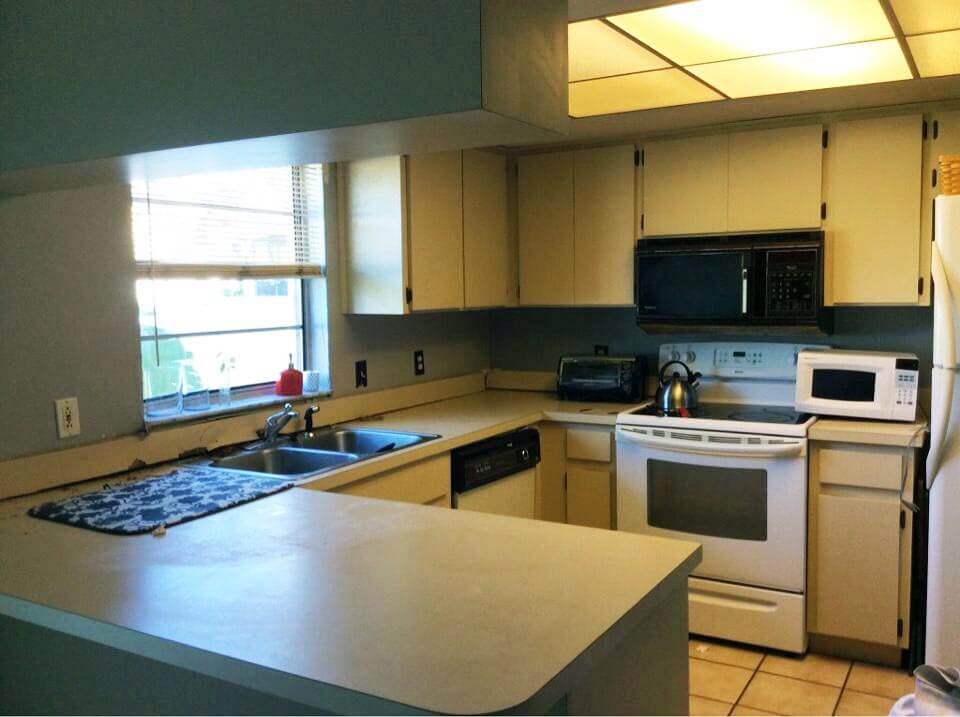 This post contains affiliate links (because I know you want to know where I got those cabinets). If you make a purchase through the links provided I make a small commission at no cost to you. See my full disclosure here.
I wish I could deny ownership, but yes, this vanilla laminate kitchen belonged to me for about 12 years, (Total shame for someone who loves pretty things as much as I do). I just had no clue what to do with it besides take a sledgehammer to it.
I cringed every time I walked into the kitchen. Everything from the floor to the ceiling was beige. The cabinets, countertop, and backsplash were all the same 80s plastic laminate. Not even the good laminate/melamine that looks like wood. No, the plastic, flat, zero personality stuff sitting on top of particle board. Just ugly and boring.
The kitchen wasn't even totally functional. The microwave over the stove didn't work from day one when we moved in. Our dishwasher leaked the first year we were in the home so we never used it. The stove and fridge clunked out so we switched them out for budget-friendly white ones, which of course didn't go with all the BEIGE.
To give you a little background, my home measures 1176 square feet under roof. The kitchen consumes about 200 of that.
Now you tell me why an 1100 square-foot-home has three, yes 3 places to eat?
Formal Dining room that's open to the Living Room,
A countertop bar (which you have to choose whether you want to own a dining room table or bar stools because you CANNOT fit both into the space)
AND then a dinette area.
Makes absolutely NO sense. Surely a single man straight out of architecture school designed this home. An incredible waste of space.
The Challenge: Laminate Kitchen Makeover on a Budget
Like most projects I start, I had an extremely low budget and all the work would be done by yours truly. But err, umm my taste is not what I call budget friendly. Of all the kitchens I browsed on Pinterest, these are the ones I swooned over the most.
It was love at first sight with these two blue kitchens both designed by Emily Henderson.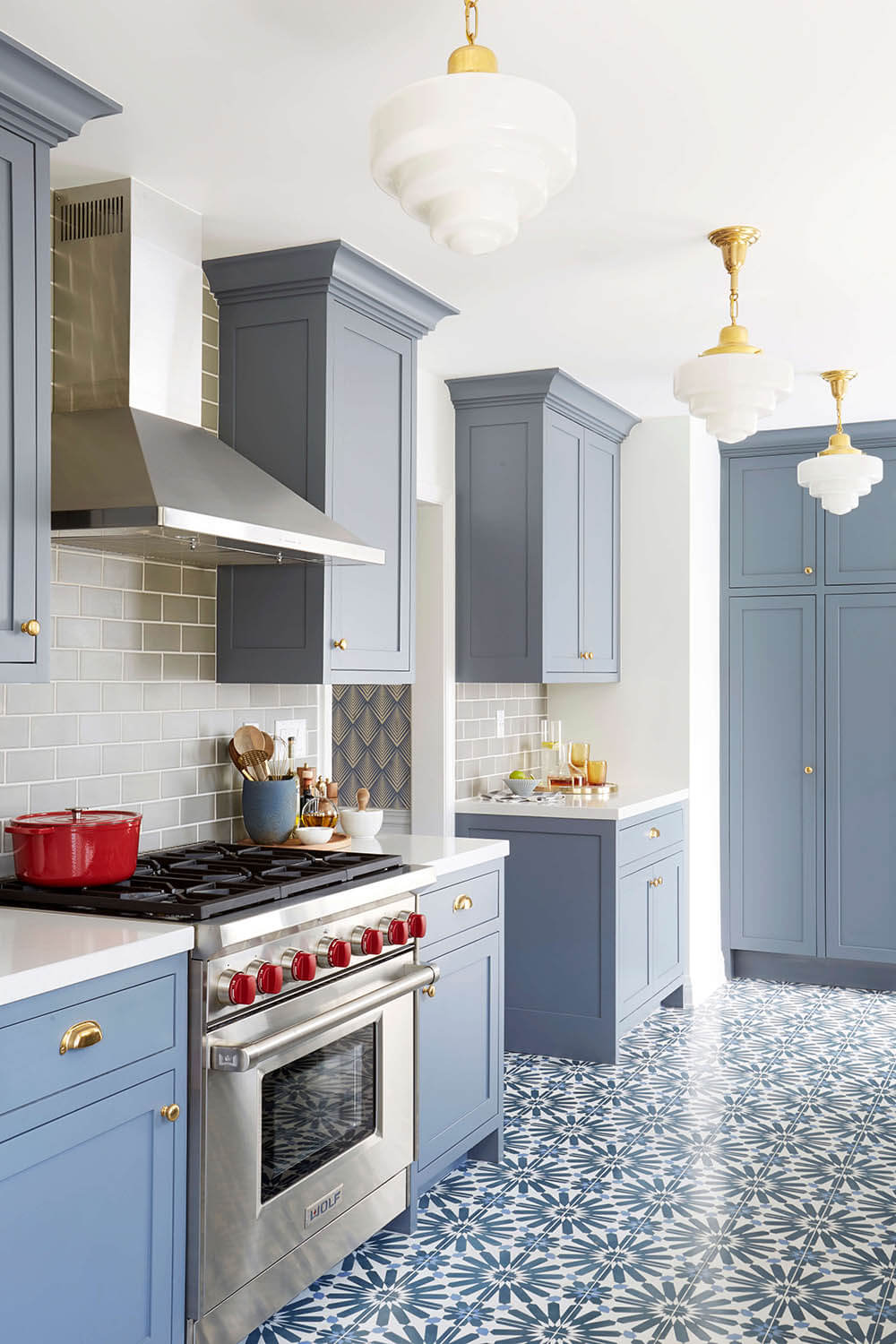 I know what you're thinking:
"Girl you need to gut that thing and start from scratch."
But I told you, I don't have a gut-and-start-from-scratch budget….just a few dollars and a lot of sweat equity.
I researched every little detail. Translate: read every article on painting laminate kitchen cabinets, adding hardware, tiling, flooring lighting I could find. EVERY one. (All you DIY Bloggers, say thanks to the many page views I graciously handed out). I had to make this thing be.
After all my research, I came up with this mood board.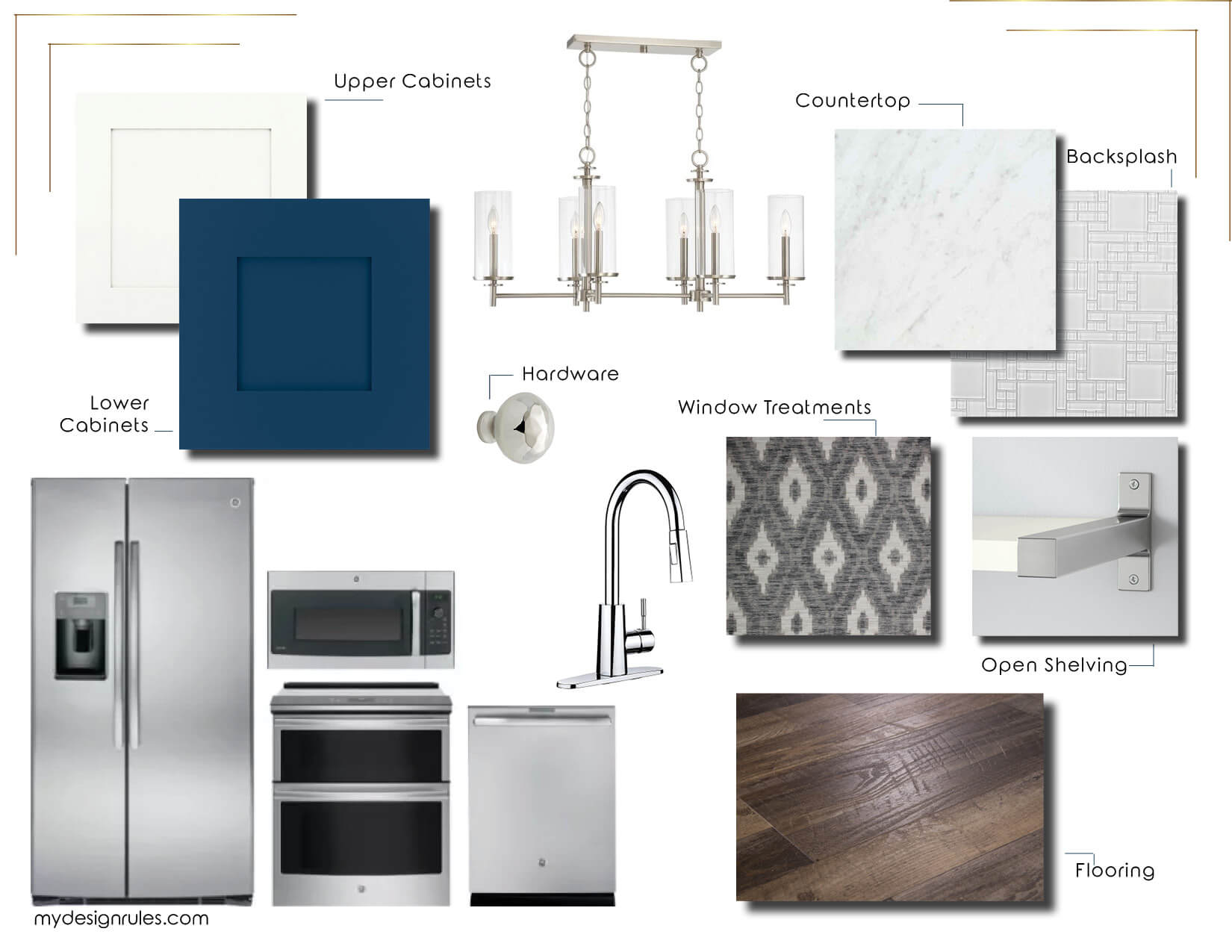 Sources: Chandelier // Hardware// Faucet// Fabric// Backsplash
Dreamy right?
The Plan for My Laminate Kitchen Makeover
My budget including appliances was under $2000. My somewhat ambitious is-she-out-of-her-mind-plan:
Update: Check out the final kitchen reveal.
Add shaker style trim and hardware to the existing cabinet doors
Paint the bottom cabinets dark gray-blue and the top cabinets a warm almost white gray
Remove short hanging cabinets and add open shelving
Do something with the fluorescent lighting
Install new faucet
Upgrade the appliances or at least make them all match
Install a backsplash
Add more storage
Update the tile flooring
Update countertops
Make window treatment
Again, with the side-eye from you.
You going to do what with what?
Yep. And I'm sharing all the deets. I hope you don't get sick of my kitchen because you're about to see every nook and cranny!
You can also get a sneak peek of my test run by checking out how I turned a bathroom sink into a buffet.
I followed the steps in the How to Decorate Series to come up with this plan. I'm actually still working on the kitchen but I've done enough work to start sharing the progress with you. This process can work for any room in your home.
Now that I've come clean about my embarrassing space, do you have one and what are you going to do about it?
Kitchen Makeover Series
Below are all the links to the Kitchen Series. As you can see, I did a ton of work, but it was all worth the effort.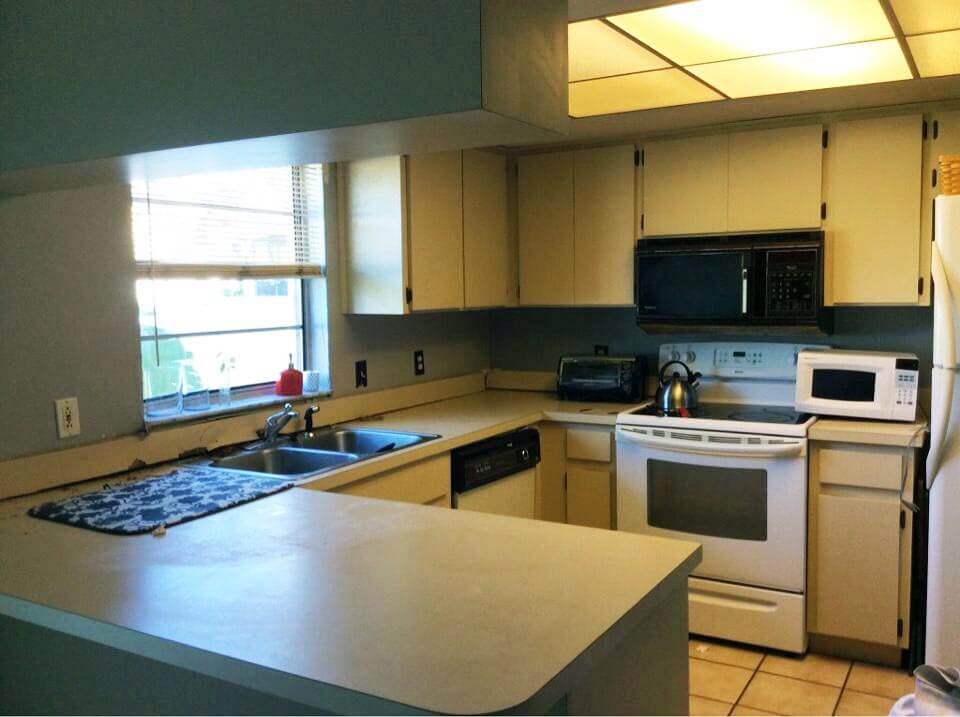 Pin it for later!