All the beautiful kitchens on Pinterest sport high-end brand name appliances. It's a fact of life. But those said appliances cost high-end dollars that I simply don't have.
I'm making over my 1980's vanilla kitchen on a strict budget and said kitchen has some appliances that are well, let's say they came with the house. The house built in 1986. Needless to say that I need some new appliances; preferably brand name, great quality. My goal was to replace them or at least make them all match. The white wasn't too terrible, but not necessarily my first choice.
And if you check out my moodboard from the introduction to my kitchen makeover…those are some pretty sleek looking hunks of steel. So let me tell you exactly how I ended up with some pretty snazzy brand name appliances without spending a fortune.
This post contains affiliate links for your convenience. If you make a purchase, I make a small commission with no additional cost to you. Read my full disclosure here.
Check for deals on brand-name Appliances often on deal apps.
Enter Offer Up..a GREAT place to buy brand name appliances on a budget.
I LOVE me some Offer Up. It's the visual answer to Craig's List in an app. There are a few apps like it including 5 Miles and Let Go. I've used all three to buy and sell, but have always defaulted to Offer Up. The user experience just seems to be better.
Good deals can pass you by faster than Crock-Pot can respond to the This is Us debacle. I mean lightning fast. They key is to search often. I usually do my searches first thing in the morning because people tend to post before they go to work AND at about 5-6 pm because people are getting home from work. Check 3-4 times a day on Friday, Saturday, and Sunday. When people AND businesses are expecting buyers to pounce.
Using this tip, I got this BRAND NEW GE Profile stove for $400.
I bought it from a homeowner who had gotten appliances with a home she purchased and didn't need it. This beauty retails for $$$1700 NEW. It was fully loaded with a convection oven, 5 burners, a warmer and get this…it's Bluetooth enabled allowing you to turn it on and off remotely. Head spinning.
I was not used to that type of luxury. And to be able to pull the mac and cheese and the rolls out at the same time at Thanksgiving!!!…yasss! Not to mention this thing was GORGEOUS. My kitchen didn't know how to act with this bad boy. It had only danced with a beige low-end range and average -looking snowy cooktop. Now we were cooking with gas electric, but still.
Next up the Dishwasher…
Check Scratch and Dent Retailers for inexpensive brand name appliances
I stalked the scratch and dent stores for matching GE Profile appliances for weeks. Now that I was locked into GE, I really wanted to stick with THAT level of GE. But no way could I ever afford them at regular price. I found my first break at Sear Outlet. Originally priced at $999, I got this super quiet, very efficient sister to my sleek stove for….drumroll… $250 including tax.
I went to the store to check it out in person, then bought it online so I could use a cash back app (Ebates) to earn a few dollars back. (Learn more about how I do this every year to pay for Christmas here.) The dishwasher had a tiny dent on the front and small scratch I had to squint to see. I had to take the photo at a weird angle so you could see it. Not a big deal at all. Umm load her up, please.
I will tell you that the story gets a little bit tragic from here, but I still came out on top.
So remember my beautiful stove? Well, look closely at the progress photos here.
Enter GE Profile Stainless Steel Range.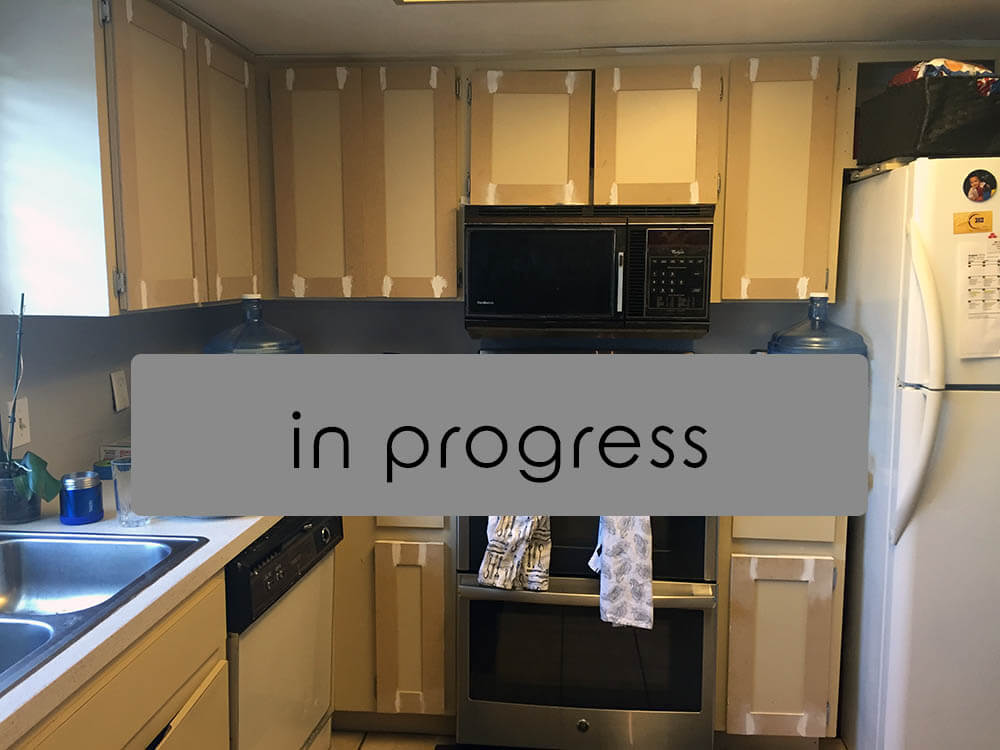 Return of the White Kenmore Range.
Look closely at photo two with the stainless steel stud. Well, you see that cabinet door above the stove that's a little wonky? It's not screwed in, just sitting on top of the microwave hanging out. It fell and CRACKED my beautiful new glass-top.
Tragedy girl.
The cost to replace the glass cooktop? $400 plus a repairman. To say I cried would be an understatement. Luckily, we hadn't sold the white stove yet so we just slid it back in place.
I toiled with the idea of getting the cooktop fixed for a awhile. Then one day I was perusing Offer Up as I was prone to do and this popped up!
FOUR ALMOST New GE appliances for $350. What what? Yep. I would have paid that for just the fridge. The owner was getting rid of everything in a home he wanted to gut and sell.
I didn't hesitate and put in a bid. In the photo, I assumed they were stainless steel. When my husband and I arrived they were slate gray. Not at all what I planned for, but umm, there was no way I was leaving those 6-month old appliances there. At the very minimum, I could sell them to pay for the stovetop repair.
To be honest, I wasn't sure about the slate gray with the blue, the light gray AND polished chrome hardware. I designed my kitchen around stainless steel. I ALMOST even decided to repaint the bottom cabinets gray. But my husband and my friends convinced me it was fine and it kinda grew on me.
So, I cleaned the slate appliances thoroughly and sold off my other motley crew of appliances.
If you're keeping tabs on costs…here are the money deets:
| PURCHASED ITEMS | PRICE |
| --- | --- |
| GE Profile Stainless Steel Range | $400 |
| GE Profile Stainless Steel Dishwasher | $250 |
| Cheap Kitchen Hood | $25 |
| GE Slate Appliances | $400 |
| TOTAL | $1,075 |
| SOLD ITEMS | PRICE |
| --- | --- |
| Old White Frigidaire Refrigerator | $150 |
| GE Profile Stainless Steel Dishwasher | $250 |
| Broken GE Stainless Steel Range | $75 |
| TOTAL | $425 |
I ended up giving the white stove to a junker just to get rid of it, took a bit of a loss on the stainless steel dishwasher and sold the broken GE range wayyy too cheap. There were 6 offers within 15 minutes. I should have sold it for at least $200. We also tossed the slate gray microwave. It had weird odor we couldn't get rid of.
So after everything was said and done:
I got very nice brand name appliances for $650!
Not bad at all.
Oh and the week I bought the slate gray appliances, I found a gently used counter-depth GE Profile Refrigerator with a bottom freezer on Offer Up for $575. Could've had my dream appliances if I had waited just a tad longer.
When you don't have a huge budget, waiting works!
If you're wondering about that range hood…I bought a cheap white on similar to this and painted it to match the top cabinets.
Other ways to save on brand name appliances
Shop Clearance for brand name appliances on a budget
If you're afraid of buying from Offer Up or other sites/apps or at scratch and dent retailers, you can still get high-end appliances on a budget by shopping clearance sales. Manufacturers normally come out with new models in late fall. So black Friday is a great time to get a good deal on appliances retailers are trying to get rid of. They also will clearance individual appliances throughout the year. Make it a habit to check clearance deals whenever you visit a store.
Shop for deals on brand-name appliances around holidays.
Stores also tend to offer great holiday deals like Memorial Day (new model fridges are released during the summer). President's Day and Labor Day are also good times to look for a deal.
Update on the Vanilla Kitchen Makeover
Floors and lighting and we'll be about there!
So, are you on the hunt for any fancy schmancy appliances?
Here's where we're at on the makeover.
Check out the before here. (Brace Yourself!)

Pin it for Later!