Apartments and old homes real pains when they don't have overhead light fixtures. When you want overhead lights without wiring you're stuck trying to figure out how to make light without electricity (especially at night). I thought I had a solution for the baby room light fixture in the nursery I'm decorating as part of the One Room Challenge and it turned south on me.
And really, this was a real challenge—but it didn't start out that way. That's because I'm a little hard-headed. If I had stuck with my original plan I wouldn't have ended up in this mess, but none the less I figured out how to make a ceiling light without wiring. It just isn't pretty.. and ya girl needs pretty.
This post contains affiliate links for your convenience. If you click on a link and make a purchase I earn a small commission to help me run this site at no cost to you. Read my full disclosure here.
My knee-jerk idea was to use a solar bulb to make light without electricity. They're quite inexpensive, around $8-10 a piece. The problem is they require LIGHT to work. The baby room has two decent size windows, but not enough light fill a solar panel and be ready to use a night.
Second option, use a wireless bulb. At this point, I didn't even know they existed, but sure enough, you can buy a battery-operated bulb. I had two problems. One, I needed the bulb on a deadline for the challenge and it wouldn't arrive in time. And two, the reviews for the battery operating time on the light were not so great.
Third option? Battery operated puck lights. They worked like a charm but certainly had a few pitfalls. I had to configure how to make the pucks cooperate with the base my light fixture: this super cool orb I found on clearance in the garden section of Target. You can find a similar sphere here
Since the orb is open, trying to make the light actually look good and figure out how to suspend it was not aligning for me.
I created a base by cutting a 7″ circle from foam core, glue the lights to it and covered the lights with artist tape (because I couldn't find my painter's tape)
Then I spray painted using hammered metal texture paint. The finish came out kind cool buuutttt….
My DIY was looking wayyy to DIY and uh uh. I want to do it myself, but not look like I did. I'm not looking for store-bought perfection but I need it to look decent.
I tried a few things and girl, it wasn't working. Outside of being rushed and messy looking (which I could have fixed) The shape wasn't working out for the orb. Knowing when to call it quits, I just hung that thing right back on the hook and called it day.
Next project up? the baby mobile. Please say something to Jesus on my behalf. I can't afford another fail.
I will say the actual puck lights are pretty phenomenal. They give off a ton of light, can be controlled individually by a simple tap AND a remote control that lets you dim them, set a timer and turn them all on or off at once. You WILL be seeing them again…just not in this room. I picked mine up at Aldi. These puck lights are very similar.
But hey, one of my rules is I have a right to fail. Yep. A right. Read more about why you NEED to fail at decorating here. It's one of my favorite posts because decorating and DIY is NOT always a guaranteed win. There are certainly some losses and this time it was a loss.
So instead of showing you my pretty little ingenious light, I'll give you a glimpse of the lightless orb.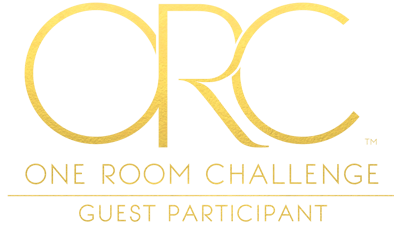 So here's what's left to do in the last two weeks.
DIY a baby mobile
Complete a top-secret art project (Haven't even told my sis about this one)
Style the bookcase

Need to catch up? Check out these posts (where I actually had successful projects)
Week 1: How to Set up And Decorate a Baby Nursery (in 6 weeks!)
Week 2 | How to make and frame simple wood picture frames for large art.
Week 3| Oh So Cute DIY Changing Table Topper

Week 4 | When Bright Ideas Go Dark-ORC Nursery Update (you are here)
Week 5 |How to Make a Mobile: A Modern Hanging for Your Baby Nursery
Week 6 |Room Reveal-Simple DIY Room Décor for your Baby Nursery