Are you searching for a budget-friendly option for a feature wall? I've got you covered with THE easiest and cheapest way to buy and print large wall art. Plus, I'll show you how to make a simple wooden picture frame for a sweet wow to your baby boy (or girl) nursery.
Lemme give you a little background. I'm in the middle of creating a baby boy nursery for my sister as a part of the One Room Challenge.
You can check out my post on how to set up and decorate a nursery for the plan details.
Where to find large-scale nursery printable art
My sister fell in love with these black and white woodland animal prints she found on Etsy. It's hard to believe, but I still run into folks who've never heard of this little gem of a site where people sell all sorts of handmade, unique and digital products. It's like an online boutique of a million different things.
Anyway, these particular high-resolution printables cost next to nothing and would make such a sweet nursery wall focal point in the room, so we downloaded our three favorites. You are NOT limited to nursery animals. there are TONS of sellers offering everything from cheeky graphic prints to high-end custom art. Once we downloaded our options it was time to print.
The cheapest way to get large prints
Update 12/21/2020: I have since tried this method and both Office Depot and Staples accepted my online order but I received a phone call saying they will no longer print art this way. It is reserved specifically for blueprints, so your mileage may vary.
I have to tell you, we got off cheap…real cheap. Instead of tearing your hair out trying to figure out how to print poster size on a home printer (you can't!), just send your image to your local copy and print store for simple large format printing. They can print large scale art on engineer paper (it's what architects use for blueprints) and they cost less than $2 for a black and white print and $5 for a color print.
Now buyer beware–every step of the way, Office Depot advised us not to use this method for printing photography. The paper quality is NOT what you would normally print a piece of art on. BUT I promise, our prints looked phenomenal. Amazingly crisp and clear. And for less than $5 (I used a coupon and went through Rakuten) for all three instead of the $12.99 a pop a regular poster would cost? Yes, please.
To print your designs online at Office Depot:
The max size noted by the seller for these nursery prints was 16×20″ so I opted to get them printed on 18×24″ paper. I always suggest printing the art on larger paper to leave a margin for cutting and framing. Make sure you pay attention to the size when you're purchasing your large art. If you print larger than recommended, you'll lose quality.
Once we had the prints, we needed a frame. We could have easily found 16×20″ or even 18×2″ matted frames for these nursery print designs, but we wanted something a little special. We decided to make this simple wood picture frame from 1×2 boards.
How to build a simple wood frame
This post contains affiliate links for your convenience. If you click on a link and make a purchase I earn a small commission to help me run this site at no cost to you. Read my full disclosure here.
Supplies for your DIY wood frame
Tools
Any saw that will make a straight cut.

Miter Saw, Miter Box and Saw (or get it cut for free where you buy your wood)
Step 1- Measure the wood for your frame.
I cheated a bit here and scribed my marks on the wood—mainly because whoever printed my woodland art thought they were doing me a favor by cutting off the excess white from the sides. I wanted the margin but didn't notice it was gone until I got home and I didn't want to drive all the way back for a reprint.
Step 2- Cut your wood frame pieces
Make your 90-degree cuts ensuring you cut on the waste side of your scribed line so you don't end up with pieces that are too short. To cut my boards the exact same size, I use the original cut as a template. Don't have a miter saw? Take your measurements to the store and have them cut it for you for free.
Note: you can make these more traditional by using 45-degree mitered edges with your saw.
Step 3- Stain your DIY wood frame
Some people say stain before you assemble, some people say stain it afterward. It depends on what mood I'm in which I do. I chose Rustoleum One Step Stain & Polyurethane Water-Based because it had polyurethane already mixed in—which meant I could stain and seal in one step. It was a little pricier but worth the time and extra product saved.
Step 4- Glue and nail your frame together
You're supposed to use glue wherever wood touches wood. So add wood glue to your ends pieces. I didn't have any wood glue so I just used my favorite glue. It fused marble together, surely it can handles these light boards.
Wipe off any excess glue (especially if you're staining after putting it together. Stain will not adhere properly to any areas marred by glue). Use your nail gun to secure the frame. And wallah!
Important: Lay your 1×2 wood boards on the short end—if you lay along the long end for a wider framed look, you'll need to use a pocket hole to join them.)
Step 5- Mount your poster prints to the picture frame
The easiest way to mount the large art print to your newly made picture frame is double-sided tape. Simply roll it along the edges of the frame and carefully adhere your paper to it. I bought double-sided tape for this purpose but it went missing when I needed it and magically reappeared once I was done using a combo of glue dots and hot glue–which worked like a charm.
If you want the board to be more sturdy, you could mount the print to foam core, using spray adhesive, but I didn't find it necessary.
If you don't get the paper on the picture frame perfectly, use a utility knife blade to trim off any excess.
Step 6- Hang your picture frame
To hang your simple wooden frames on the wall, I purchased saw tooth holders. I tried command strips, but you could see them jutting out from the sides. No Bueno.
And here are our sweet little woodland nursery prints all decked out in their simple rustic DIY wood frames. Love? I sure do.
We opted to leave the print open, (no glass or covering) similar to a shadow box. The depth added by the frames is just enough to make a wow in the room without being too fussy. It's rustic, modern, chic and so stinking cute! I had a hard time choosing which animal I liked most.
An update on the One Room Challenge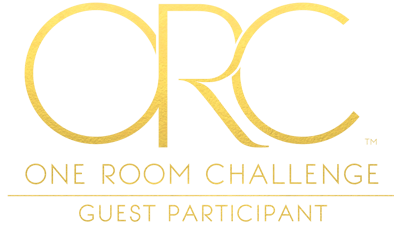 So far we've painted the walls. The east wall is Benjamin Moore Navy and the other walls are Benjamin Moore Decorator's white. We got them mixed in Behr paint from Home Depot.
We were also blessed with an unexpected flooring update by the landlord who is a friend of my brother in law. They used wood-look luxury vinyl planks similar to what I used in my kitchen. And OMG the room already took on a whole new vibe.
Like this frame? Try the Easy Canvas Frame too!