After several weeks of mini DIY baby room projects, it's finally reveal day for the One Room Challenge and I'm ready to show you all the cute DIY room décor for this nursery that your heart can stand. Although our journey to the end was a bit different than I intended because the kiddo came before the room was done, I'm still excited to give you a tour of our labor of love for this simple baby room and all the decorating ideas we put into place.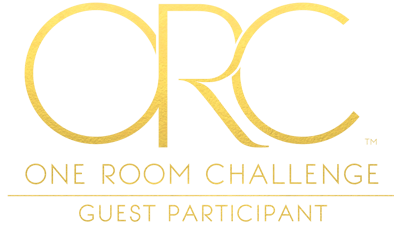 We started with a minimal layout of the room, a basic mood board and plan set up and decorate the nursery, completed a plethora of DIY nursery projects and that netted a handsome room in a fun combination of navy blue, gray, orange and white. It's simple and sophisticated, yet playful.
So you have a little history. Here's the before:
and here is the much anticipated after:
How our nursery DIY décor fell into place
Ok truth be told, some of the design choices were not by choice. Firstly, my sis lives in a condo rental. That meant no intricate wall treatments (I REALLY wanted to do DIY board and batten), no window moldings and ugh…no getting rid of the popcorn ceilings.
But we were gifted with new flooring by the landlords. This was not a part of the original design plan, but man oh man do those floors make a HUGE difference in the room. So grateful for that.
Also, my brother in law was team 'don't paint the walls' because we'll have to paint them back.
Umm. We're doing a makeover. We gotta paint the walls.
Our compromise? three white walls and one blue wall. (Benjamin Moore's Decorator's White and Old Navy).
Next, came the crib.
My sis wanted white.
I was team white.
But the hubs doesn't care for white furniture so we went with gray. Good call hubs. We kept the bedding very simple. Navy base and an orange pillow to allow the gray to really shine against the blue backdrop.
This post contains affiliate links for your convenience. If you click on a link and make a purchase I earn a small commission to help me run this site at no cost to you. Read my full disclosure here.
We really wanted THIS blue dresser. Isn't she a beauty? But that price tho?!?! No way.
The gray dresser we eventually found helped us go with oil rubbed bronze for our metal and warm walnut stained accents. As a caveat, this dresser looks great, but please don't buy it. The drawers aren't deep enough and it is straight particle board. Given more time I would have scoured Craig's list, Offer Up and thrift stores for a real wood one and painted.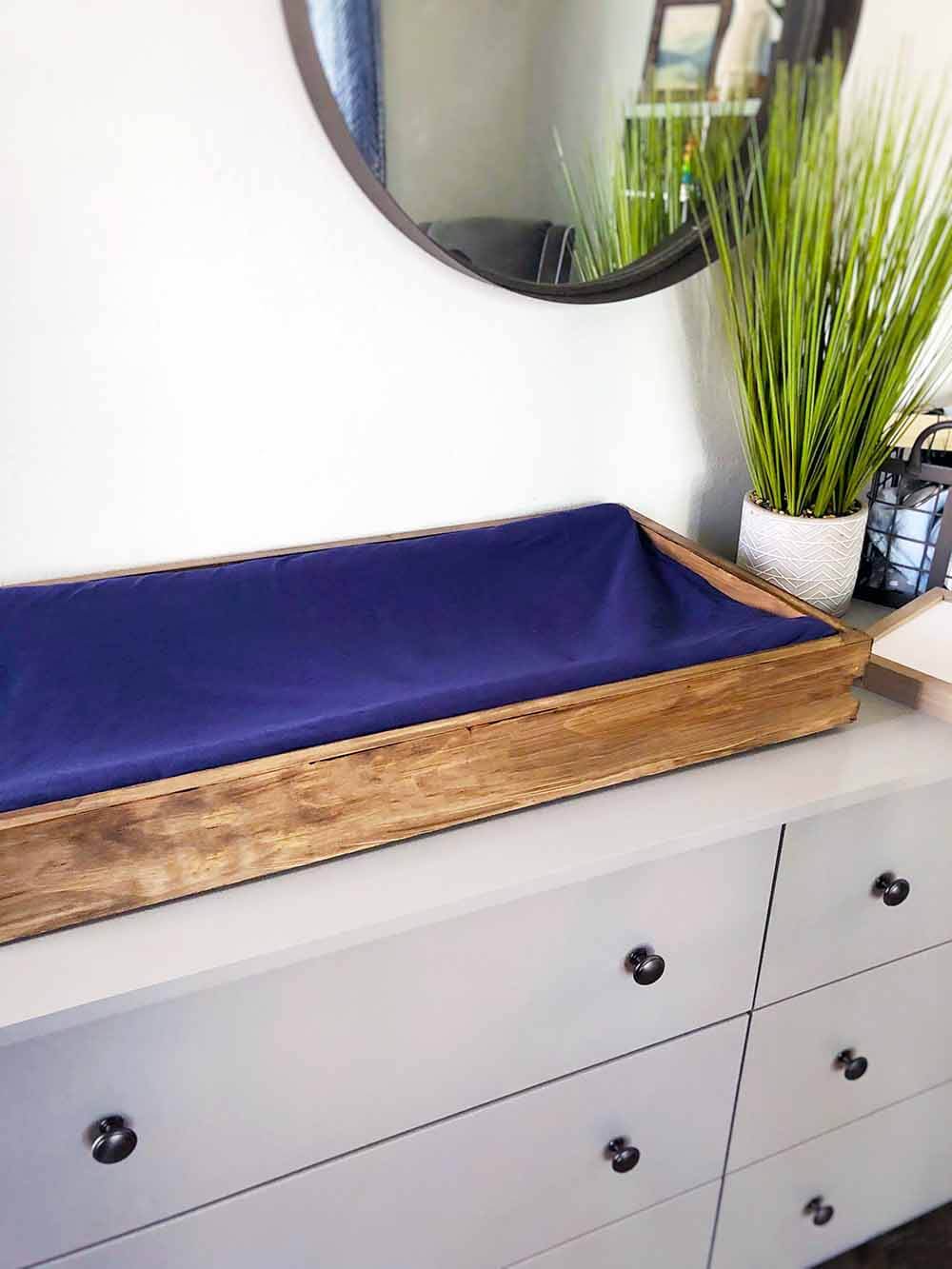 We found this modern round mirror with the rope at Home Goods. It's almost an exact match to the one I originally sourced at Wayfair. And it was only $40. When you're shopping for DIY rooms décor ideas for your nursery, find inspiration online and try to replicate it by shopping deals in-stores.
That beautiful albeit cheap dresser is topped with a baby changing pad tray that I framed out (check out how to make an easy baby changing pad tray). Ridiculously easy DIY nursery decor project for so much visual impact.
Is that the original bookcase I planned? Nope. Originally I found this one when we were thinking of the white crib. We had it ordered and delivered. Then I stumbled upon this bookcase:
And chile, it has style for DAYS. I love the contrast of the dark casing with the gray-washed wood-look shelves. And though it's a little on the short side, it works for a baby room. The area between the shelves are short too, so styling this thing was a bit problematic, but all in all, she's quite the looker.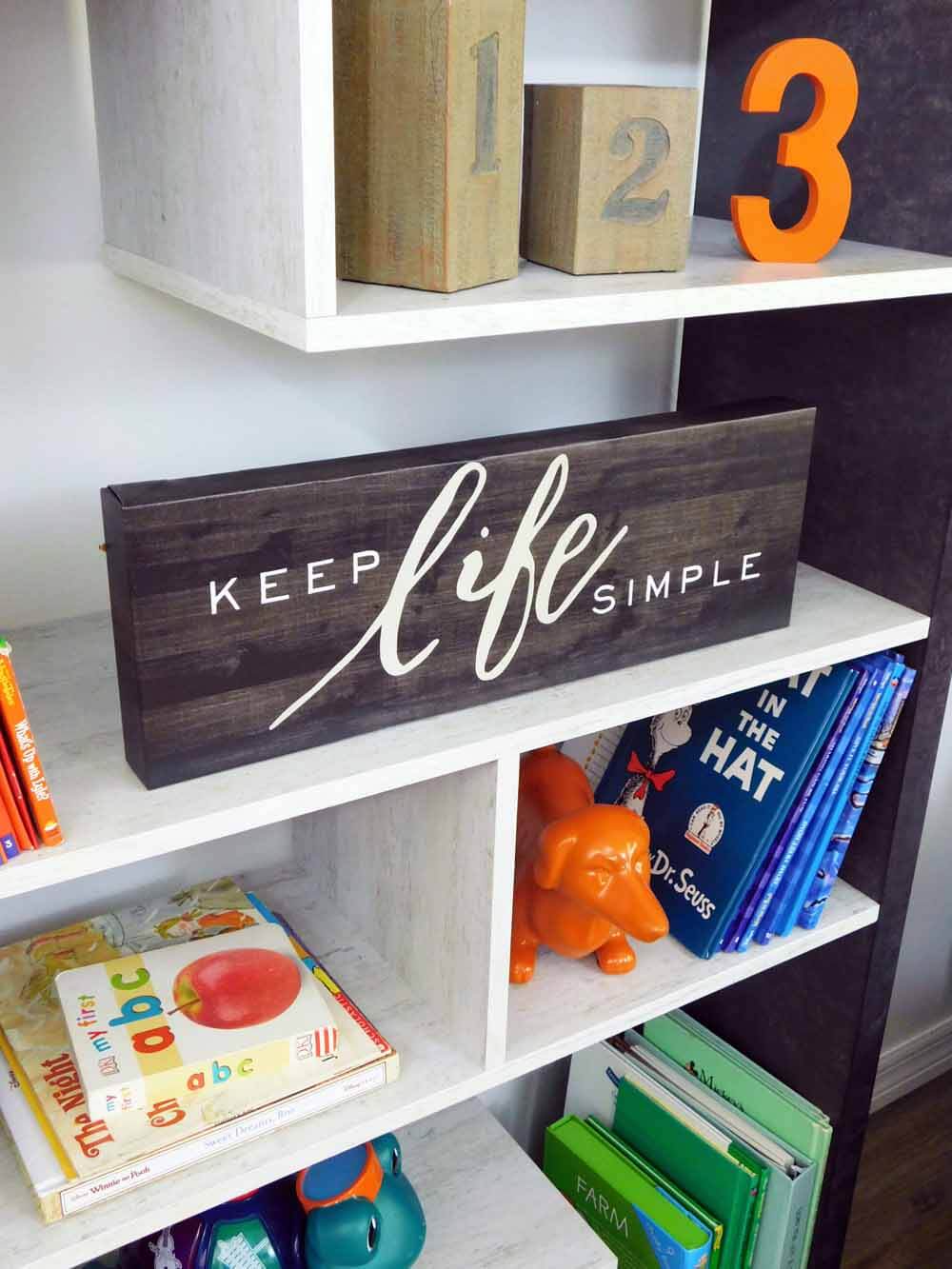 It would have been easy to fill this bookcase to the max and overwork the eyes. To help keep a clean look, I sorted all the books by color instead of the literary sets they came in. I picked up all of them at second-hand stores. There are plenty more hidden away. I bought nearly 50 books for under $20. Saying that my sister is a reader is an understatement. I expect this bookcase to be packed out and refilled many times over.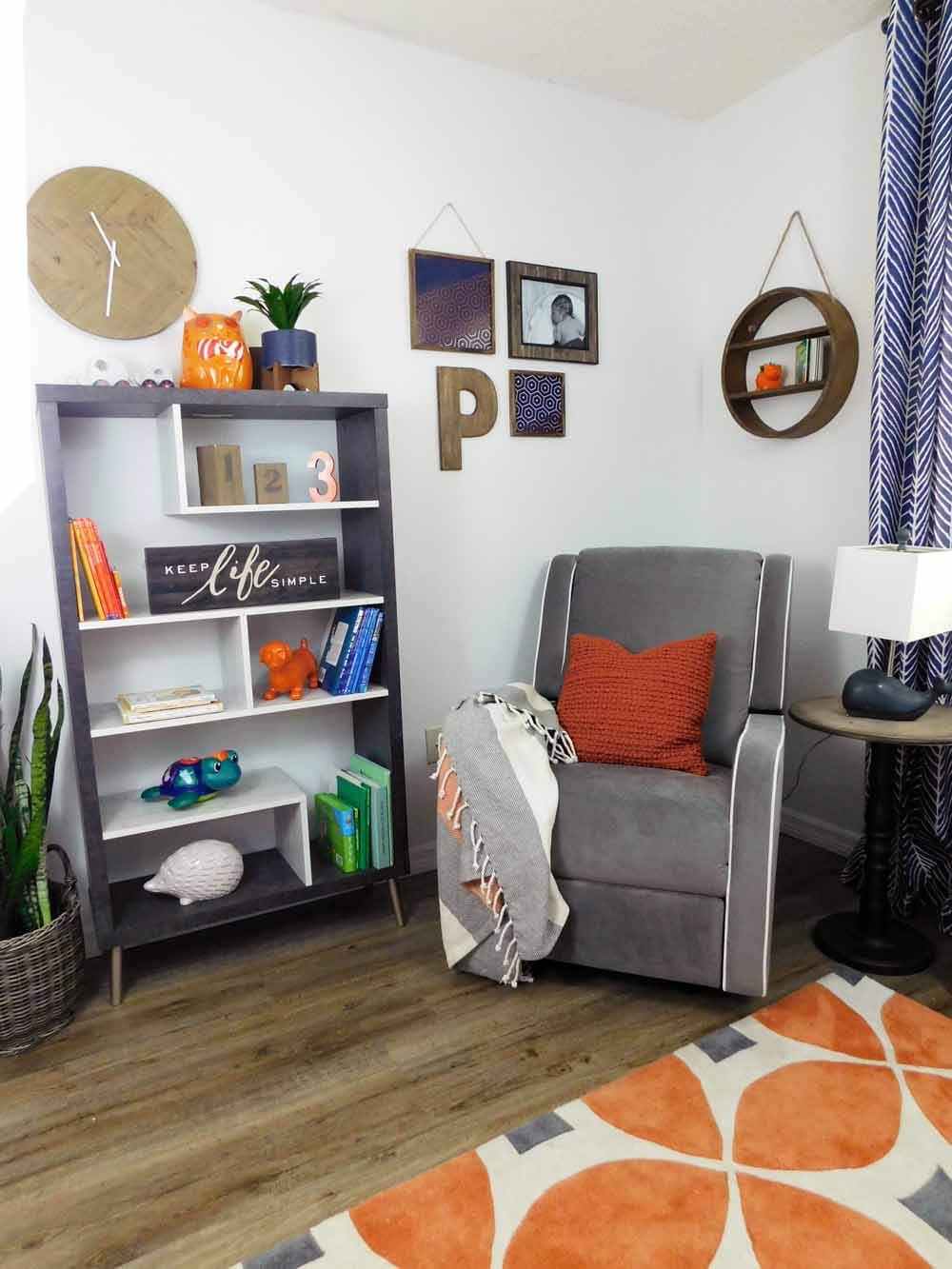 The rocking recliner is amazing. I could sit hours holding my little nephew. Reading review after review proved very helpful. It's rocks and reclines, but doesn't swivel if you're interested.
I also found the side table at Ross, it's small enough to handle this little corner (mama is left-handed) and holds this adorable whale lamp I picked up at Home Goods.
And let's talk about this bench.
It was a steal at $140 from Home Goods. No particle board here, this thing is SOLID. It was originally priced at $240, but it had a slight crack in the bottom back of the wood so I asked for a discount. I also found the brown storage bins at Lowes for $3. They didn't have a price on them and were all on display. The manager was kind enough to give them to me for dirt cheap.
I styled it here with textured pillows I found at Ross and Home Goods. BTW, the solid orange ones were bought at two different stores. $16.99 at Home Goods. $9.99 at Ross. Same pillow!!!
This contemporary orange rug is everything. It's thick and plush, doesn't shed and adds such a fun focal point to the room. For the price, the quality of this rug is simply outstanding. I do wish we had ordered one size up, but we planned for it to be layered on top of carpet. When the landlord decided to upgrade the floors, we forgot to bump it up a bit. It's not terrible, but it could be better.
Most of the accessories in the room leaned towards orange because my sis originally wanted bright and cheery and we didn't want to get too serious or moody with a lot of blue. We added just enough blue to keep it balanced.
A lot of the simple DIY wall décor for the baby room was really to allow the rug to shine. It truly is the star of the room and too much movement everywhere else would have killed that.
The orb hung in the center of the room was a Target garden center clearance find (along with that clock above the bookcase). I had plans to turn it into a working light but didn't quite make it work because I didn't want to lose the open feel of the orb. For now, it's just a decorative piece that looks amazing hanging over that orange beauty of a rug.
Simple Wall Décor Ideas for the Nursery
I created these cute printable wooden signs with abstract shapes and color, got them printed at Office Depot, stained the wood and hung. Custom baby artwork for less than $10. The prints are available in my Free Decorating Tools Library.
The round shelf is from Big Lots. I have a weird affinity for Big Lots and several pieces, including the knit floor pouf, are from Big Lots.
This lattice sign can be purchased stained or raw from any craft store. I used leftovers from the other DIY projects in the nursery (wall paint, spray paint and holiday letters from the Target Dollar spot) to create a cute wall plaque.
I think my favorite part of the room is the set of black and white animal prints I framed out. (check out the tutorial on how to make simple picture frames and print large art here). They are cute and chic at the same time.
That's also the description I gave to the baby mobile I made here. Another super easy nursey décor DIY project idea you should try.
When you walk in this room it FEELS right. Not too fussy. Cute, but sophisticated and so warm you want to stay all day. Exactly how a room filled with love ought to.
Mom loves it. Dad loves and I couldn't be happier to close out this challenge with this labor of love for my new nephew.
If you need to catch up, check out these posts:
Week 1 | How to set up and decorate a baby nursery (In 6 weeks!)
Week 2| How to make a simple wooden picture frame for large art prints
Week 3 | Oh So Cute DIY Changing Table Topper
Week 4 | When Bright Ideas Go Dark-ORC Nursery Update
Week 5 |How to Make a Mobile: A Modern Hanging for Your Baby Nursery
Sources: Drapes | Crib | Animal Prints | Mirror | Bookcase | Tripod Lamp | Dresser | Rug | Recliner
(I did a ton of shopping and linked the major players. If there's something you see you need help finding, lemme know)
You can also visit the One Room Challenge Website to see all the amazing rooms by Featured Designers and Guest Participants.
Sooo?? What do you think?