You decided to makeover or redecorate a room and have a million great ideas. Now that you've dreamed up this grand goodness, how in the world are you going to approach getting it done? Your budget says DIY everything, but your skill may not be up to par or it may take you forever.
Today I'm telling you how to decide when you should Do it Yourself or just purchase what you need (or hire a professional) and call it a day. The answer may change depending on several life factors.
Should You Buy or DIY?
(If you already get emails from me skip the signup and just enter your password for the Decorating Resources Library to download the Free Decision Making Matrix.
Money Money Money, (Mon-ay)
(You were supposed to sing that headline)
I have to admit, when it comes to whether or not to DIY or BUY, cost is a HUGE factor. When money flows freely it's much easier to stroll the aisles of Target and pick up anything you like. But when coins are tight, my mind immediately goes "psssh, I can make this."
Have you seen all those metal starbursts in the stores? Well there was no way I was going to spend $40 on that thing. Styrofoam, spray paint, hot glue and bamboo skewers netted me this: bonus, my son helped me make it.
RELATED: Make Memories without Sacrificing Style
Now if I have a little extra cash on hand, I may splurge a little and get a few prefab items. I could have spray painted vases like the ones below, but umm…they were only $15 for the pair. Vase + Paint+ Time=Girl just buy those vases.
Now small projects like wreaths or vases are easy decisions, but when you're doing more extensive work, cost savings can be major. When it was time to install my kitchen vinyl floors, doing it myself saved me $300. Yes, please.
Time is money
I often say that you can either get it done fast or you can get it done cheap but you can't do it fast AND cheap. Now, this isn't always true, but in most cases, you're going to lose one or the other.
You can learn a ton from YouTube, but you still need to factor in precautions and more time. When I learn a new skill it generally takes me doubly long as the tutorial said.
We DIY'd the kitchen vinyl floors but when we took up the carpet in the whole house, we hired professionals to lay the new laminate. Our home isn't huge but it would have been a major undertaking. It took three experienced men 12 straight hours to install about 900 square feet of laminate. A DIY job done by yours truly would take three weeks and totally disrupt our lives. No thank you.
The cost of professional installation for a whole house of flooring in one day was well worth the investment.
Count the Real Cost of DIY
If you've ever done a small project that ended up costing a fortune, you know that sometimes DIY does not mean cheap. Always remember to factor in the cost of all those little incidental supplies.
Hanging a gallery wall? Sometimes the hardware to hang it can cost a ton. Command strips aren't the cheapest and screws, nuts and bolts can start to add up.
Painting a piece of furniture? Don't think a quart of $15 paint is all you need. Do you have drop cloths, wood filler, sandpaper, painter's tape, good paint brushes (PLURAL), rollers, paint tray, clear coat? Will you need floetrol or paint stripper?
All that adds up QUICKLY!
Factor in Your DIY Skill Level
Using our flooring as an example, you also need to consider your skill level. Beginners should really tackle small projects before jumping into full-scale renovations. The more you paint, sand, cut, drill, level and stain, the more competent you become. Those little tasks add up to better results in the end. Trust me, you're going to fail a few times before you get it right and you don't want it to be a blaring, expensive error on a big project.
I wanted to lay the flooring in the rest of the house, but lemme tell you: when those men unloaded 50 million tools I had never seen before, I was more than glad I decided not to torture myself. There's no way I was ready for that.
I painted a ton of furniture before I felt confident enough to paint my laminate kitchen cabinets.
I don't recommend taking on electrical, plumbing or major work. Leave some stuff to professionals.
The trim I added to make my DIY Shaker kitchen cabinets is way less than perfect because, umm my carpentry skills are not up to par. Do I love the outcome? Absolutely and I would do it over in heartbeat. While a real carpenter would laugh at my cabinets; my friends are super impressed with them (at least that's what they say.)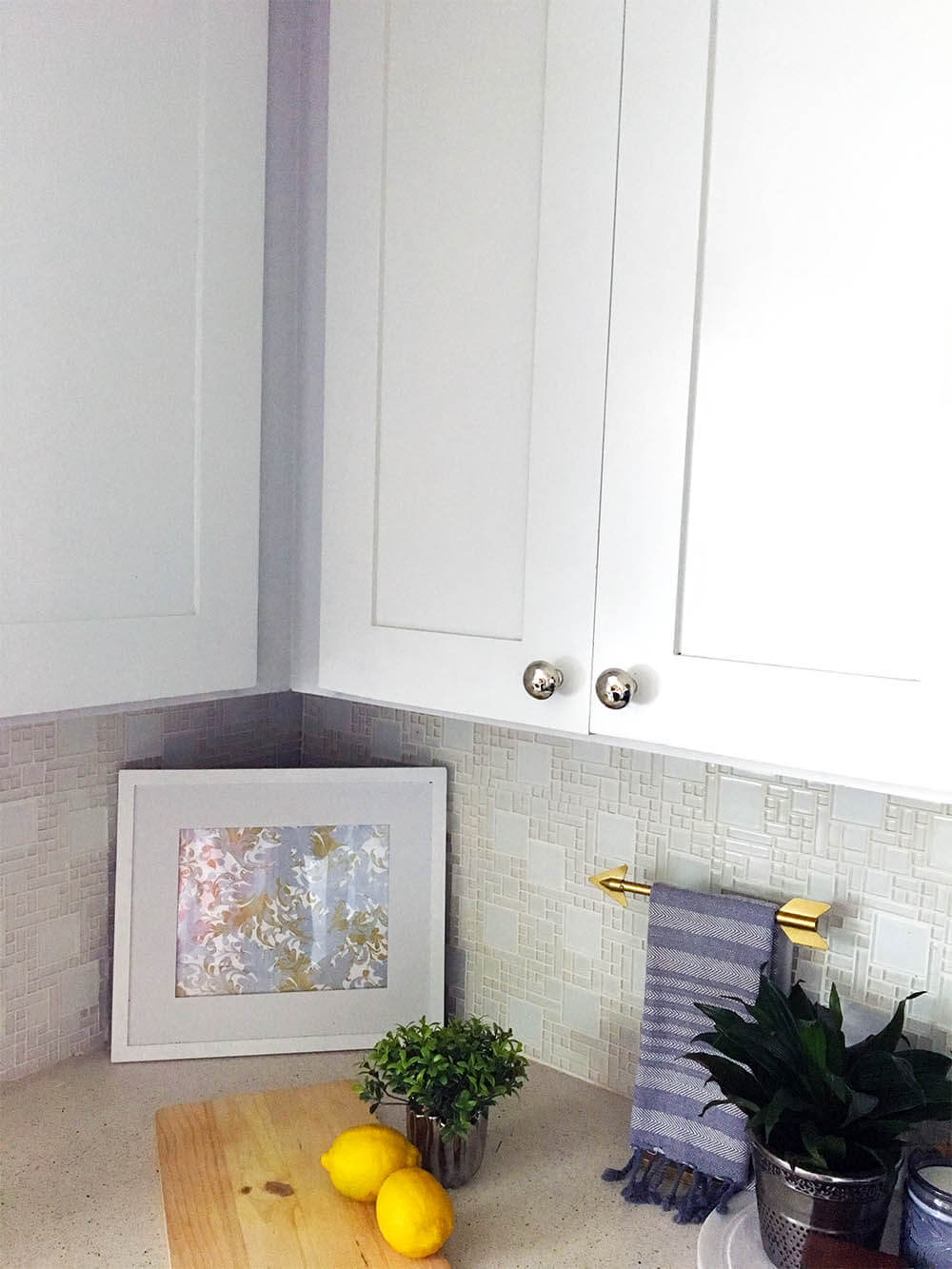 DIY If You Crave Originality
In other cases, it's not about money or skill. Sometimes you just don't want the Target thing in every Instagram or Pinterest photo you see. If that's your jam, no problem, but when you crave a custom look, you'll certainly have to do it yourself.
The fabric below called my name for months and made a perfect addition to my kitchen window as a custom valance.
And I certainly wasn't going to find a red solar lamp anywhere.
Small art projects, sewing pillows and painting vases are again, easy decisions to make. Cost and time are all you need to consider but some decisions will be harder to make. Here's a Quick Decision Matrix Worksheet you can use to help you determine to take on that trim work, tile installation or sew a custom set of drapes.
(If you already get emails from me skip the signup and just enter your password for the Decorating Resources Library.