Kiss the winter blues goodbye and jump head first into spring with this easy DIY front door decor. Bonus it cost me a little over $100 to bring this colorful space back to life.
The project is delightfully finished because a few bloggers challenged me to "Spring into Action" and get a project done I've been putting off. A bunch of us put the finishing touches on our projects and today is reveal day! If you're coming over from N'Ckyola's at 4th House on the Right , welcome!
I had PLENTY of projects to choose from. I contemplated finishing up the kitchen. Lord knows I was supposed to be done by now. But after a lighting fiasco, I put that on the backburner to let some ideas simmer for a bit.
With only a few short weeks to deadline, it took me way too long to decide on a project. But one day I happened to walk through the garden section of Walmart, I ran into some outdoor pillows on clearance for $3.
I snatched them up. A few days later I ran in again and moseyed on over to clearance plants and found trays and trays of bright beautiful flowers marked down to 39 cents. I think Wally World was speaking to me. When I brought the plants home and looked at my sorry porch area, it was a no-brainer. Whip this little area into shape.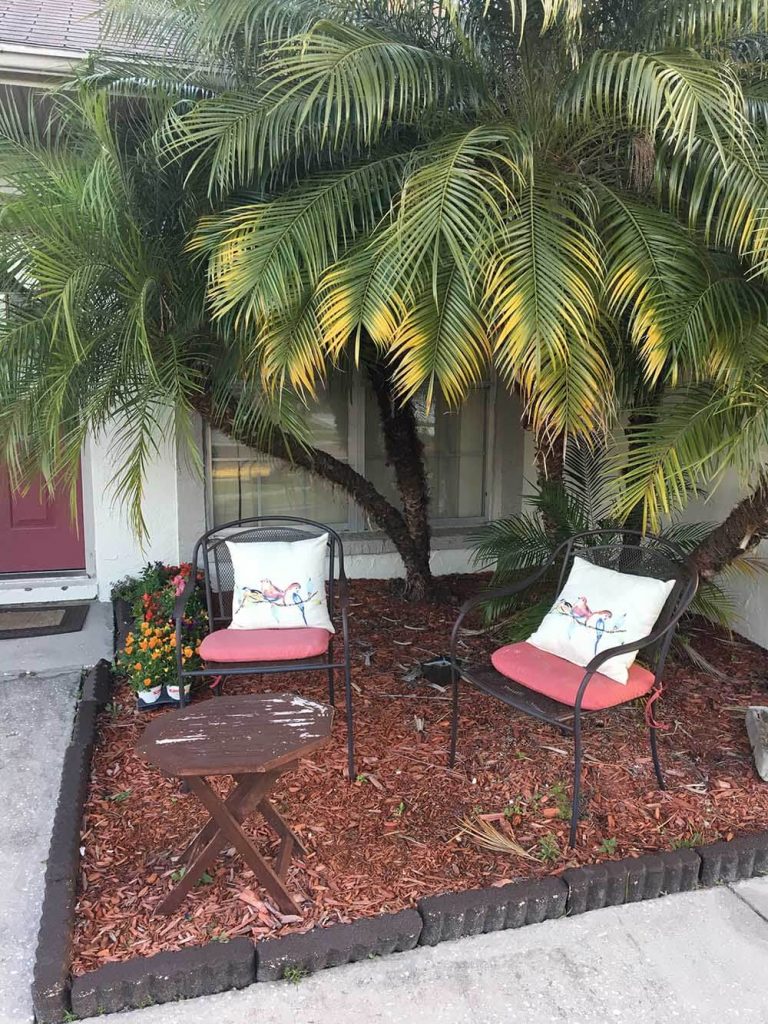 This post contains affiliate links. If you click on a link and make a purchase I earn a small commission to help me run this site at no cost to you. Read my full disclosure here.
Refreshing the front porch area
My first line of business was to cut back the overgrown palm trees. They are gorgeous, but I hadn't trimmed them one time during the winter and we could barely get in the front door without swatting the fronds away. I trimmed the trees, cleaned the trunks a bit, pulled weeds and added six bags of red mulch.
Walmart clearance was GOOD to me. I spent about $30 on plants and got enough for this area, the other side of the house, my back patio AND a few indoor beauties. I even scored two-amazing snake plants for $5 each. I found the bronze 'planters' at Ross.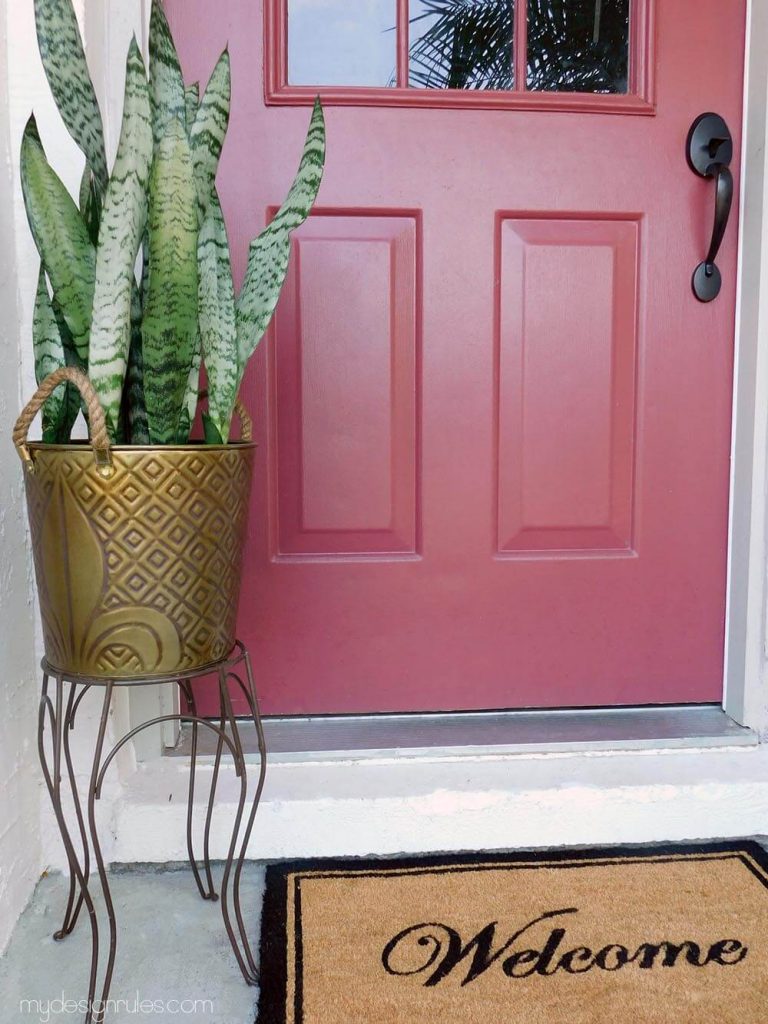 They're meant to hold faux plants indoors. To weatherize them, I added a clear coat of Rustoleum and drilled a hole for drainage. Instant outdoor planter. Using all the planters I rounded up from Dollar Tree, Ross and Old Time Pottery, I made a few colorful arrangements.
Never skip the clearance area of any store. Even in if the plants are a little worn, you can probably bring them back to life.
Tip. Never skip the clearance area of any store. Even in if the plants are a little worn, you can probably bring them back to life.
That along with the pillows made a major statement. Honestly, I could have left it at that and called it done. (and refinished the table, of course) But I really wanted to add a layer of sophistication and coziness to this little front patio area.
Making the Front Door Decor Special
Lem (the hubby) and I love to sit on the front porch and watch Jaylin (the kiddo) play or just relax. In the summer we just run for cover. It's way too hot. So, I decided to make a mini outdoor living space. I scoured every local and online store for the perfect sofa table/plant stand. I wanted this one but it wouldn't arrive in time and ended up buying this one from Lowe's and gave it a spray of bronze paint.
I styled the plant stand with my clearance flowers, a DIY solar lamp (here's the tutorial on how to make this awesome lamp) and some lanterns I had on hand. The lanterns were another clearance find at JoAnn's.
I also had to sand down the table and refinish it. Rather than just paint it, I faux-stained it by using a little bit of brown outdoor paint mixed with water. Two coats later and she was good as new.
For the front door, I simplified my wreath a bit with ribbon and a few colorful spring ranunculus stems I picked up at Michael's.
I tried to use one of those modern thin wreath forms for this, but it just wasn't weighty enough for the door…I ended up just adding new ribbon to the old wreath form.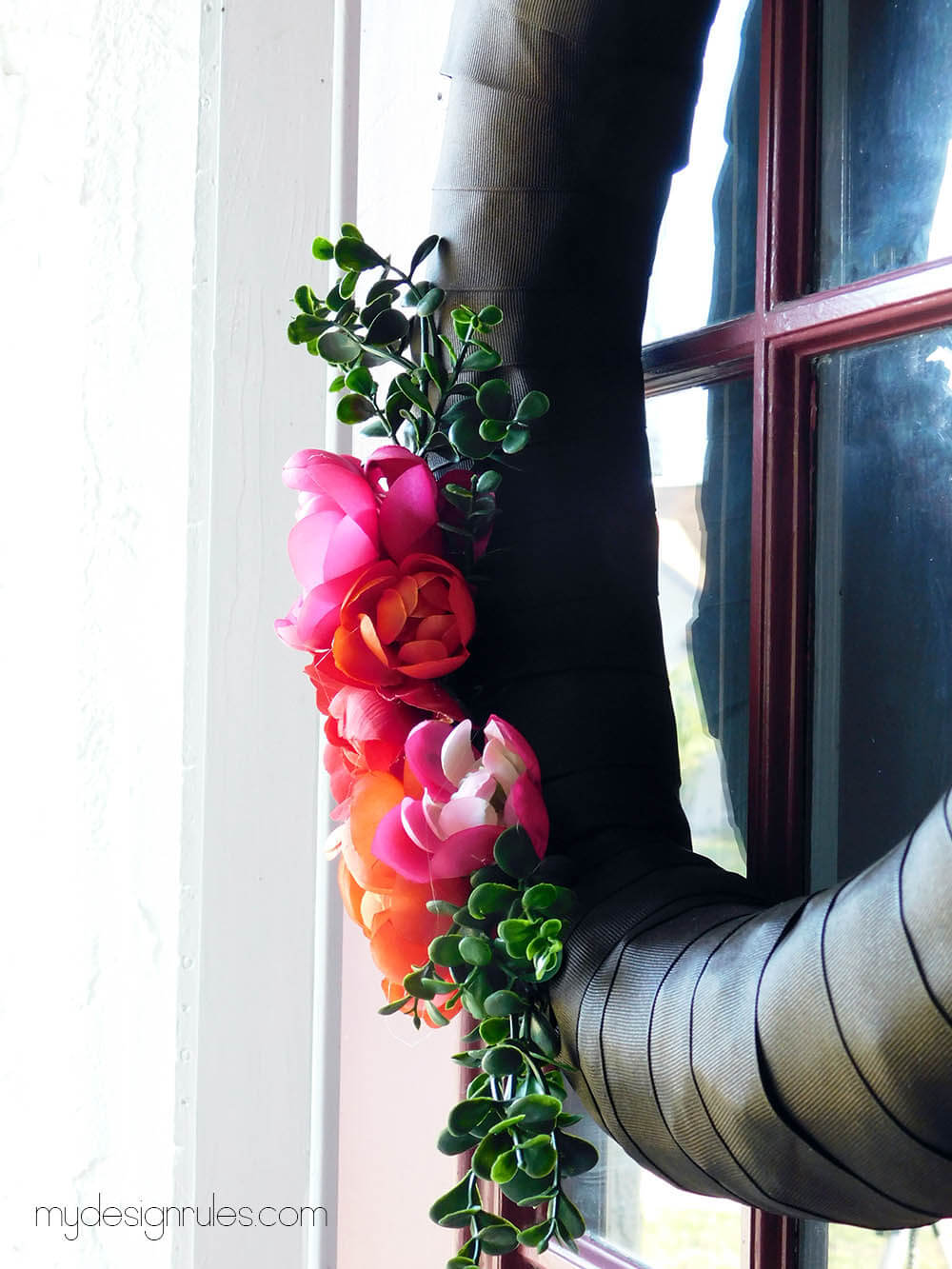 A new rug, a little cleaning and lots of spray paint and I'm over the moon glad to call it done!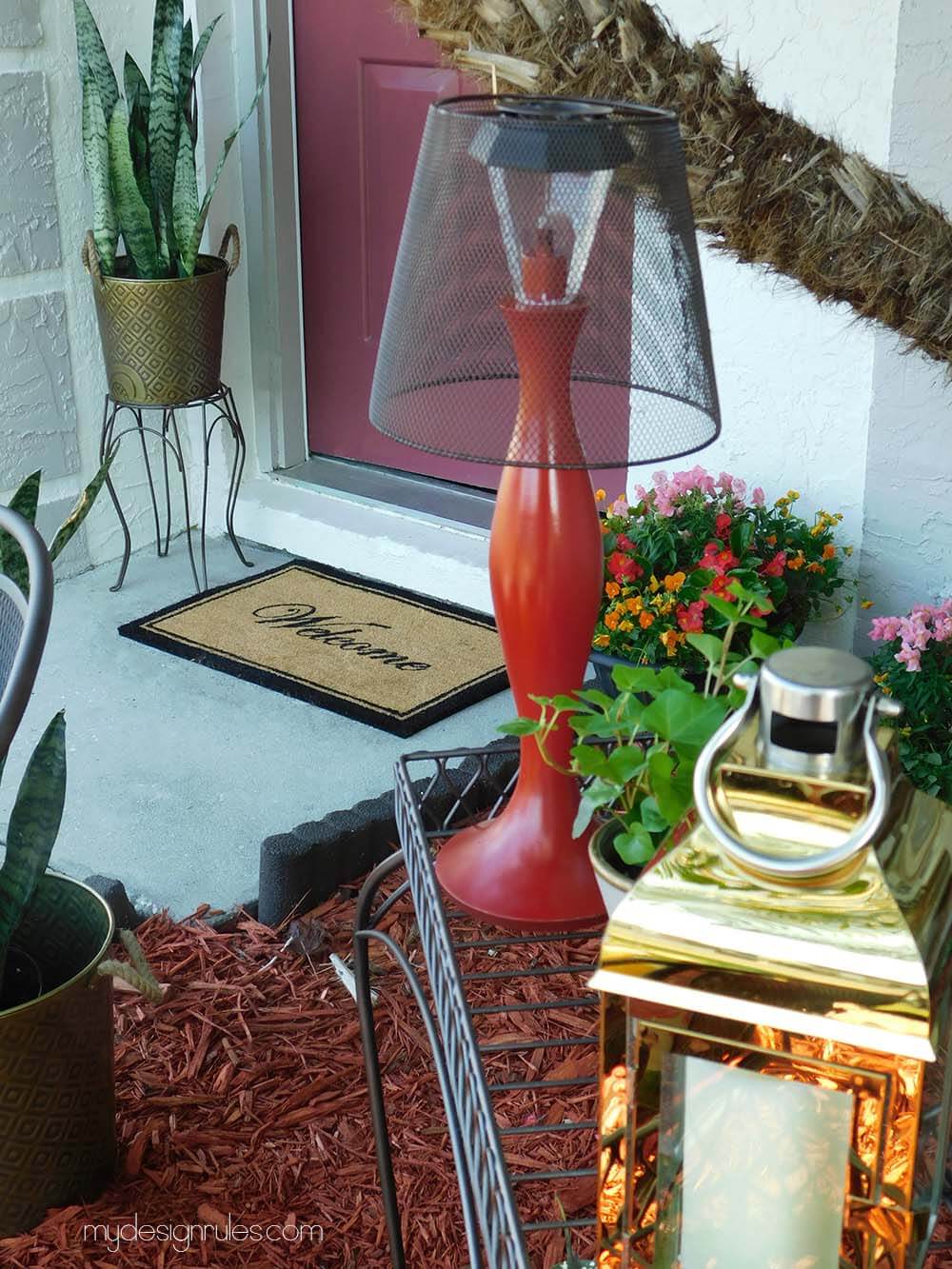 I did go over budget. My plan was to only spend $100. That table put me at about $125, but I'm not sorry. I love it.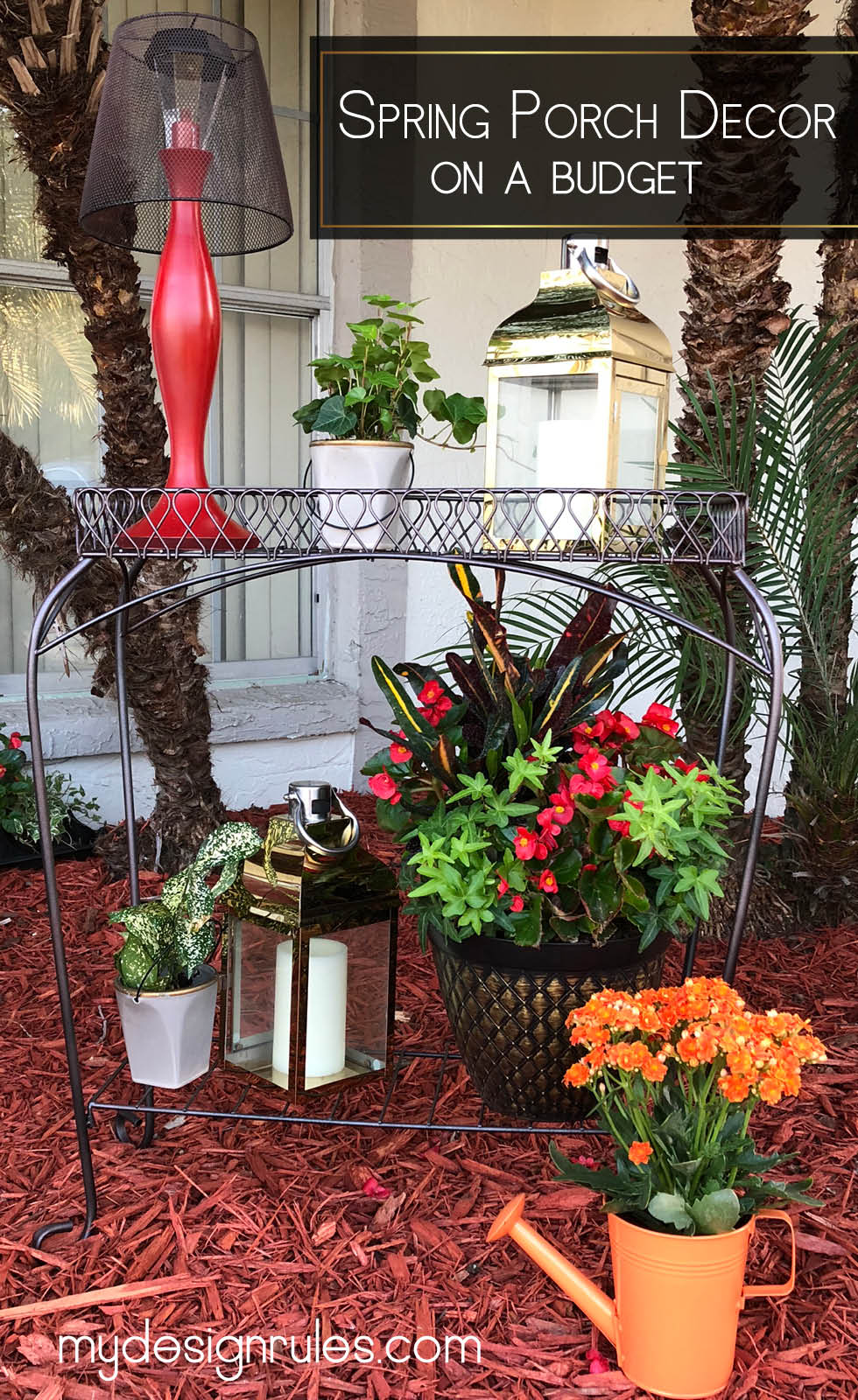 Now hop over to Arie's House where she's done a Master Bedroom refresh!
And don't forget to take a peek at all the projects from these talented ladies: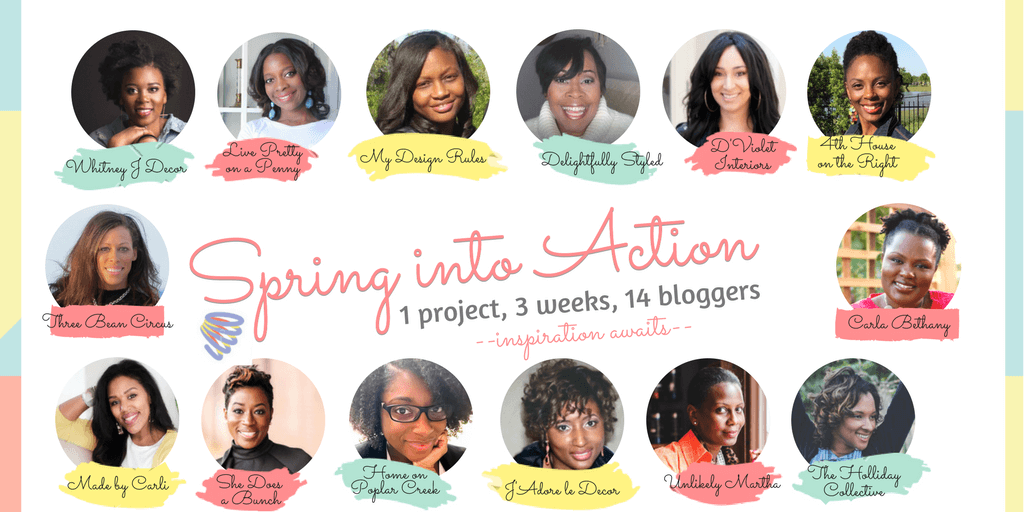 Thanks for stopping by!