Many of my days have been spent wandering around the aisle of my nearby Joann Fabric and Crafts or Michael's (my nearest Hobby Lobby is 40 miles away.) I'm a budget decorator so using coupons is a must for me.
So when I take on a project and needs supplies from JoAnn's…I have one major rule: NEVER, say it with me, NEVER pay full price for ANYTHING.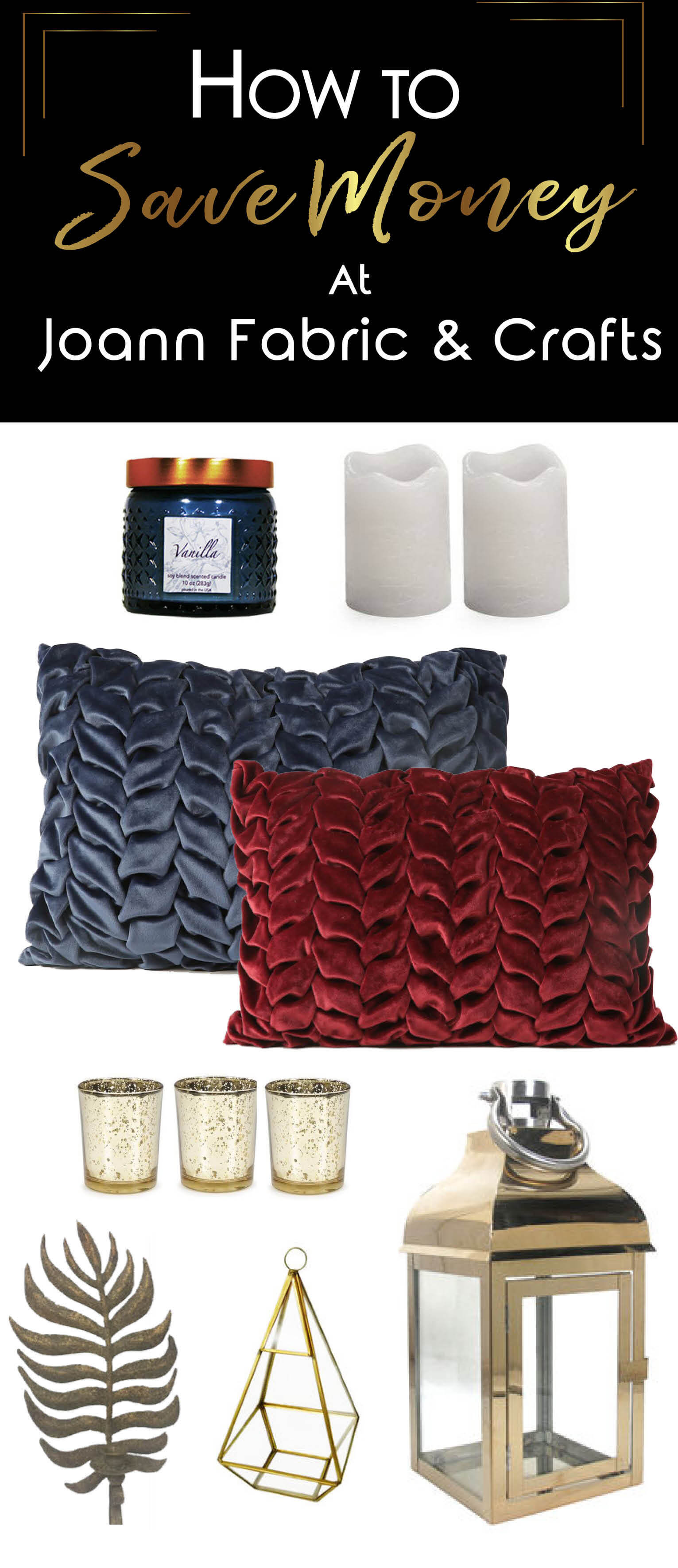 Here's my recipe for making sure I follow my own rule:
I know you know about Joann's coupons. But let me clue you in on real savings. You can use as many coupons as you like in one transaction—as long as they have different barcodes (and belong to you) You shouldn't use two email accounts to get more coupons—that's actually unethical.
Joann's uses bar codes to track their marketing techniques and you become the beneficiary of killer deals.
Sign up for every list they have to get coupons
AND THEY HAVE A TON.
JoAnn's Phone App
Download the coupon app on your phone right now. The app gives you your first line of defense against full price. Always check the app before you go or at worst before you check out. There's usually at least one, but oftentimes three or four different coupons available.
Email List
Sign up for the email list and you will score pretty much the same coupons as available on the app. BUT…and this is good…they usually send them out 3-4 times per week. Even if it's the same sale and the same coupon, it will have a different barcode for Tuesday than for Thursday, which means that coveted 50% off coupon now becomes two. So wait until the end of the week if you have a project with lots of supplies. Magic right? Keep reading. You can sign up for emails a few ways.
On their website
At the cash register (something new that allows you to be emailed receipts. Totally awesome if you're a receipt-loser like me)
When you agree to their terms of service to use WIFI in the store.
Text Messaging
Opt-in to JoAnn's text message here. You'll get an immediate 20% off your total purchase coupons and at least one really good coupon per week.
Mailing List
I notice this is slowly taking a back seat, but Joann's stills send out mailing list coupons if you sign up. The key to keeping these coming is remembering them and I rarely do. You also must redeem one every so often or they will automatically remove you from the list. I haven't been on the list for a while because I kept leaving them at home. If you're planning a wedding or other event that forces you to take endless trips to JoAnn's… sign up. Otherwise, you can get plenty of coupons elsewhere.
Speaking of elsewhere…do they still put coupons in the newspaper? I haven't bought a newspaper since I quit couponing a few years ago. If you still get the newspaper check it out.
Other Joann Fabric Coupon Sources
Check your receipt!
The cashier often hands you a few coupons for next week when you check out. Don't throw those away until you're done with your project!
Sales Fliers
Joann's holds several special sales throughout the year. Prior to the sale, cashiers may stuff your bag with coupons. Awesomesauce. My favorite is the Daffodil Dash in the spring. But there are plenty of them sprinkled throughout the year.
Competitor Coupons
JoAnn's will accept ONE competitor coupon per transaction. So even if you have a printed and an email Michael's coupon it's a no go. Competitors will vary by region. I can't use a Hobby Lobby coupon because there's not one near me.
Maximize your savings with sales and coupons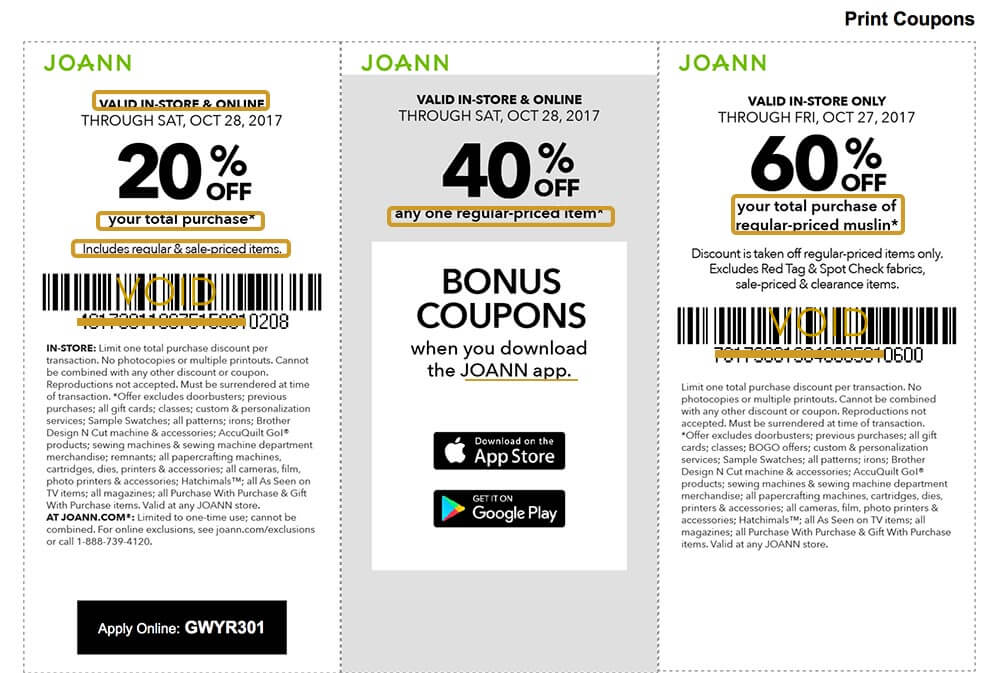 Single Item Coupons
Now that you have all your coupons. USE them wisely. I can't be bothered with 40% off a single item off coupon unless it's an emergency. I like to hold out for the 50% off and 60% off ones whenever possible. Just make sure you read the coupon details. You can use a single coupon on each item NOT ON SALE.
Total Purchase Coupons
Total purchase percent-off coupons are my fave. Typically Joann's will have coupons available for 15-30% off your total purchase once per week. They are oftentimes are only good 1-2 days so watch the dates AND read the terms. Sometimes the 15-20 percent off includes regular price AND sales. These are terrific!
Last week I purchased a yard of jaw-dropping home décor fabric for $17. Original Price $50! I'd say that was a great deal. I waited until the fabric was 50% and then stacked a 30%-off-my–total-Home-Décor-Fabric-purchase coupon with the sale. That feat saved me $33 per yard. (Update: I used it to make this chic DIY Window Valance for my kitchen.
Now, when those awesome 60% off coupons appear, sales descend on the entire store. Expect the whole place will be at least 15% off. They're making money for a reason. Marketers know these incredible coupons send your deal-seeking self to the store. Buyer beware!
Seasonal Decor
Look to pay 60% off of any seasonal décor. Summer, Spring, Holiday, whatever. Don't buy it when it first hits the shelves. Wait a few weeks. The sales will start AND the percent off coupons will begin to roll. DISCIPLINE (said in my Splinter voice…you're truly my BFF if you know who Splinter is.)
If you can really hold out, wait til the middle of the season when the decor drops to permanent clearance.
I really could go on and on about my shopping strategy for one of my favorite spots. But I'll save it for another day. Do you have any tips and tricks you use to save money at JoAnn's?