There's nothing like a consistent pleasant smell soothing your senses when you walk into a room. Having a beautiful home that smells funky is NOT the bizness! I have found store-bought plug-in air fresheners that made my home smell wonderful were making me sick. I had to find a natural plugin!
This post contains affiliate links for your convenience. If you click on a link and make a purchase I earn a small commission to help me run this site at no cost to you. Read my full disclosure here.
Natural Solution to a Smelly Home
And find one I did. I happened upon Scent-Fill at a conference I attended a few years ago. It was love at first uhh smell with their 100% natural line of plug-in air fresheners. I wouldn't call myself allergic to regular plugins, but my husband and I are both EXTREMELY sensitive to smells. Neither one of us can wear commercial perfumes or colognes. So sad.
Anyway, when we moved into this house every room had a different scent. Not a bad odor but it was weird to walk from one room to the next to be greeted by a different smell. In our previous home, I relied mostly on my cleaning essential oils, lemons, and herbs to freshen up the air. But here I needed to totally take over the new territory with a new scent.
RELATED: How To Clean a Cluttered Room Fast
I should also note that our new rental abode sports carpet everywhere and carpet holds smells. Our previous home had laminate and vinyl throughout which don't hold smells. I tried my best to neutralize the carpet with baking soda. That helped, but didn't solve the problem.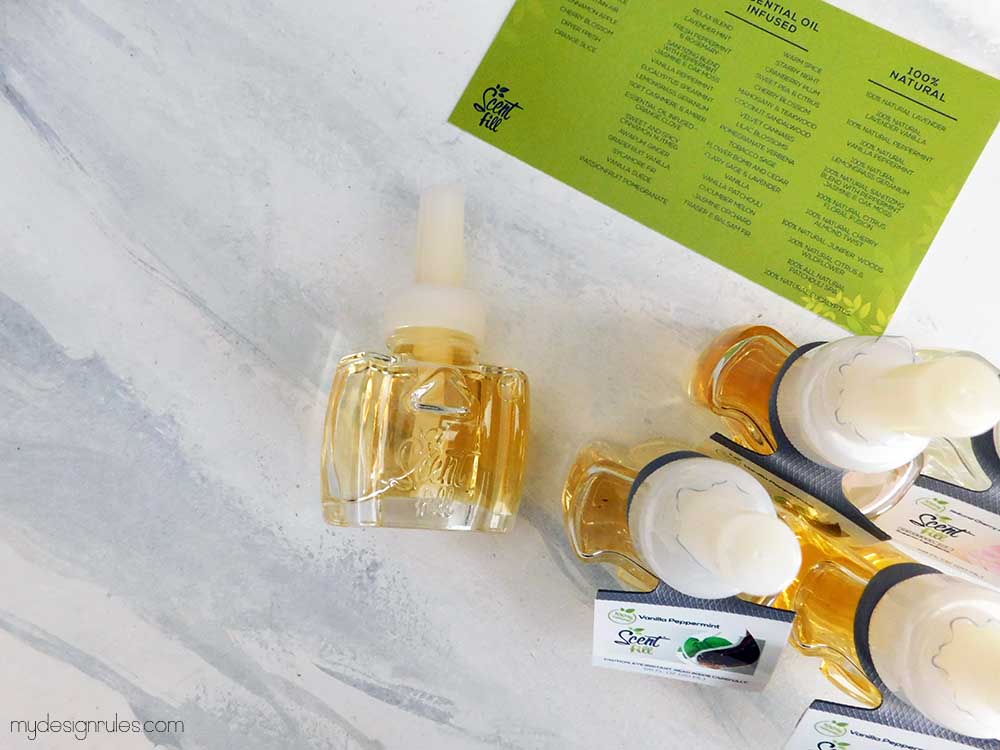 Traditional Plug-Ins Made Me Wheeze
I needed reinforcement, so I bought a big package of 'natural' plugins with essential oil. I had no pretense that a regular plug-in air freshener would be good for us. Been there, done that and nope. I was fooled by the essential oil disclaimer. I commenced placing the plug-in air fresheners in every room and within an hour my hubby and I were wheezing and coughing. The house smelled lovely…but we'd die if we kept them in so, yeah, I removed them.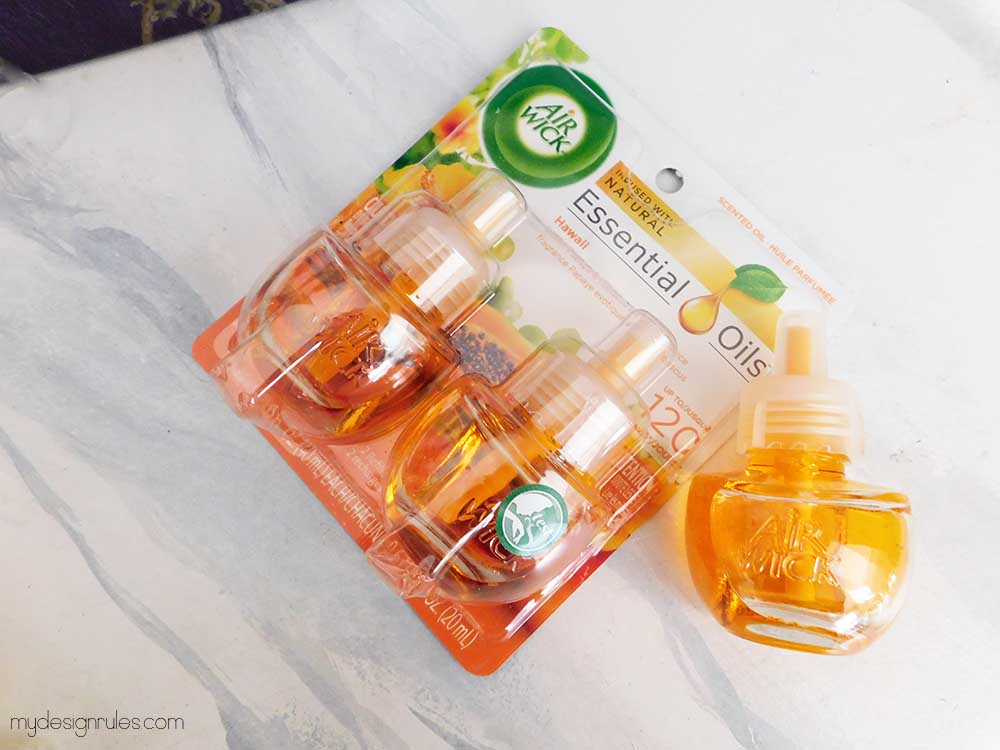 100% Natural Plugins that Work!
And then I remembered the 100% natural plug-in air fresheners from Scentfill I tried way back when. I loved them, but never actually placed an order after using my sample. Big mistake.
I immediately ordered a multi-pack (there are discounts for buying more) from Scent Fill and because I'm almost in the same city…I received my order the very next day!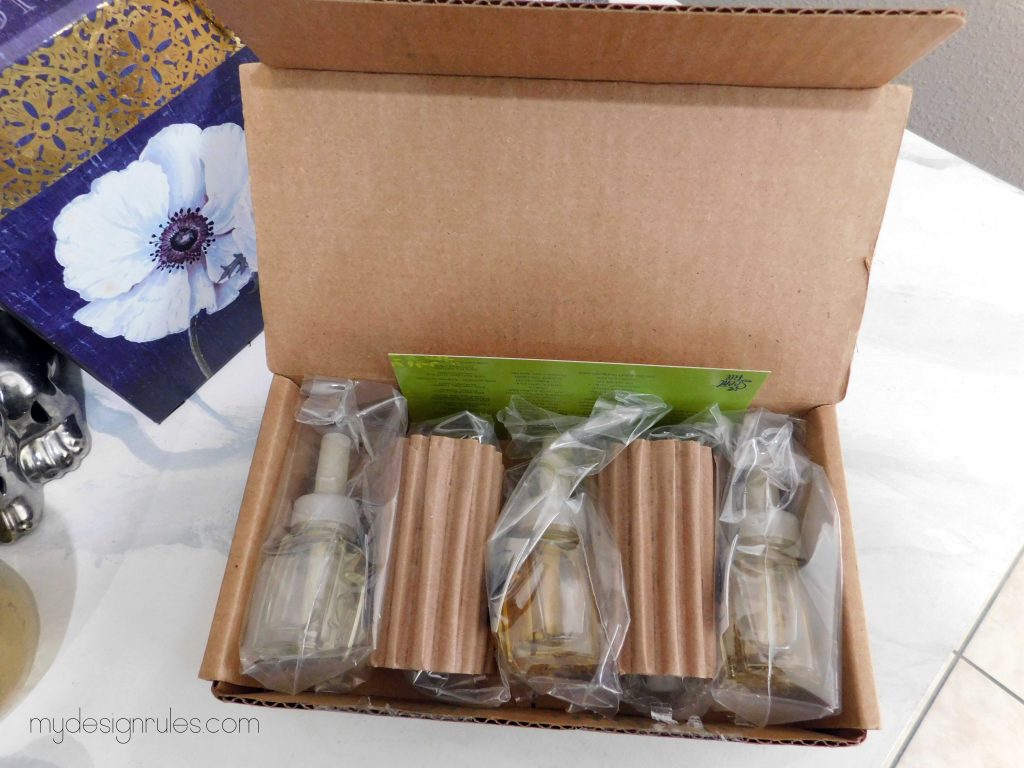 When I tell you, these plug ins are A-May-Zing. They are amazing. First of all, the scent I chose almost speaks my love language—vanilla peppermint. It warm and cool at the same time. Incredibly refreshing yet soothing at the same time. I tried the cherry almond but ended up exchanging it—too floral for me. but that's a personal preference
Secondly, you actually can smell it! As a matter of fact, I had a lawn guy comment on how nice the house smelled when I opened the door and he was standing on the porch. Yeah, they're that good!
I love waking up the scent every morning. You do get used to the smell during the daytime, but every day I wake up, it's refreshing all over again.
Natural Plug-In Air Freshener vs Regular Plug-ins
Scentfill offers three lines of products with varying degrees of natural ingredients. Two of the lines have some synthetic ingredients but are still more natural than Airwick and Glade, and cost similar to those. So if you're don't need the level of natural that I do, I recommend you try them because they have dozens of scents beyond anything you'll ever find in the store.
Compare the differences and check out the available scents here.
The Cost Factor…
I hate to break it to you girl, if you want something 100% natural it's going to cost you 100% natural money. Now that I'm being honest that was probably why I didn't buy the Scentfill Plugins after using my sample. They cost twice as much as Glade or Airwick. Whomp whomp.
But I decided these air freshener without phthalates (the ingredient that's causing the issue) are worth it this time around. I don't have to light a candle every day and I can breathe. Now that my budget isn't as strict, it's a luxury I'm willing to spend on myself.
The good thing about the 100% natural plugins is that I don't need them in every room. As a matter of fact, I don't recommend them for small rooms as they may overpower it. Instead, I put them in the main living areas and the hallway, but the aroma wafts into the bedrooms. Because of that, I don't feel like I need to buy as many. For my 2,600 square-foot home I only use 5 plug-ins.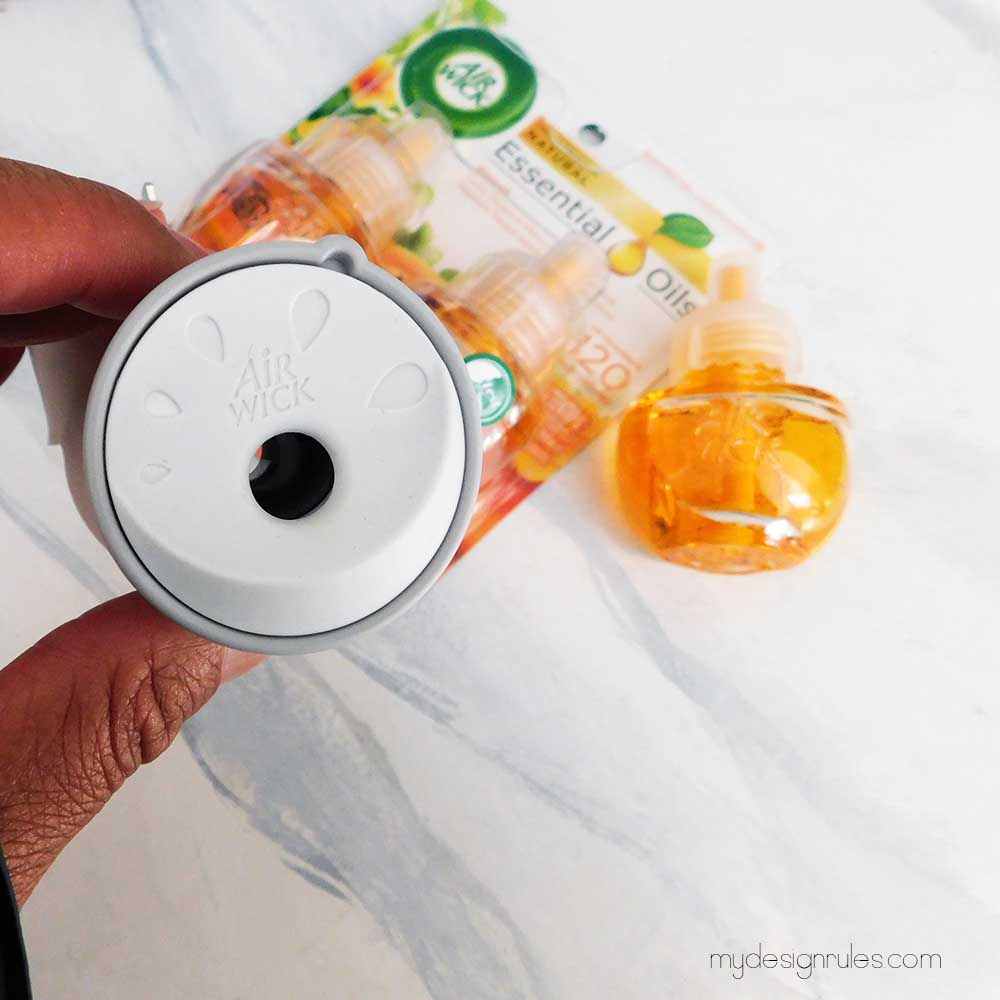 How Long do Natural Plug-Ins Last?
Now how long the natural plugins last is really up to you. The plug-ins are compatible with Air Wick plugin holders which have dials that allow you to choose the amount of fragrance you want to be released. I keep mine on the second to lowest setting and they last about 6 weeks.
I haven't tried the bathroom deodorizing plug in air fresher refills, but I a certainly going to add them my next order.
Are they worth it?
I say yes. Spending a little extra so my air freshener doesn't bother my nose and throat is absolutely worth it. Plus if you don't like them, you can return within 90 days. And if you put them on auto-ship you can save a little money. Scentfill often has sales and coupons but you can also find a limited variety on Amazon.
You've got to try them. I know you'll love them as much as I do.