I hate clutter. Like hate it. But confession. I'm a really junky person. Sometimes I get it right and have a place for everything and everything in its place and sometimes I look like a borderline hoarder with my messiness. Two extremes.
But I have found that once I get a good system in place I can actually maintain the system. The problem is, I have to FIND a system and each space in my home is different, so finding a system takes time.
This post contains affiliate links for your convenience. If you click on a link and make a purchase I earn a small commission to help me run this site at no cost to you. Read my full disclosure here.
However, I've gotten a pretty good handle on my son's room. His system WORKS. He can clean his messy room himself because of the systems we set in place. We have zones set up for everything. Toys, books, clothing, games and costumes.
Related: Organizing a Kid's Space
But there are three times a year I have to go in to help him clean his room and get rid of clutter. After Christmas, following his birthday and After schools starts.
It's usually during these three times that he gets loaded up with gifts, clothes and toys and we need to do a major purge. I don't dare allow him to do it on his own because well, he's a boy and things will get trashed or kept that should be kept or trashed! I don't do it alone because I want to
Teach him at an early age how to declutter a messy room and
It's his messy room!
What you need to clean a messy room fast.
GOOD garbage bags. Don't skimp here. Cheap bags will break and cause you headache. Trusts me on this.
Large Cardboard Box. Use this for everything that's still in good usable condition. Once it's full take it to the car and drop it off at a local thrift store. If you're the one who will ride around in your car for weeks with the trash, schedule a pickup. Places like Salvation Army will come to get for you, just call and ask.
Storage Containers. Your containers will vary by space, but to clean and organize a child's room, I highly suggest storage bins and cubbies. They are amazing at corralling small toys like Legos, soldiers and blocks
Labeling System. My son labels his own bins with chalk, but you can use anything from free printables to a label maker.
Cleaning supplies (several microfiber cloths, all-purpose cleaner, mop, broom, window cleaner)
Two Laundry baskets
My handy decision making questions:
Do I love it?
Do I use it?
Do I need it?
Do I have space to store it?
Is it easily replaceable if I toss it?


What's the difference between cleaning and decluttering?
Now, you do need to understand the difference between decluttering and cleaning. You cannot clean until you declutter. And you certainly shouldn't organize or develop and organizational system until you have decluttered AND cleaned.
So what does declutter mean?
Well a brief definition is to remove unnecessary items from (an untidy or overcrowded place).
Which really means, decluttering is subjective. What's clutter to you may not be clutter to me. My suggestion is to keep only the things you enjoy, use AND you have space for. Once you run out of space, it's time to purge.
What does cleaning mean?
Cleaning is getting rid of dust, dirt, grime and germs.
AFTER you declutter THEN you can clean.
Once you've gotten rid of all the excess and cleaned the room, THEN you can you put an organization system in place to help keep things nice and tidy.
You will still have to train yourself (and your kids) to use the organizational system, BUT if you found the right type of storage containers and labeled properly this should be fairly easy because everything WILL have a place!
We'll tackle organizing in depth another time. Back to cleaning this cluttered room.
Now that you're armed with a bit of knowledge it's time to get to work on decluttering and cleaning this messy room.
Steps to easily declutter a messy room.
1. Start with the largest and easiest mess first
This is for two reasons. 1. When you get large objects out of the way, you'll see a physical change right away. Which in your brain will read 'progress.' Which will motivate you to keep going.
2. Go through the room and pick up any and all trash
Broken toys, cardboard packaging boxes, paper and the like can easily get tosses without a second thought. And again, the first layer was easy peasy and your brain registers this as progress.
3. Work on clothing and shoes.
This is the worst part for me. But to make decluttering clothes fast, use a two-step process. If your only intent is to get things tidy, then simply gather all the clothes from around the room (ahem under the bed and behind the dresser) and put them in the dirty laundry basket or a second basket you have for folding later. Once the room is complete, you can do laundry and fold and put away the rest of the clothes. If you're only in decluttering mode sort out the CLEAN clothes that are two small and drop them in your donation box.
4. Purge the toys. Rules to decluttering toys:
Oh the dreaded toy purge. This is a lesson for you and the kiddo. The hardest part is learning what to let go.

Easy toys to declutter:
Toys that are broken or have missing parts
No longer age appropriate
No longer plays with
Books they no longer read
Hard items to get rid of:
Sentimental artwork
Favorites
Things that take up too much space
Duplicates of their favorite types of toys (stuffed animals?)
I've found my son plays so much better when his room is clean AND when he has fewer things to play with. The hard part is he hasn't really noticed this. My son is older so we tend strike bargains on what we keep. I try to foucs on things that will help his little science mind and encourage creativity.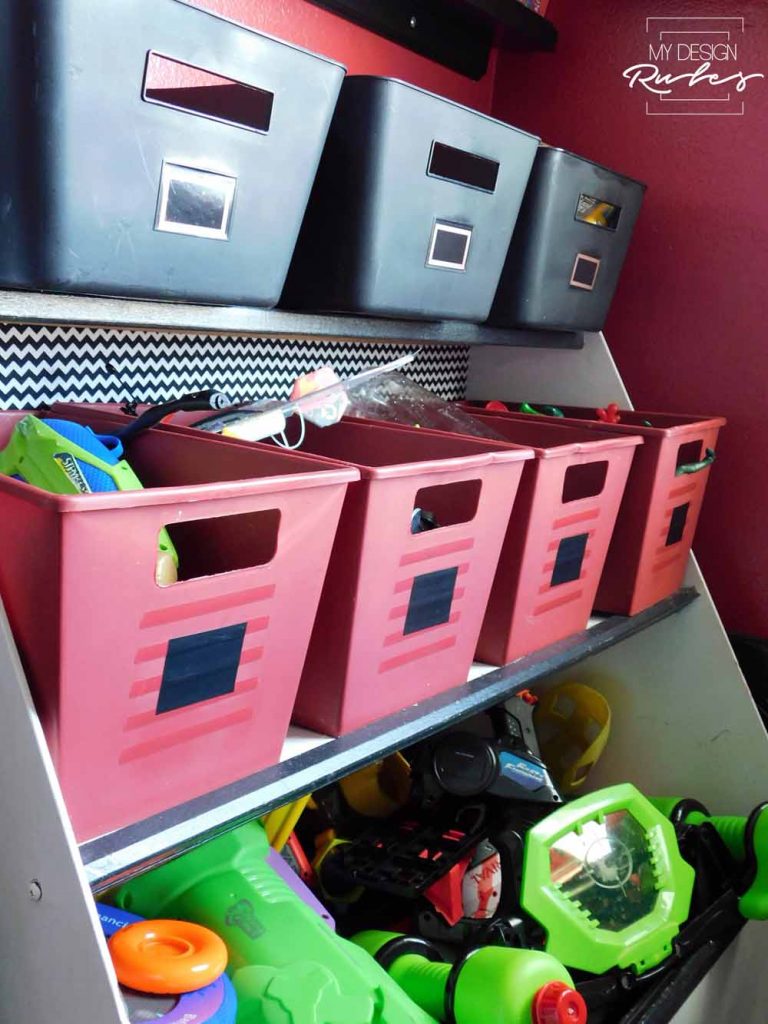 Put all the like toys together.
Determine how they can be neatly stored. I love simple storage bins from Dollar Tree for this. I store my son's costumes in a small dresser
Clean the area the containers will go back in with a dust rag, all-purpose cleaner.
Label the containers and arrange on your storage unit/wall or dresser.
5. Dealing with paper and crafts.
At this point, you're probably down to miscellaneous paper, craft, supplies and the like. Decide on a storage solution for each type of item and put away.
These small plastic scrapbook bins are great for storing school work. We keep three grades in one bin. If it gets full we decide together what has to go. That way we only have 4 bins for his entire school career. I doubt he'll fill all four since he rarely brings home artwork anymore. He LOVES to pull out the bins and peruse his pre-k and kindergarten work.
We use plastic shoe bins for crayons, markers and MISC Legos. His new big boy Lego creations are my issue these days. I'm running out of storage solutions.
How to declutter a kid's closet
Remove all clothing that is too small, stained or in disrepair. Trash unusable items and throw all others in the donate box.
Sort clothing by either color, size or clothing type depending on how you prefer. I sort by clothing type and color for me personally. For my son, we sort by school clothes, play clothes and dress clothes.
For a neater closet use all the same type and size hangers
Shoe racks help keep things neat and off the floor.
How to declutter your bedroom drawers
Decide which drawers should hold what items.
Go one drawer at a time. DO NOT dump everything out. (that way if you get tired you haven't made a bigger mess to contend with.
Go through all the clothing and sort by size and like item. Discard anything ragged, worn or too small. Add useable items to your donate box. Nonusable items to your trash bag.
Use drawer-dividers or baskets. If you're up to it, labels inside the drawers.
10 steps deep clean a messy room fast
Make the bed
Dust all surfaces with a microfiber cloth including lamps, light fixtures and artwork
Wipe down all surfaces with a multipurpose cleaner and damp cloth. Don't forget doorknobs, shelves, and light fixtures
Clean all mirrors and windows
Wipe down the baseboards
Sweep and/or vacuum
Take out the garbage
Change out air fresheners and/or spray a room spray
Mop the floor
Enjoy your nice clean, decluttered room.
Using these simple tips you should be able to clean and declutter a messy room. How fast you move is up to you!