If you love the look of drapes and live in a rental apartment or home, you're probably looking for a solution to hang curtains without making holes in your walls. I've found several ways to hang curtains without any drilling, screws, nails, and even over blinds that stick out from the wall. Bonus—with my method you can still hang them wide allowing all the beautiful natural light to shine through.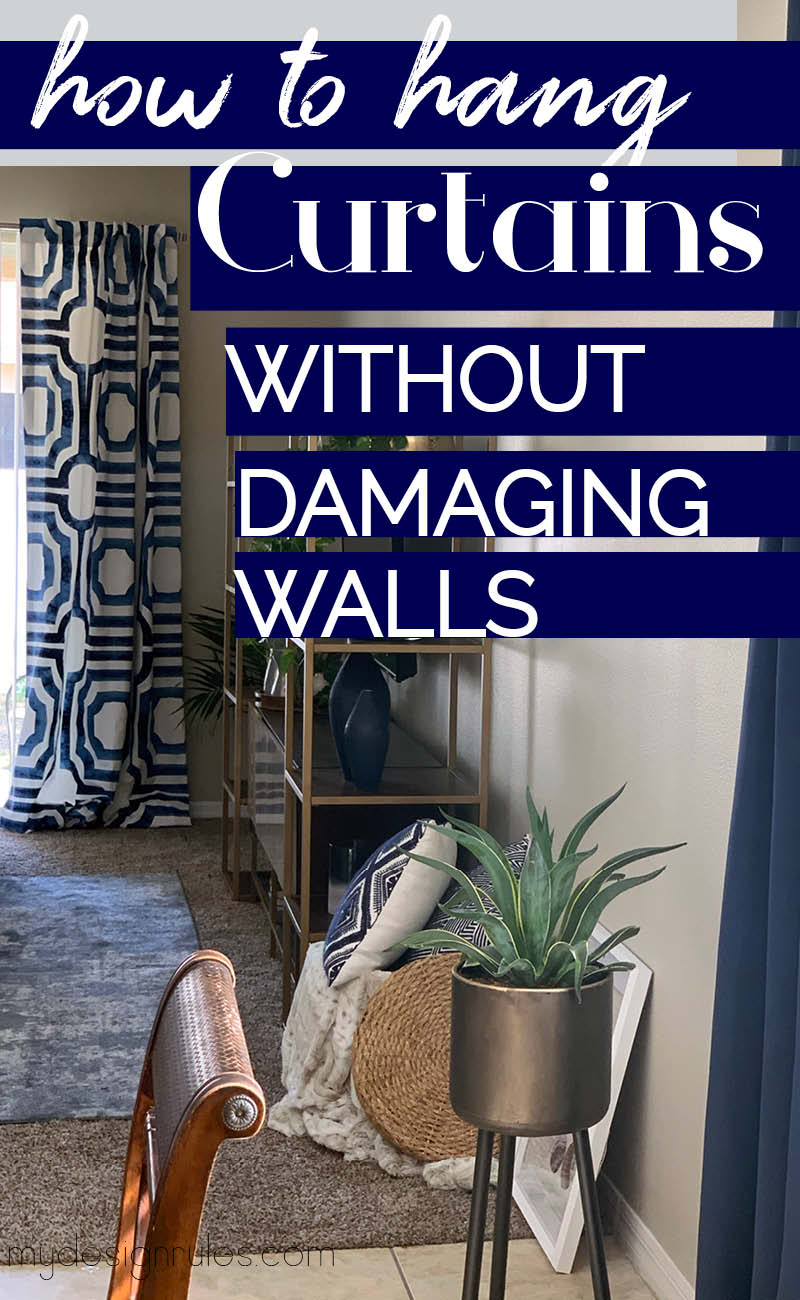 This post contains affiliate links for your convenience. If you click on a link and make a purchase I earn a small commission to help me run this site at no cost to you. Read my full disclosure here.
We moved into a rental home about six months ago and I immediately started searching for renter-friendly curtain hanging solutions. This home sports an abundance of large beautiful windows and all of them have faux wood blinds or vertical blinds. They don't need window treatments for privacy. However, drapes add dimension and coziness to a space like nothing else. This girl is going to hang them everywhere.
RELATED: How to Define Your Signature Design Style
Problem is none of the windows are trimmed out and the only solution I knew to hang curtains without damaging the wall were these that required trim and they simply don't work and even these require nail holes (albeit hidden holes)
The Best Damage-Free Curtain Hanging Solution
I saw some temporary curtain solutions with command strips but wasn't impressed with the look. I also loathe hanging curtains. It's the worst task in the world to me. All the measuring leveling and drilling are just a bother. So I also needed something incredibly easy to use.
In walks the No No Bracket that ticked off allllll the boxes!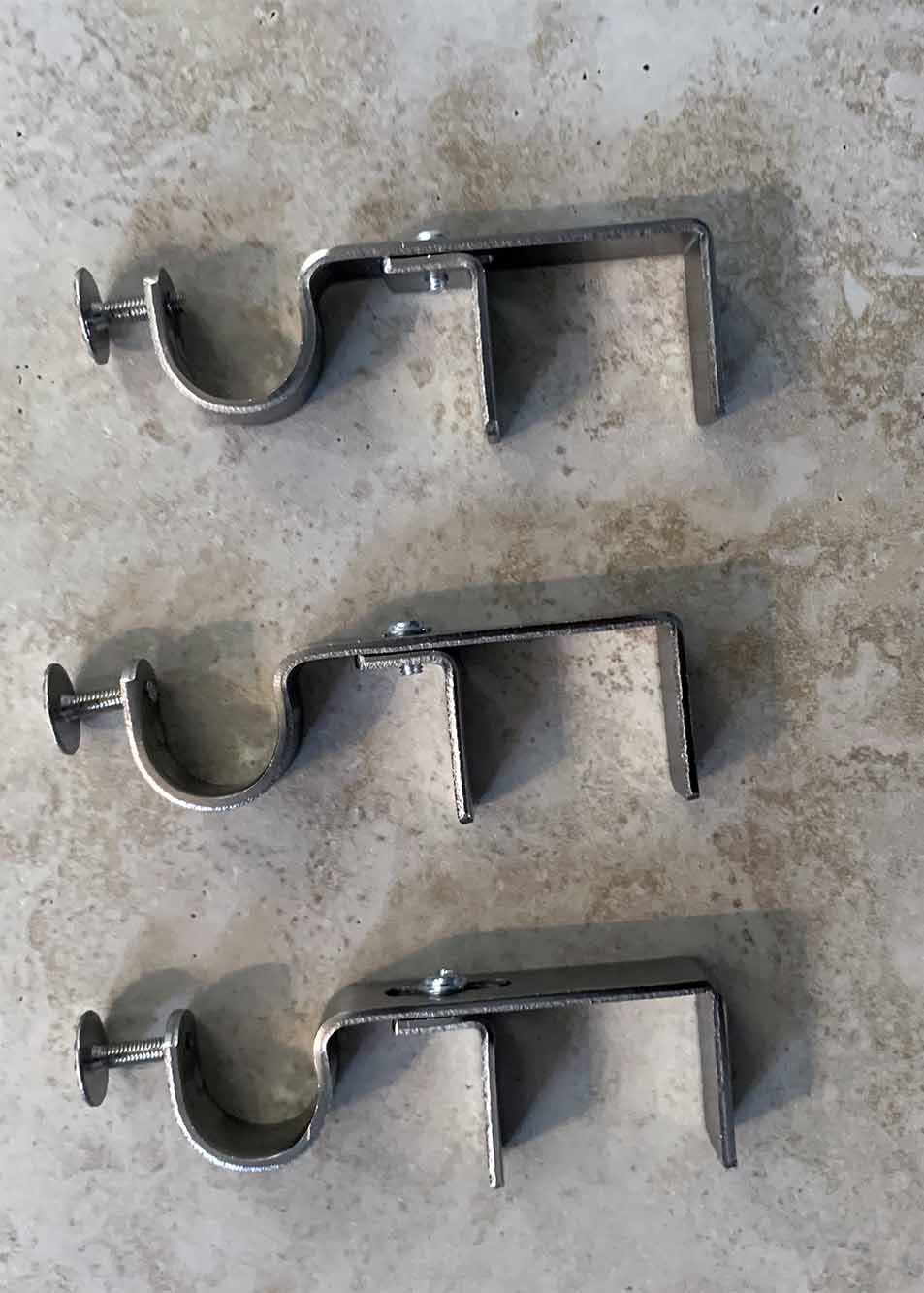 How to Install No No Brackets
When I tell you I love these things, I absolutely love them–mostly because they're so stinking easy to install.
Just insert the bracket on to the headrail of the blinds and tighten the screw. Hang your drapes without any nails, drills, or damage.
How to install curtains over blinds that stick out (vertical blinds or outside mounted blinds)
How to Install on Inside Mount Blinds
And did I mention you can do it lightning fast!?!?!
No measuring, leveling, eyeballing, drilling wrong holes… So so easy. The only tool you'll need is a screwdriver.
If your blinds have valances you will need to remove those. The No-No Bracket also includes two 3M strips to keep the bracket from sliding. Listen, please use those if you're going to open and close your blinds. If not—they will slide and the whole thing will come down.
Ask me how I know.
These curtain brackets can be hung on:
Make sure you select the right bracket for your window and ensure your headrail fits the dimensions they provide.
The No-No Brackets are available in nickel and oil rubbed bronze. Get the color that matches the rod you want. These brackets hold up to a one-inch diameter curtain rod.
And speaking of the curtain rods…
The cons of hanging drapes without making holes in your walls
Umm the rod is not included. Which leads me to my next caveat. This is NOT a cheap option for hanging curtains especially since you have to buy your own rod. But OMG the headache it saved me was worth it.
I picked up a few rods from the thrift store and spray painted. But Ikea also sells super inexpensive rods.
RELATED: How to Shop Thrift Stores
The Best Design Tip for Hanging Drapes
Whenever possible you should hang your drapes "high and wide." this allows you to do three things.
Make your ceiling appear higher. Taller ceilings give the allusion of a larger space.
Make the window look larger.
Allow as much natural light in as possible.
The downside to hanging these curtains without damaging the wall was I couldn't hang them high. I managed to hang them wide by placing the brackets on the edge of the window and allowing the rod to stick out further, but you are stuck having to hang them directly on top of the window. If I had my way, these would be hung a few inches from the ceiling to elongate the room.
I'm working on the den and used this easy method to hang curtains over vertical blinds that stick out from the wall. These gorgeous luxury drapes were incredibly easy to hang without damaging my rental home.
At least you can hang them wide as to not eliminate any light from the room. As a matter of fact, the navy blue drapes are these blackout curtains, but I hung them so they cover only the edge of the window. I get to keep all my Florida Sunshine.
I also bought the patterned ones longer because when we move (or buy this house) I don't want to have to rebuy drapes. They look off without proper hemming so I'll have to figure out a solution for temporary hemming.
Other Temporary Curtain Solutions
There are a few other products I found that could do the trick, but I haven't tried any of these.
Slide on Brackets for Rental Homes and Apartments
These Slide on Brackets area mainly for mini blinds, but I think the adhesive may cause damage to the wall when you want to remove (and you also have to level and measure)
Curtain Tension Rod
Works by placing the rod inside the window. This won't work if you have blinds at all. It also doesn't create the most aesthetically pleasing look when the curtain are hung.
Eclipse No Tools Rod
The Eclipse No Tools Rod is more of a tension rod with a better look, but presents the same problems.
Overall, I'm extremely pleased with how I hung my drapes without damaging the walls. Using the No-No Bracket was easy and fast—not necessarily cheap but worth it.