I hate cold weather. Hate it, but we decided to take a 5-day vacation at the Great Wolf Lodge in the Poconos Mountains. In November. What was I thinking right? Here's the good, the bad and the ugly review on what you need to know before booking a vacation at the Great Wolf Lodge Poconos.
Please note, this trip was pre-COVID soooo there's that. AND I'm a home decor blogger so cut me some slack on my lack of photo detail 🙂
When deciding on a family vacation in mid-June we originally planned to take a Caribbean Cruise. At that last minute, my husband vetoed the cruise because he gets motion sickness easily. We didn't want the hassle of passports in a short amount of time, so we decided to take a cold-weather vacation. Years before we'd seen an episode of Undercover Boss featuring the Great Wolf Lodge and vowed we'd go. Now was the perfect opportunity.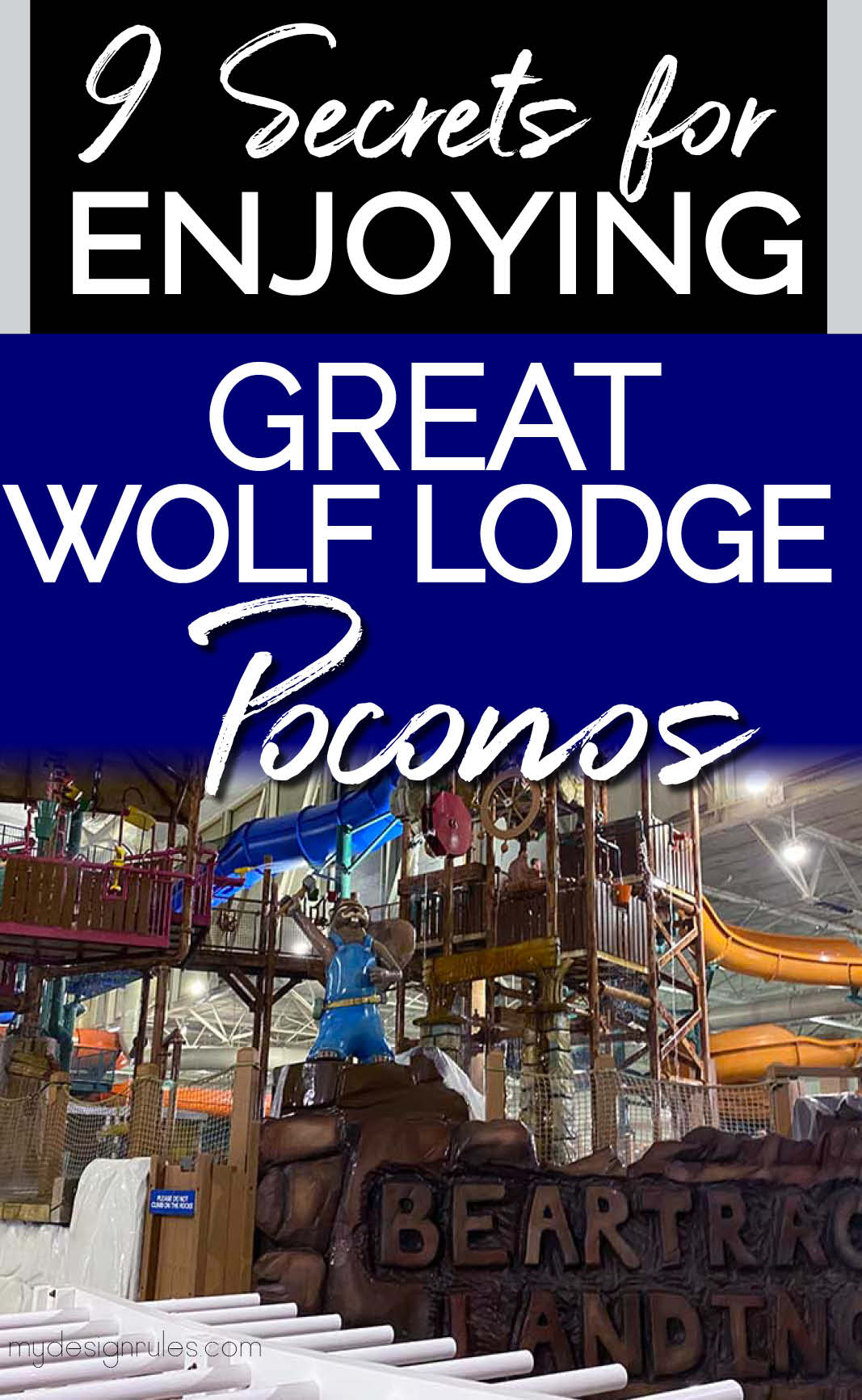 This post contains affiliate links for your convenience. If you click on a link and make a purchase I earn a small commission to help me run this site at no cost to you. Read my full disclosure here.
We passed on Great Wolf locations closer to us like Atlanta and Williamsburg because if it was going to be cold, we needed snow. So the Poconos was our destination. The resort is kid-based and we figured because my son is 10, we are working on borrowed time to enjoy a kid-themed place. Plus, it checked off three bucket list items for him–seeing snow, flying and leaving the state. Win-Win-Win. Right? Spoiler alert; nope.
How to Get the best room rate on a Great Wolf Lodge Stay
The best way to save money at the Great Wolf Lodge is to book your room early for the best rates. We booked the room in June for the week of Thanksgiving. Doing so allowed us to save almost 50 percent on the room. To get the best deal on your Great Wolf Poconos stay, sign up for their email list and book a room at least 60 days prior to traveling you'll save a TON of money.
Our rate dropped from $199/night to $119/night using this tip and that was during the week of Thanksgiving!. That's a significant saving. Buyer beware. To book a stay at the Great Wolf Lodge Poconos you'll need to pay a deposit. If you use the email code—the deposit is NON-Refundable!
Also, the Great Wolf site accepts Rakuten, so you can get cash back on your deposit. Total win.
Book the Right Room
We wanted this to be a great kid getaway and a time for me and the hubs so we booked the Royal Bear Suite. It included a room with a door and king size bed, a kitchenette, a queen-size bed and a living area with a pullout sofa. It sleeps 6-8. You could back a dump trump up into that space it was so large. And the balcony view was spectacular.
Can you imagine waking to this covered in frosty snow?!!? Oh my aching heart.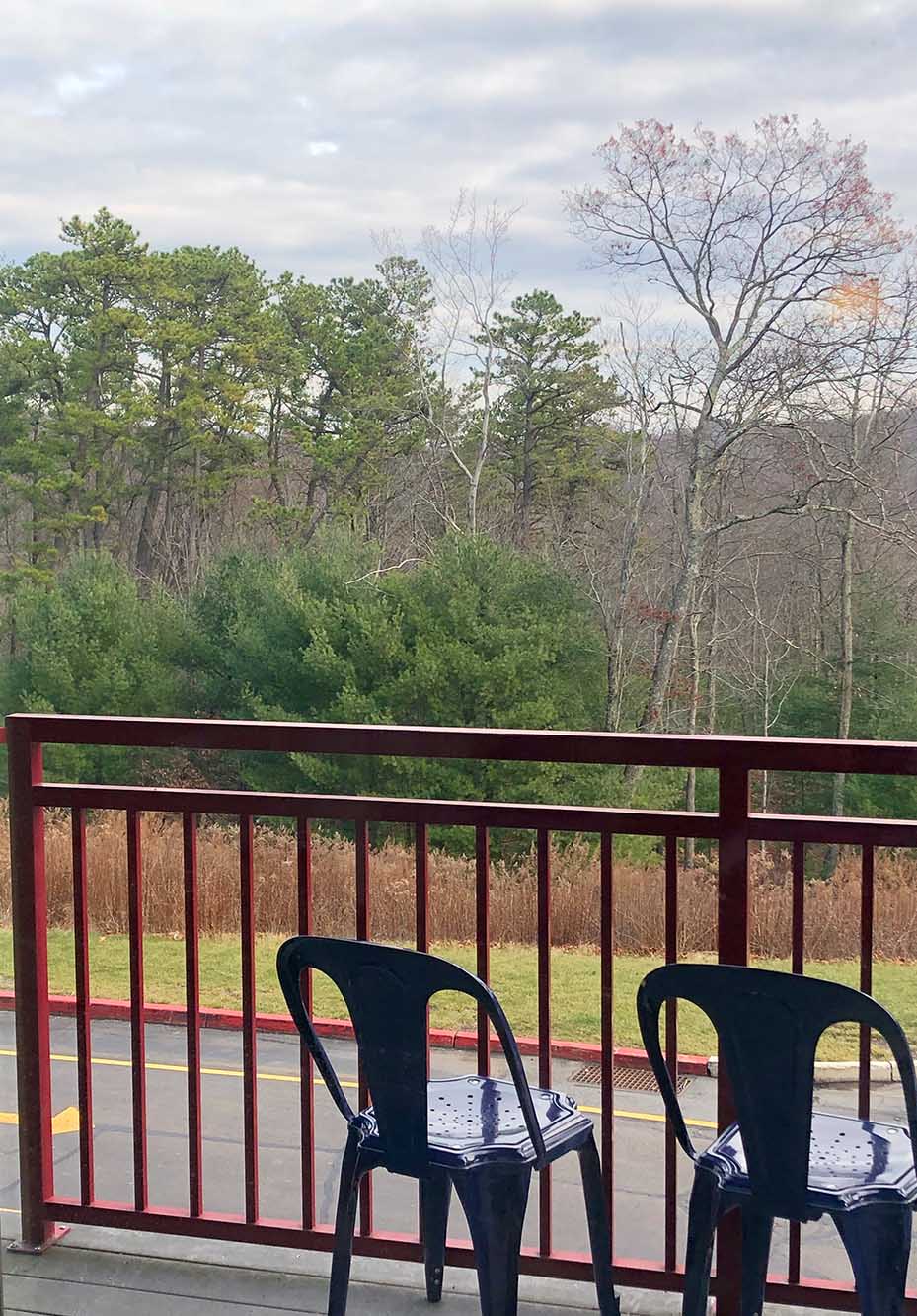 I will say I was quite disappointed in the décor. Tragically bland and sterile. Now, from the online photos of the room, I should have known that, but with it being a kids' resort I expected a little more from the MOST EXPENSIVE room in the hotel. Bummer.
I suggest you skip dreams of privacy and go with one of the themed rooms for the best experience. You'll save a ton of cash and be much happier with the experience.
The Best Time to Book a stay at the Great Wolf Lodge Poconos
I'll let you know right off the bat, we took our vacation during the wrong time. We have a 10-year-old and needed to plan around school. In Florida, the kids are out the entire week of Thanksgiving. The resort was PACKED the weekend of Thanksgiving. Although the resort was full, the lines at the water park weren't too long nor did I feel overwhelmed.
Do NOT, I repeat, DO NOT book a stay in the Poconos during the 'shoulder seasons' Fall and Spring. Apparently, the best tourism times are either summer OR winter. Not between.
Our desire to play in the snow was curtailed by ahem…NO SNOW. I thought because it was in the mountains we'd be good. Nope. It was an unusually warm fall and we didn't see even a flake. Talk about heartbroken.
What's worse is that if there is no snow, there's not much to do in the fall because most of the family attractions are only open between Memorial Day and Labor Day. That left us with a lot of free time. This isn't necessarily a bad thing IF you plan to take advantage of all the attractions at the Great Wolf Lodge and plan a short stay.
Which leads me to the next point…
How long should you stay at the Great Wolf Lodge Poconos?
Know how long to stay at the Great Wolf Lodge to have a good time.
Our original intentions were to spend the
1st day relaxing in our room and water park
2nd day doing snow tubing, snowboarding
3rdday site seeing,
4th day at the Water Park and
5th Day touring Philadelphia (where we chose to fly in to).
Welp, lack of snow forced us to have to figure out what to do and lack of open attractions presented an even greater problem.
Three days is ample time to enjoy all the Great Wolf Lodge has to offer before you start getting bored.
So how would we rate the GWL Poconos Waterpark?
We live in Central Florida–land of beaches and water parks. The water park could never impress us so I'm being really fair when I say the water park was decent. Great Wolf Poconos touts itself as the largest Indoor Water Park in the Northeast. It was vast, with a wave pool, lazy river, giant kid's playground, and eight large slides. I'd give them a B-. We played in the water for at least three of the days of our trip. Kids of all ages–including teens–can splash for hours. Plus the park felt extremely safe with a bajillion lifeguards on duty.
When you book your stay, keep in mind that you can use the water park ALL day on the days you book including before you check-in and after you check out of your room.
Go ahead and get the Wolf Pass for the kids
Your kids will actually have to chase down boredom if you plan accordingly. So, is the Wolf Pass worth it? Yes! it absolutely is. We spent $59 for a pass for that included:
A round of Glow in the Dark Mini golf
A round of Glow in the Dark Bowling
A Ben and Jerry's scoop of ice cream
Admission into the Mining Room
3 oz of Candy from the Bulk Candy Shop
A Build-a-Bear Bear (outfit and accessories NOT included)
An Engraved Bracelet
Arcade Tokens (about $10 worth)
Magi Quest Game and basic wand
Having the pass made my kid feel like king of the hill. He had access to everything and didn't have the gimmies every time he set his eyes on something new. It was also a bit of a double-edged sword because it's a guaranteed upsell for parents to participate in things like mini-golf and bowling. We did receive significant discounts because he had the pass. We paid $8 total for me and my husband to play mini-golf—so no complaints. We never used the bowling and the attendant allowed us to go free into the mining activity.
And you better believe that pass sent us to every gift shop in the resort (there are four—each with a different spin).
The highlight of the pass for most kids and teens is the MagiQuest. We don't do anything that resembles magic in my home so we skipped that part. The manager was nice enough to give us more arcade points to use comparable to the value of a game and a wand. That was a huge win, as I expected them to say no substitutions.
Food and Dining at Great Wolf Lodge Poconos
Listen Well: Do not buy the prepaid meal deal if you plan to leave the resort at all. There are plenty enough restaurants around and to me the cost simply isn't worth it.
The prepay breakfast was $15.99 per person per day and all-day-dining was $119/per person per day at the buffet-style Loose Moose Café. NO WAY. Plus, you can eat at the resort for cheaper than that if you stick to Hungry as a Wolf Eatery (pizza and pasta takeout), Buckets (burgers, fries, chicken tenders etc.) and Dunkin Donuts. The food was pretty decent and very reasonably priced. It's not winning any awards, but your kids will like it and you won't hate it.
We ordered a pizza one night for $14 and there were family pasta options for less than $15 for a family of four. VERY Reasonable. I'm from the land of Disney World–totally expected to pay $15 for a basic meal per person. We were pleasantly surprised by the affordable food prices.
We never hit the buffet restaurant our entire stay so I can't attest to how good the food is.
Every room is also equipped with a microwave and mini-refrigerator. We purchased a bunch of snacks, fruit, cereal, and milk from a local grocery store. Our large suite also had a nice eat-in counter in the kitchenette.
Restaurants Near Great Wolf Lodge Poconos.
I'm a wannabe foodie. My husband is NOT. The fantastic Crossings Premium Outlet mall that's less than a mile away from the Great Wolf Lodge has a few eateries including Johnny Rockets and the Cheescake Cafe. We opted for nearby Friendly's for a sit-down breakfast.
We drove about 15 minutes to a Texas Road House Steakhouse (the fanciest meal we ate on the trip LOL). I did luck-up on a cute little restaurant called The Charcuterie as we were leaving the Escape Room. Chick-fil-a and Burger King are not exactly around the corner, but close enough.
Things to do near Great Wolf Lodge Poconos, Pennsylvania
On the days we explored the city we went to Bushkill Falls. A beautiful walking trail with breathtaking views of the waterfall and the Delaware Valley.
We also visited Klues Escape Room and ahem did not escape, but it was a ton of fun.
RELATED: 27 Fall Bucket List Ideas Your Family Should Try
Holidays at Poconos Great Wolf Lodge
Beware of holiday meal pricing. So for Thanksgiving, we ate 'Walking Tacos' because the buffet was a whopping $41.99 PER PERSON. Umm, I'm all about a good dining experience, but the only buffet worth that much money is Texas de Brazil. At the last minute, my husband wanted to cave and just spend the money, but the restaurant was booked solid. I silently happy danced. I just couldn't imagine the food being good enough for that price.
Reservations are highly recommended because the restaurant is open to the public for holiday dining.
While we went for Thanksgiving, I really wish we had waited for Christmas. By Friday the hotel was raring up for some serious holiday cheer with trees and lights everywhere and you could tell it was going to be a good time. I'm sure the traffic increases greatly too though.
It's a kid's world, but a peaceful resort.
The Poconos Great Wolf Lodge is a kid's focused resort with a magic scavenger hunt happening all over the place, an indoor water park, bowling alley, golf course, and a candy shop. We braced ourselves for noise city, meltdowns and the like, but were shocked that despite all the kids, sugar, and activities that the hotel was relatively calm. (I did witness a meltdown or three).
The main breezeways were bustling with energy, but the room corridors remained nice and quiet. Plus, the Magi Quest shuts down at 9pm so kids aren't running all over the place. Our room was on the 2nd floor and we never heard any rumbling above our heads. This light sleeping girl thanked her lucky stars.
Overall this will be our one and only trip to a Great Wolf Lodge Poconos, but it was worth the adventure and I'd highly recommend you take your family and enjoy all it has to offer.