Having ugly, old and dingy trim around your doors does nothing for the look of a room. Like…Nothing. My living room plan is coming together, but I was completely dissatisfied with it even though I had new furniture and nice décor.
Take a look at this. (it's difficult to take photos in the corner…sorry about the lighting)
Cringe I know.
It's like being dressed up for a ball but having chipped and raggedy fingernails and toenails. It simply won't do.
Your door trim (and probably baseboards) needs a manicure girl. So here's my take on how to DIY your door trim with simple 1x4s.
Here's what new trim can do for you!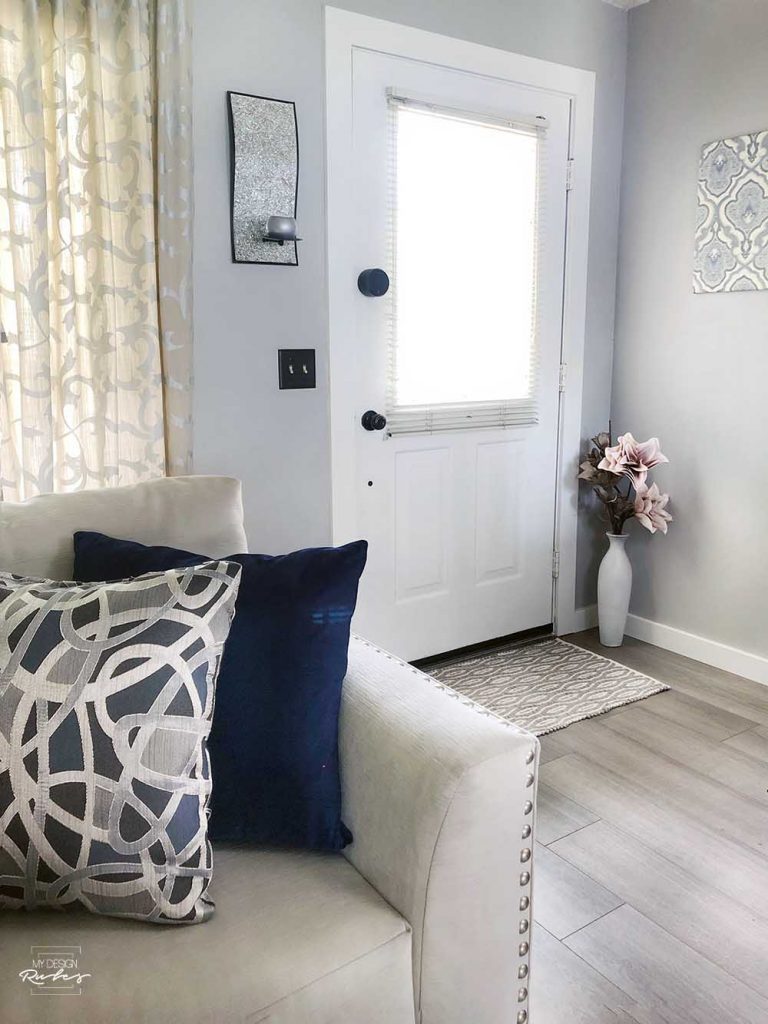 Tips for Selecting Door Trim
I researched several trim design ideas and kept coming up with really modern or really traditional trim. I fall somewhere in the middle. I wasn't looking for ornate trim work, but farmhouse or shaker style door trim wasn't going to work for my comfort glam home.
When choosing your door trim, think about the style of your home AND your décor. Extravagant trim designs probably are meant for high-end traditional-style homes while farmhouse trim won't work in an ultra-contemporary.
Your door casing needs to make sense.
For me, I wanted a clean look that could lean traditional in my living room and a little more modern in the bedroom. Simple 1×4 trim around and baseboards was a good fit.
Not sure about your style? Learn How to Define Your Signature Style here.
There are several ways you can lay the 1×4 boards that will give you different looks. I tried a few and ended up selecting a simple mitered corner. No additional trim or 1×2. No overlapping or overhang. I loved it so much that I plan to rip out the trim I JUST installed in the kitchen and use this style. Now that I know how to change door molding easily, it won't be a monumental task.
This post contains affiliate links for your convenience. If you click on a link and make a purchase I earn a small commission to help me run this site at no cost to you. Read my full disclosure here.
What you'll need to replace door trim with 1×4 boards
Don't start replacing your door casing until you purchase all your supplies. You don't want to have to run to the store in the middle of your project.
This is a fairly inexpensive project, depending on what you already have in your stash. The only thing I needed to purchase were my boards. They ran me less than $6 each.
Supplies for casing your door
— 3 1"x4"x8′ boards (MDF or pine. I chose primed MDF)
— 2" brad nails
— Wood filler/spackle
— Caulk
— Paint
— Mini foam roller
— Safety glasses
— Rags (for caulk clean up)
Tools
— Miter saw
— Nailgun and Compressor or my wishlist nail gun!
— Paint sprayer (optional but this one I own is a fantastic price!)
— Measuring tape
— Pry bar or Trim Saver (The trim saver is faster, but the pry bar works great)
— Level
— Utility knife
— Pliers/wire cutters
— Putty knife
Steps to DIY Your Door Trim
Now adding casing to your doors is an easy project for beginners, but because you are a novice, take your time and do it right. Don't rush or you'll make silly mistakes (like yours truly) wasting time and money.
1. First, you need to know how to remove wood trim molding
— Use a utility knife to score the line of caulk between the wall and the trim. Be careful not to cut into the wall.
— Next using a pry bar and mallet, slip the pry bar into the seam and gently pull. You may need to flip the bar back and forth to get a good distance between the wall and the trim. Use pressure NOT force to avoid damaging your drywall.
— Watch for nails and wear safety glasses…things can pop off the wall.
— After you've removed the trim. Discard with care. There will be 2" nails sticking out!
— Remove any nails from the walls using pliers and/or wire cutters. Sometimes this is easy, sometimes it's hard.
— Once the trim is gone, remove any leftover caulk residue and excess drywall. You need a nice smooth surface for your new door trim to lie flush.
Because I was replacing my baseboards at the same time, I removed them as well. If you are not removing your baseboards you'll need to ensure your new door trim is the same width as the old trim OR use this tool to cut your baseboards for a proper fit.
2. Measure and cut your header
I began measuring with the header because it helps me ensure the door will properly open and close.
Start with one end of your board and cut a 45-degree angle. Make sure the heal is closest to the door and the toe points away from you.
This little door trim cutting cheat sheet should help.
*Note you can make straight cuts and achieve a similar look, but the feel will be more shaker than modern*
The heal should meet at the door jam the side.
Measure the length you need and cut another 45 in the opposite direction (technically a 135 degree, but your saw doesn't say that).
3. Measure and cut the sides of the door trim
Sidenote…If you're wondering what that huge round thing on the door is, it's this. UGLY, but life-changing. I protested when my hubby brought it home, but I quickly changed my mind. You want one in your life I promise!
You know that old saying measure twice, cut once. Friend, I'm telling you to measure 5 times then cut. Why? Because I messed up 3 times.
Don't be. like me.
Because you're using a mitered cut, your board needs to reach beyond the height of the door. I suggest you cut it longer than you need. You can always make it shorter—you can never make it longer.
Cut a 45-degree angle using your miter saw. The direction of your miter matters! You want the heal of each corner to be at the height of the door opening. The sides should make a Y. When you measure,
You only need to cut the top of the boards. The bottom will meet the floor straight on.
4. Dry fit the trim in place
Now set your boards in place (dry fit) and pray you got a good fit. You may need an extra hand or you can use painter's tape to hold your boards in place.
If your boards don't fit, adjust by cutting down in mini increments until you get the tightest seams possible.
5. Don't skip this Step–It will save your sanity
Now a real carpenter will won't tell you to paint first, but chile I ain't no carpenter. I did not want to have to be extra careful when painting the door trim. I used my new paint sprayer to give the new door molding two coats of semi-gloss paint. (I chose Behr Modern White).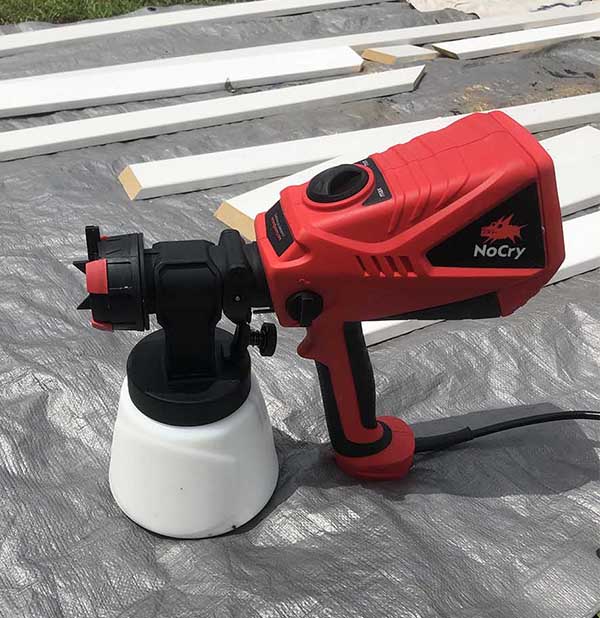 6. Now it's time to attach the trim around the door
Using a nail gun, attach your 1×4 trim to your door jams and walls leaving a slight reveal. I was a one-man show so in order to get everything level, I started by using one nail to put the header in place. Then I used a level before nailing it completely down.
Adding the sides was easy at that point. I lined up the sides with a little reveal AND ensured the door could open and close without interruption before nailing the trim in place.
Already looking soooo good and Almost done!
7 Finish your trim with caulk, wood filler and paint.
I used a combination of wood filler and spackle to fill my nail holes. Allow it to dry and sand smooth. I like spackle because it sands more smoothly. It's terrific at filling the seams of the miters. You can barely see the seam. I used wood filler first then switched to spackle. Only one is necessary.
Add a line of paintable caulk along the wall and the trim and anywhere you see any gaps on the jam. I cheated a bit here as well. For large gaps due to uneven drywall, I used spackle and it worked like a charm. As long as the guy from This Old House doesn't show up, I'm good.
Lastly, give your trim, door jam (and for me, my door) a nice coat of paint and admire your handy work.
Before: Small, Dingy Door Trim & Baseboards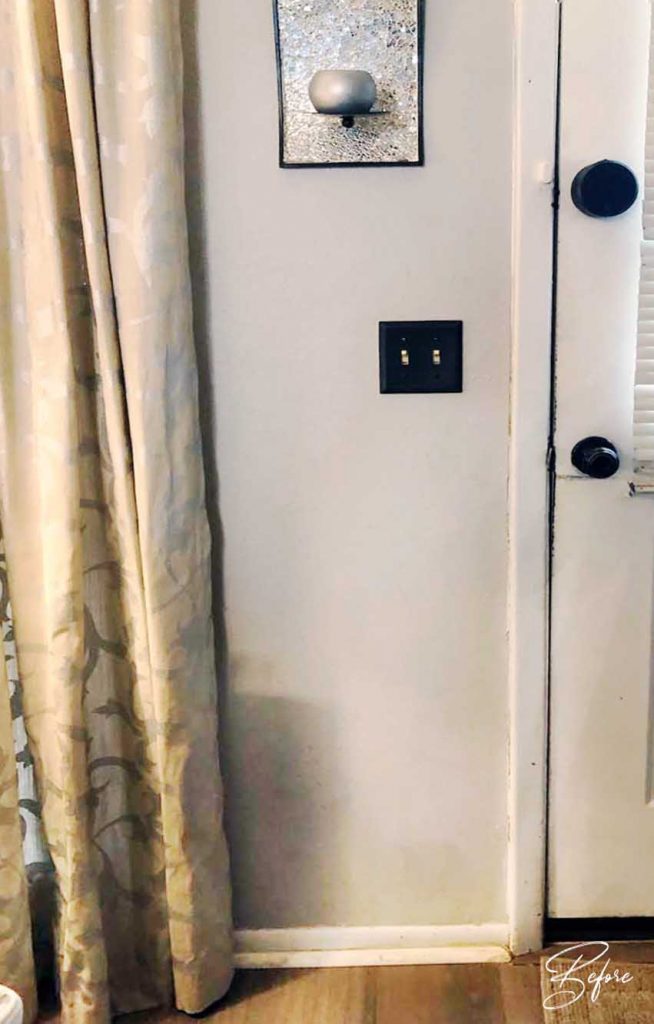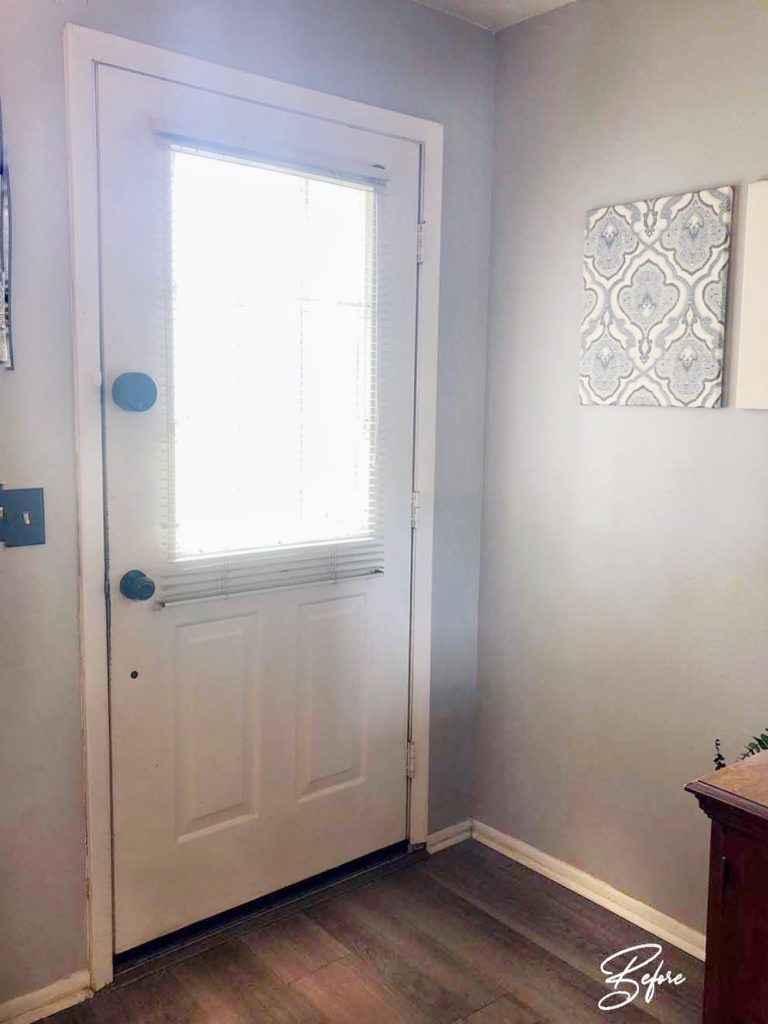 After: Clean, Modern 1×4 Trim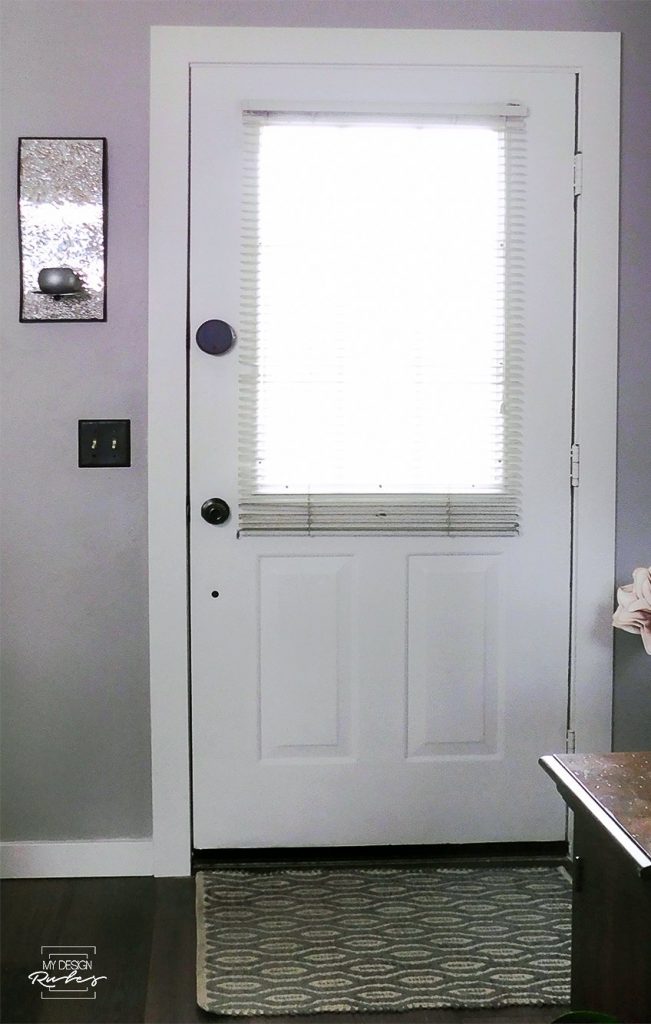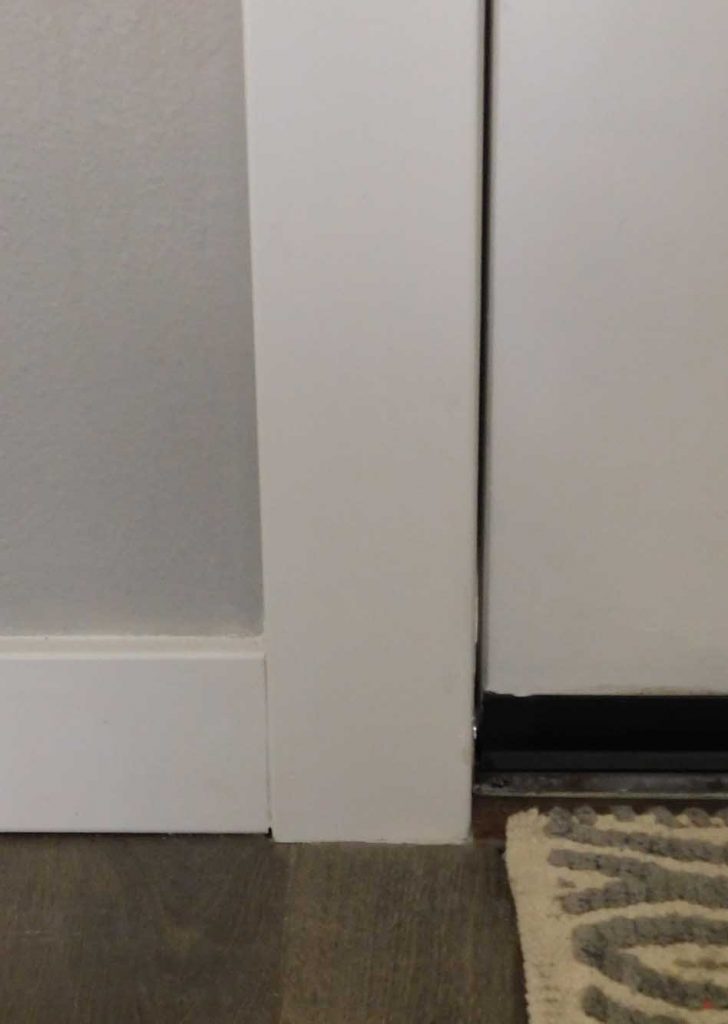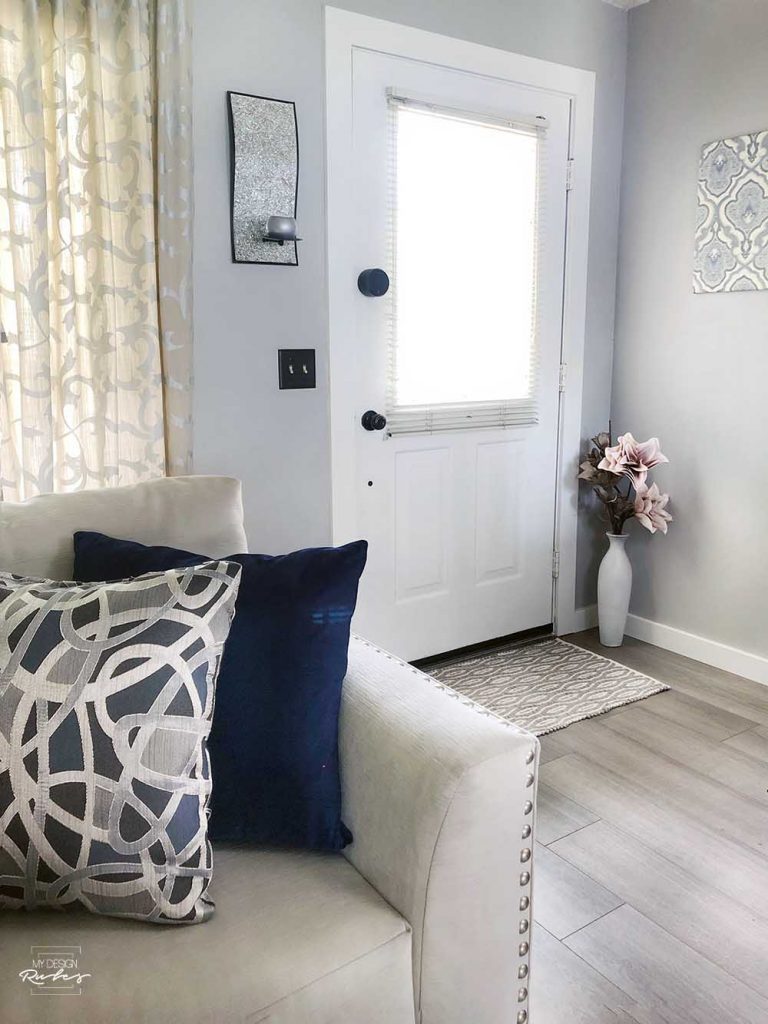 Now, this was easy, but not without a little headache and frustration. If you're not skilled at using a saw or lining things up, it will take you a bit longer to get your trim around the doors. This is your home so don't stress out. It doesn't have to be perfect. Just breathe and it will come together. I promise the payoff is worth it.
Now about that mini blind that needs replacing…another project for another time.
Don't forget to Pin it for Later!