If you haven't heard my sob story, I lived in my home for 13 years before I started decorating. Prior to that, everything was hand-me-downs and one step away from dorm life. But we made do. Read more about that in intro into decorating.
It's been a long time coming but I'm finally ready to share a bit of my living room. Instead of going the budget route on my living room, I'm following my mom's best budget decorating advice to never settle to get precisely what I want (well mostly).
My Signature Design Style
My design style doesn't doesn't fit neatly into one box. I like a little bit of everything, but try to mesh comfort and glam in the living room because my 1200-square-foot home only has ONE living space. It demands attention with the glam, but says say awhile with all the warmth.
Your's doesn't have to either. Learn what you like and mix different looks to create YOUR signature design style.
I call it comfort glam.
'Comfort Glam' means using a ton of neutrals, as much gold, silver and bronze metallics as my husband and son can stand, tons of texture and a dose of dark wood for masculinity. I love the luxe look, so bringing it into my home was a must.
Related: 3 Steps to Define your Signature Design Style
The Neutral Glam Sofa Base
I started in February with a new sofa cuz umm this old thrifted one had seen better days.
It was old, worn and very tired. The photos are just plain awful because I snapped them in a hurry right before they came to haul it away, but I promise the room feels great even with the eyesore of a sectional. You can plainly see why I never showed a photo before right?
I said a hearty goodbye and welcomed this luxe-looking matching love seat and sofa set I picked up at a President's Day sale. They are beige with big, bold, silver nailhead trim.
My first choice was a sectional or a sofa and two chairs, but budget and practicality won out. I could have waited…but umm, I just couldn't take that old boy any longer.
We.LOVE.THESE Couches. The fabric is a distressed velvet, which means it's ultra-soft on the skin and they look like a million bucks. I will admit they are probably a little too glam for the long-haul, but I was in love and I couldn't resist. In general, your large items should be more classic to span several design trends. But when you can't stop thinking about the couches and there's a sale…welp, you just get what you want an figure it out later.
This post contains affiliate links for your convenience. If you click on a link and make a purchase I earn a small commission to help me run this site at no cost to you. Read my full disclosure here.
A little bit of DIY artwork to keep the Budget in check
I also added some simple West Elm Knock off DIY abstract art to the walls just to eat up space as I finished actually designing the room. These are pretty, however, they don't really jive with the vibe of the room, so I plan to switch them out to something a little quieter. It won't cost me an arm and a leg because all I need to do is print some new art and add to the frame/canvas combo.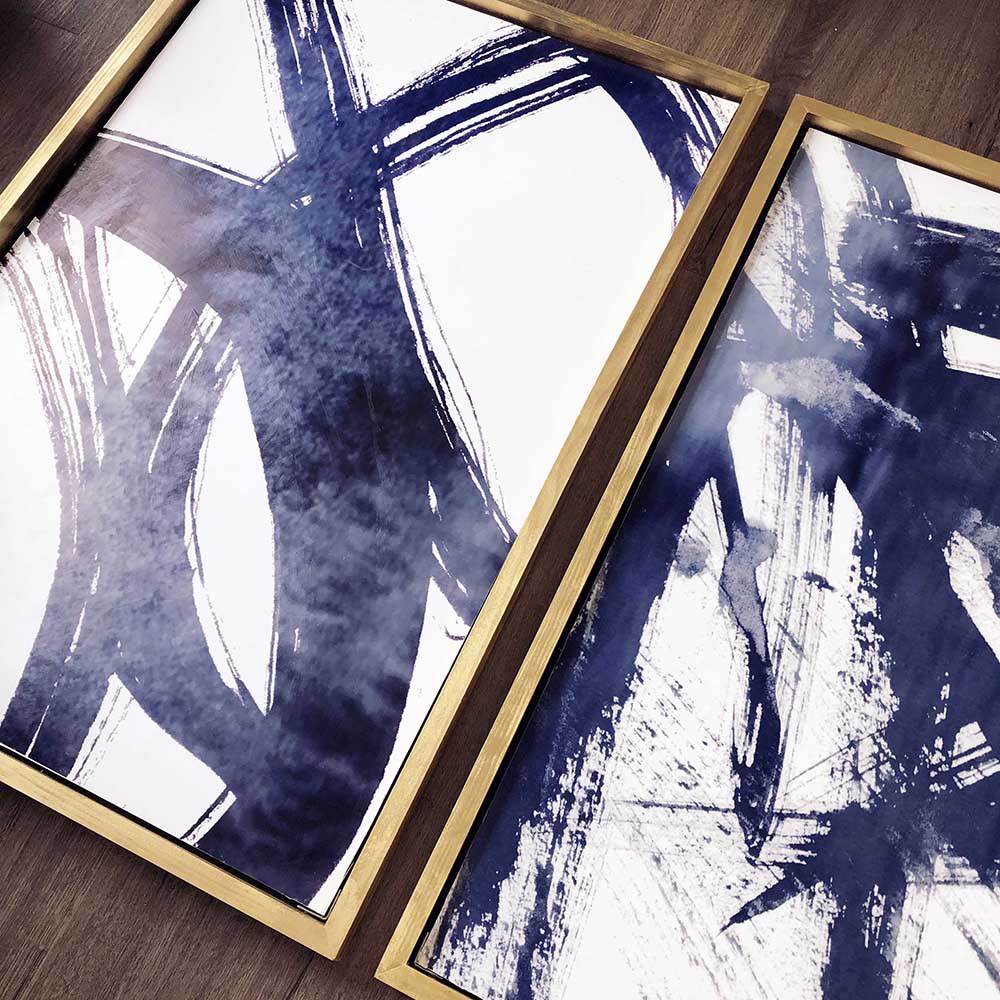 Beautiful Blue Luxe Vintage Rug
Next on my list is this super traditional blue rug.
Girl, I searched hard and long for a rug for this space and I thought I wanted neutral and modern. (I'll be sharing in a future post all the eye candy I found) But both my husband and I kept coming back to this vintage blue rug.
It's currently out of stock. So I'm patiently waiting for it to arrive. The one I have now, while gorgeous itself, is just too small for the new furniture.
Glam Wood and Metal Table
I originally sourced these tables:
But one day on a Home Goods escapade I ran into these show stoppers.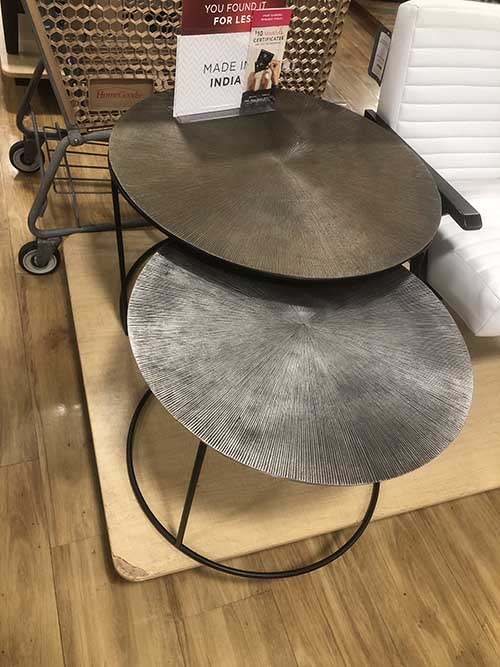 It was love at first sight. Just look at that texture:
But umm, when I got them home, I HATED the black and wanted to immediately return them. The hubs said no way. He loved how functional they were for the space.
So I used some metallic paint in champagne to change them and Bam! Yes. yes, and yes. Luxury living with flavor.
You can check out my DIY Hack to make this a coffee table sans the black by checking out my Instagram Story Highlights.
To balance out all that neutral going on I'm switching out my silver and beige curtains for a set of navy linen drapes.
Navy Blue Media Console
I also plan to DIY a navy blue media console of some sort. I just can't bring myself to pay what stores want for the style I'm looking for. The one I reallly want is $1400 when it's all said and done.
Keeping it real…I just ain't there yet.
I still haven't selected side tables, but my space is so small they're more of an accessory than furniture, so those will come after most of the major players are in place.
The Luxe Living Room Moodboard is KEY!
As always, my design plan begins with an inspiration Pinterest board, color pallet, and a mood board.
One thing you'll notice about my mood board is that it doesn't have every single item in the room on it.
Currently, it's missing lighting and accessories. The mood board is just your base. I use it as a guide throughout the process to make sure the items I'm using actually work together.
IT WAS A LIFESAVER when choosing a rug. Every rug I thought I liked and plopped on the mood board fell flat. Since I'm ordering online, the mood board kept me from making a huge mistake. Read all about how to avoid decorating mistakes here.
RELATED: How to Make a Mood board
I've got plenty of projects up my sleeves (including some mundane stuff like baseboards, window trims, and door trimmings) but also wall treatments and fun door replacements. Stay tuned!