It's winter, it's cold and you want some warmth in your tummy. If friends and family are gathered around, serve up an awesome hot chocolate bar for a day or night of fun-filled memories. Mark the evening with lots of creamy cocoa, sweet mix-ins, toppings and plenty of laughter.
I set up this simple DIY hot chocolate bar for a day of gingerbread-house building with the family, but we plan to partake of it all winter long.
This epic guide will take you through the steps of setting up your own. The sky is the limit but these cocoa bar ideas will help guide you in the right direction.
How to Set up a hot cocoa bar
First up, your cocoa bar does not need to be super fancy. The best bar should be simple and easily organized so you (or the kiddos) can enjoy.
Mine is a bit fancy just because I used mostly what I already had on hand and a few goodies that jumped in my cart at Ross.
But I've seen some cute hot cocoa bars with DIY trays and everything purchased from the Dollar Tree. You decide your theme and level of wow you want. The real wow will come from your beverage, so spend some time making it GOOD.
Start with a clean slate
There's nothing worse than trying to figure out a setup and getting frustrated in the middle because you started in the middle. Do it right by planning for your hot cocoa bar before you even hit the store.
Gather All your Hot chocolate bar supplies.
Having a clean slate will allow you to set up your cocoa bar before you add one treat to the mix. This is where you can determine traffic flow AND how many hot cocoa mix-ins your bar can handle. I came up with plenty of ideas for a major smorgasbord, but my space let me know otherwise. Had I shopped prior to gathering all my dishes, I would have wasted a ton of money.
Basic Supplies for your DIY Hot Cocoa Bar
Here's a quick list of what you need. I've created a printable worksheet you can download the hot cocoa supply list in my Free Decorating Tools library.
Hot Chocolate Recipe
Jars or baskets to hold hot chocolate mix or packets
Mugs (or paper cups)
Container for water or milk
Spoons for Stirring
Serving Spoons for mix-ins
Hot Chocolate Toppings
Containers for each topping
Coasters for carrying drinks
Tongs for toppings
Ensure your cocoa bar has good flow for both traffic and drink making
I started with the mugs and the hot water on one side then the drink mix in apothecary jars. Leave a little room on your surface so guests have ample space to stir in their hot cocoa mix AND add the toppings.
Make sure you have enough utensils for serving and napkins for spills!
This is what I came up with to start. (excuse the late-night phone pic)
What to put on your Hot Cocoa Bar
Now the fun part. Load that baby up with as many or as few toppings as your little heart (and budget) can stand.
I chose to keep mine fairly simple to minimize mess and mayhem in my tiny kitchen but if you have the space and the patience–knock yourself out.
25 Topping Ideas for your Hot Chocolate Bar
Chopped chocolate bars
Sprinkles
Caramel syrup
Marshmallows (try different flavors)
Flavored Stir Sticks
Cinnamon sticks
Ginger candy
Instant Ground Coffee
Crushed peppermints
Candy canes (try a variety of flavors, not just traditional)
Butterscotch candies
White chocolate chips
Toasted Coconut Shreds
Sprinkles
Flavored coffee syrups
Orange zest
Chai tea bags (steep in your hot water/milk before adding mix)
Vanilla extract
Maple Syrup
Coconut milk
Crushed Oreos
Pirouettes
Gingerbread
Hershey's Kisses
Reeces Pieces
Here are some great DIY treats you can add to your bar if you really want to impress. Kids will love all of these!
Chocolate Coated Peppermint Spoons
Decorating Your Hot Cocoa Station
Now you can do this the easy way or you can go all out. I fell somewhere in the middle, attempting to use items I had on hand already (which is why it turned out a little glam—that's how I roll) it's not the most kid-friendly set up, but the kids at the gingerbread house party are little older.
My mom's old Princess House glass mug served as the drinkware. They are super cute and quite sturdy. I placed them on silver chargers I picked up at the thrift store for $2 for a set of four. And check out the apothecary jars that hold the hot chocolate mixes and marshmallows. Aren't they amazing? I found three at Ross for $5.99 each. The iridescent glass takes them just outside of ordinary.
Similar Glass Mugs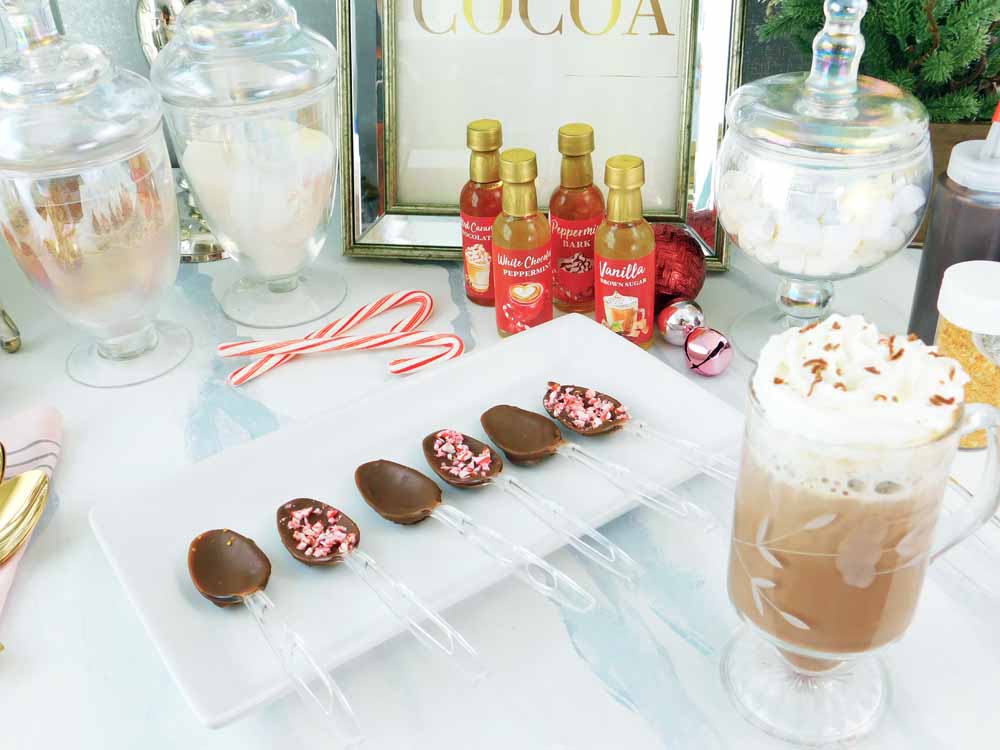 Similar Apothecary Jars
Instead of a slew of toppings, I used coffee syrups I found in a gift pack at Ross for $4.99 (can you tell I had Ross a gift card?) These were fun to test out.
I topped off the bar with cute a sign. I have to tell you, I designed a whole shebang of labels and signage, but it seemed a little too 'cute.' By the time I added all my glam dishes, cute wasn't really working out. You can download the gold sign and the other printables for free in my Free Decorating tools library.
Hot Cocoa vs Hot Chocolate
While we were out shopping my son asked me the difference between hot cocoa and hot chocolate? Honestly, I had no idea. I'd used the terms interchangeably all my life.
A quick search led me to an artisan chocolatier who basically said there is just a minor difference. Traditionally hot cocoa can be made from power, milk or water and sweetened with other flavors added in. It's generally less sweet and less rich than hot chocolate, which is made from melted chocolate.
But anyone can label their concoction anyway they please. So feel free to continue using both interchangeably because apparently, we all do.
Easy Hot Chocolate Recipes to try
There are hundreds of hot chocolate recipes to try. Literally, because I searched Google and Pinterest to find the best and asked some blogger friends to submit some ideas. Some use water, some use milk. Some even used sweetened condensed milk.
The most popular out there? Crockpot hot chocolate.
Crock-Pot hot chocolate would be fantastic on a bar if you're serving a small crowd for a one-time event. And now with the introduction of the instant pot, I even found an instant pot hot chocolate recipe.
Now, the easiest hot chocolate bar can be set up using store-bought powder in a jar or in packets. No harm no foul. You do you.
For my hot chocolate bar, I opted for making my mix because most of the packets I've bought are simply too sweet for my likiing. When I make the mix myself I can control the sugar.
I made and tested three dry mix cocoa recipes for my bar. All are perfect!
I gave a variety of mixes to the bar so we could have options…that's what buffets are about right?
Homemade Sweetened Hot Chocolate Mix
This easy hot chocolate mix is your regular joe. Nothing special, slightly sweet and creamy with water or milk. Add a dollop of whipped cream and maybe some sprinkles.
Homemade Unsweetened Hot Chocolate Mix
I made this one to downplay all the sweetness we'll add with the toppings –especially the syrups and caramels. I'm not looking to send my family into diabetic shock here.
Homemade White Hot Chocolate Mix
I used the method by Savory Simply to make the white hot chocolate mix. This was the first try for me and oh.my.goodness. So good on its own or with a few drops of peppermint. I didn't adjust for sweetness.
Now you may not want to put these on your bar but these all sound amazing.
And with the dry mix comes the debate for hot chocolate? What's best water or milk?
What's best, water or milk?
Well, it depends on the mix you use. Some cocoa mixes already have a decent amount of dried milk powder in them so they don't necessarily NEED milk, BUT milk offers more body. If you like your hot chocolate rich, try it with milk. If not, water will do just fine. You can even choose to go in between with a non-dairy milk like almond, soy or coconut milk.
I opted for water. If you use milk just make sure you don't boil it! Bring it up to temperature and take it off the stove just before it simmers.
To make each mix for the hot chocolate bar, I boiled water using my tea kettle and put it on a marble plate (my buffet countertop is faux painted plywood so I didn't want to risk burning) Add a 2-3 heaping tablespoons of your mix to a mug, add in about a cup of water and stir.
(Make sure to supervise the kiddos with the hot water.)
If you're making the mix for a crowd, be sure to have plenty of your hot liquid ready. That's one of the reasons I chose to use water, it was easier. I don't have a microwave (long story I'll tell another time) so I just kept a big pot of water on the stove and refilled my kettle. You can use your coffee pot, Keurig or Crockpot.
Sources for similar decor items
Silver Plated Chargers | Glass Mugs |Wood Accent Tea Kettle | Gold Flatware | Apothecary Jars | Mirrored Frame
We're giving this thing a workout tomorrow night. I can't wait to dive into all the hot chocolate goodness on this DIY set up.