Lemme tell you. I love West Elm. High-end sleek décor? Give me all the stuff in every catalog and every store. I'm here for quality furniture and décor. But sometimes a girl's budget can't keep up.
Ok real talk. MOST times my budget can't keep up. So when I see something I really want and can't afford my mind starts churning on how I can make it. Don't get me wrong, some things just can't be duplicated. I mean a sofa, nah. But wall art—especially abstract wall art. I can handle that.
So when I ran across these beautiful abstract art pieces from West Elm, I knew I could make it happen. West Elm originally priced ONE of them at $349! That's US Dollars!
Perhaps for custom original artwork commissioned just for you by a top-notch artist, but err umm for these paint strokes? No way. I like quality and high end, but I'm also a bit of a cheapskate trying to get a high-end look on as little as possible. So, I found a way to make these art prints for a fraction of the cost for a major impact on the large ginormous wall in my living room.
You can make these DIY abstract art prints a few ways. I found several tutorials to use paint. Which is totally cheap and totally doable. But I love me some Etsy and low-and-behold I took all the guesswork out of whether or not my handmade art would look great by simply buying a printable. The art cost me less than $12 and I can print them in any size I desire as many times as I want.
I fancied these sleek blue printables from the Passion Decor Fashion shop. To take up a ton of visual space, I got them printed at 24"x 36".
This post contains affiliate links for your convenience. If you click on a link and make a purchase I earn a small commission to help me run this site at no cost to you. Read my full disclosure here.
Taking DIY Abstract art to the Next Level
The EASIEST thing to do is purchase the printables, print said printables, buy a few cheap frames and hang them up.
You know I didn't do that right?
I had to complicate things a little bit because I wanted a custom look for my blue abstract art. I wanted a chunky floating canvas frame and I wanted the painting to look like it was actually painted versus just having a photo.
The result, custom high-end looking art for a fraction of the West Elm price tag. Here's the tutorial for this easy DIY abstract art if you're like me and can't just buy something and call it a day.
Order for making your DIY Abstract Masterpiece
The order in which you purchase your projects supplies is important. Trust me, following this guideline will save you a few trips to the store.
1. Determine the size of the art piece
Measuring your space. For me, that was above my sofa. I wanted to take up a LOT of room on this gigantic wall.
Tip: Art should occupy roughly 2/3 of the area above its mate below.
2. Purchase your abstract printable art
When buying printables, make sure your seller offers the size you need or can resize it for you. If you purchase art files that are too small you will end up with blurry art. You can always print smaller, but usually, you don't want to go larger. Try Etsy, Minted or even find free art here.
3. Purchase your canvas supplies.
I bought my canvases from Michael's during an awesome 70% off sale. They cost me $16 FOR THE PAIR! Michaels generally runs this sale a few times a year.
I also bought a decoupage medium and a large foam brush to apply it. No need for name brand Modge Podge, this brand worked just fine.
4. Purchase the material to make and hang your DIY floating frame.
You can skip this if you just want to hang the canvas as is. I made DIY chunky wood frames similar to these in my nephew's nursery, except I mitered the corners and make them 'floating.'
1×2" pine boards (measure your canvas, NOT just your prints to determine size)
Paint or stain of choice
Tutorial for making a beautiful abstract art canvas art piece.
Prep your large printable art
I got my art printed at Sam's Club Photo. The 24×36" large format prints were just $11.96 each. You won't find a better deal anywhere for color posters that size. Trust me!
Stores like Office Depot charge $39.99 each and give you lower paper quality. I wouldn't go with the inexpensive engineer prints…you want better quality for this type of color abstract art due to the heavy saturation of ink.
Start by painting the edges of the canvas.
I used leftover paint from my nephew's nursery to color the canvas sides. This helped make the transition from the floating frame seamless. I chose blue. Black works well—you don't want the white canvas to be naked.
After the paint dries, use decoupage medium to adhere the photo to the canvas. Just pour a decent amount of medium on your canvas and spread with a foam brush.
Next, use decoupage medium on top of the photo/art print. Don't be afraid, it won't ruin the photo finish. The medium creates texture on top of the photo to make it appear painted versus printed. I used strokes that mimicked my artwork. You can use crisscross or straight lines. The medium goes on milky but will dry clear. You can use gloss or matte. They both work well.
Make frames from your DIY Abstract Art project
I used the same method I used to make these large wooden frames for my nephew's nursery except I mitered the corners and made them float just a tad. The original frames would have worked fine, but I'm trying to improve my woodworking and opted for mitered corners.
Cut your wood to length
Paint
Glue and nail in place
Attach to canvas
Lastly, add some hanging hardware.
I used a combo of D-Rings and wire and added just a smidge of putty to keep it flush to the wall.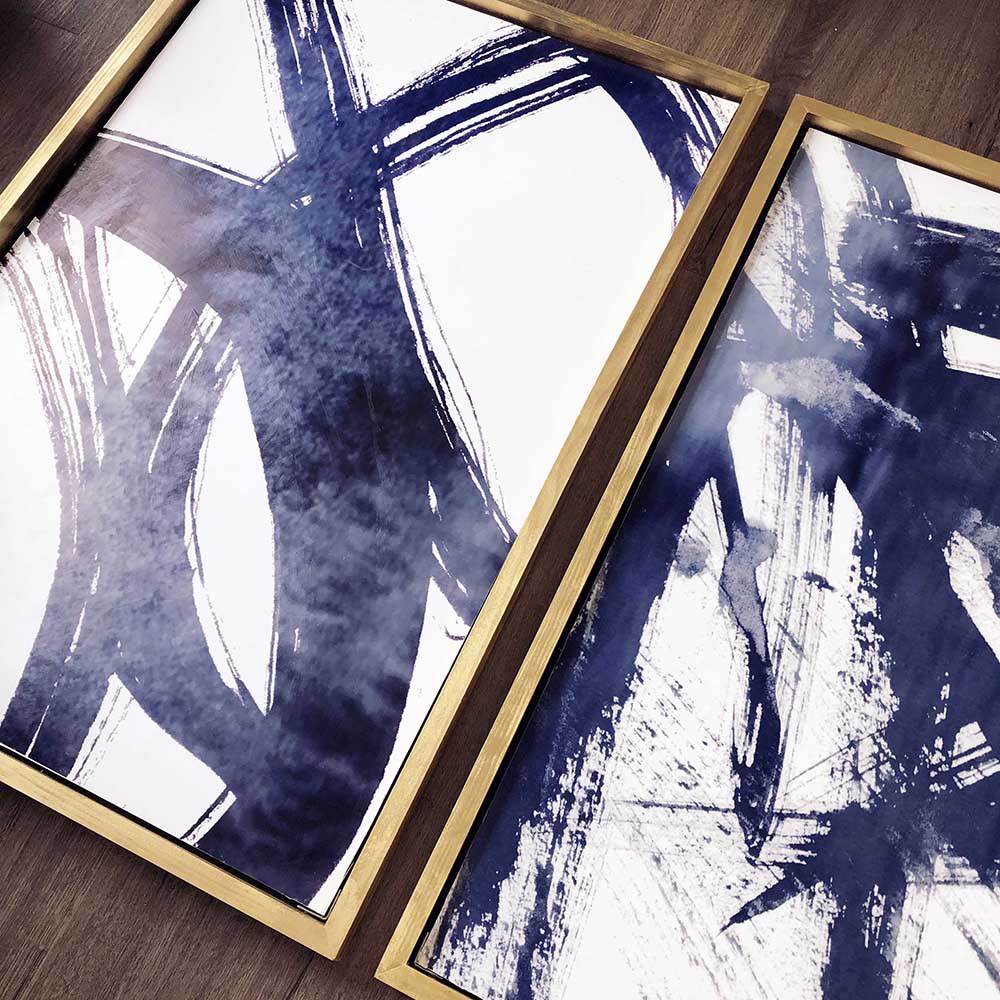 Theirs $700! Mine $60
What do you think?